Alter Eco Debut Plant-Based Superdark Truffles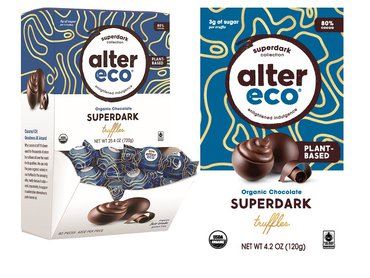 SAN FRANCISCO– Alter Eco, a chocolate-centric, sustainability-directed food company that takes healthy indulgence to an entirely new level, debuted its new plant-based Superdark Truffles at the 2019 Winter Fancy Food Show. Featuring premium ingredients like silky-smooth 80 percent Swiss-made cocoa and nourishing coconut oil, the Superdark Truffles expand Alter Eco's popular line of fair-trade, organic truffles by bringing a decadent, vegan option to the chocolate aisle. The new truffles boast a mere 3 g of sugar per truffle making them a perfect low-sugar, low-carb treat, paired with the powerful antioxidant benefits associated with super dark 80 percent cocoa.
Alter Eco is the number one truffle brand in the natural channel and has nine flavors in the top 10. Featuring six simple ingredients, the new Superdark Truffles complement Alter Eco's successful line of bite-sized truffles, making them accessible to all consumers regardless of dietary restrictions. The midnight-dark truffles are keto and paleo-friendly, and free from artificial flavors, dairy and gluten for a guilt-free treat crafted with premium ingredients for conscious consumers.
The Superdark Truffles are irresistibly creamy, plant-based truffles that boast 80 percent cocoa for a deeply fruity bite and satisfyingly smooth finish. Nourishing coconut oil unites with fair trade, organic chocolate for a decadent treat with a bold edge.
"With plant-based diets on the rise and consumers looking for low-sugar options to satisfy their sweet cravings, we saw the perfect opportunity to launch our new Superdark Truffles," said Mike Forbes, CEO of Alter Eco. "Combined with the popularity of our best-selling truffle line and the widespread popularity of our Deepest Dark Super Blackout Bar, it was clear that uniting these two concepts would provide a revolutionary, irresistible treat. We're excited to expand our truffle portfolio to include the new vegan option and to continue making our organic, fair trade treats and snacks accessible to as many consumers as possible."
Alter Eco will also expand its line with new Superdark Double Chocolate Coconut Clusters and a 90 percent cocoa Superdark Crisp Mint Bar. These additional Superdark items boast 85-90 percent cocoa and are uniquely crafted with high-quality ingredients like fruity cacao beans and nourishing coconut oil.
Double Chocolate Coconut Clusters, containing only 4 g of sugar, allow you to munch guilt-free as these 85 percent cocoa coconut clusters feature antioxidant-filled dark chocolate and crispy coconut flakes.
Superdark Crisp Mint Bar, containing only 6 g of sugar, are cool, dark bars offering a creamy bite and bold mint flavor with flavanol-packed, malty 90 percent cocoa for an intensely delicious bite.
The new Superdark truffles, clusters and bar join Alter Eco's existing portfolio of decadent dark chocolate confections and snacks, and are all USDA Certified Organic, Fair Trade Certified, Carbon Neutral Certified, Non-GMO Project Verified and Certified Gluten-Free. The entire new Superdark collection is vegan and paleo-friendly, allowing people to enjoy the new melt-in-your-mouth chocolate and still maintain specific dietary preferences.
Winter Fancy Food Show attendees will also have the first look at Alter Eco's first custom winter, holiday-themed packaging which will appear on all six truffle flavors, including new Superdark Truffles and its Holiday Medley.
Alter Eco's new Superdark Truffles will be available in May 2019 online and in Fairway, NGVC, NCG and INFRA with additional retail availability to follow. Superdark Truffles will be sold in 10-count and single varieties for $7.99 and $0.89, Double Chocolate Coconut Clusters for $4.79/3.2-oz. pouch and Superdark Crisp Mint for $3.99/2.65-oz. bar. Alter Eco products are available nationwide at major natural food retailers and grocery stores, including Whole Foods Market, Wegman's, Sprouts, Kroger and Publix. For more information, please visit www.alterecofoods.com.
About Alter Eco
Alter Eco is a chocolate-centric, sustainability-directed food company that takes healthy indulgence to an entirely new level. All Alter Eco products are USDA Certified Organic, Fair Trade Certified, Carbon Neutral Certified, Non-GMO Project Verified and Certified Gluten-Free (excluding Dark Salt & Malt). Recognized as a top certified Benefit Corporation and one of the first registered Public Benefit Corporations, Alter Eco is dedicated to full-circle sustainability throughout its operations and supply chain through four pillars: sourcing using Fair Trade principles, producing of only organic and non-GMO foods, creating minimal waste by working towards 100 percent compostable packaging, and in-setting carbon emissions by means of large-scale reforestation programs in the cooperatives that produce its crops. These principals are entwined with Alter Eco's commitment to the highest quality ingredients and taste in all of its products. More information is available at www.alterecofoods.com. Follow Alter Eco via Facebook, Twitter and Pinterest and Instagram.