The YES Bar to Release Vegan Friendly Flavors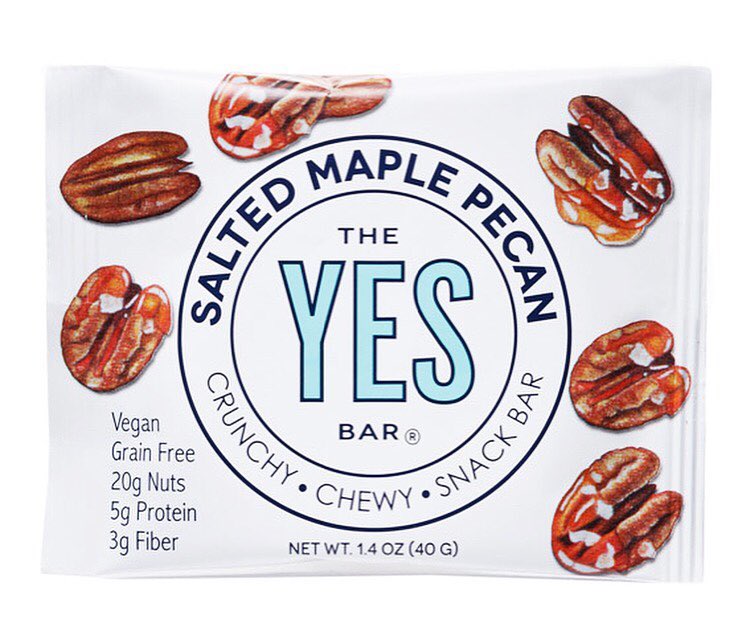 OAKLAND, Calif. — The YES Bar is saying YES to vegans. The gourmet snack bar company is pleased to announce that in addition to their premium real food ingredients, they are releasing two new vegan friendly flavors, Dark Chocolate Chip and Salted Maple Pecan. With the increasing global desire for responsibly sourced, vegan-friendly products, The YES Bar wanted to ensure that their customers were given options to fulfill their dietary needs without comprising the same great taste they have come to trust. In addition, The YES Bar is also launching a complete packaging re​ design to feature​ high end white kraft paper with compostable point-of-sale boxes, all bearing hand drawn food illustrations that showcase the beauty of​ the gourmet ​ingredients in its bars. The YES Bar will also now offer mixed six packs, so Yes Bar lovers can enjoy​ variety packs of all six flavors, or the vegan line only. The variety packs and their full line will be ​available on their website and Amazon.
Features of The YES Bar:
The 2 new vegan bars are made with organic coconut nectar instead of organic honey for pure plant-based power.
The YES Bar is committed to sustainability with fully compostable, Forest Steward Council-certified six pack boxes that are made from responsibly managed forests.
Yes Bars are free of grains and major allergens such as gluten, dairy, corn, soy, eggs and peanuts. They are also free of preservatives, additives, refined sugars, and processed proteins.
Yes Bars feature the same delicious real food profile of nuts and seeds, California dried fruits, specialty seasonings, dark chocolate made with coconut sugar and sweetened only with organic maple syrup, and either ​organic honey or organic coconut nectar.
For more information on The YES Bar and its different varieties, check out the website: TheYesBar.com.
Follow the YES Bar on social media:​ ​Facebook​.com/theyesbar​ and​ ​Instagram​.com/theyesbar.
About The YES Bar
The YES Bar was created by Abigail Wald in 2012 for her son who suffered from food sensitivities. She was tired of always having to say "no" to the foods he wanted to try and so, ​in frustration and out of love, she went in her kitchen and created a snack that she could say YES to. The YES Bar is committed to a complete anti-inflammatory profile of nuts, seeds, and clean carbohydrates. There are no grains, fillers, preservatives, soy or refined sweeteners. The bars are individually wrapped making them easy to store on the go, and their round shape gives you a homemade cookie feel. The YES Bar is hand crafted in small batches, with an emphasis on creating the highest quality, best tasting snack bars made from 100% real food.