Primal Kitchen Launches Vegan Ranch Dressing Made With Avocado Oil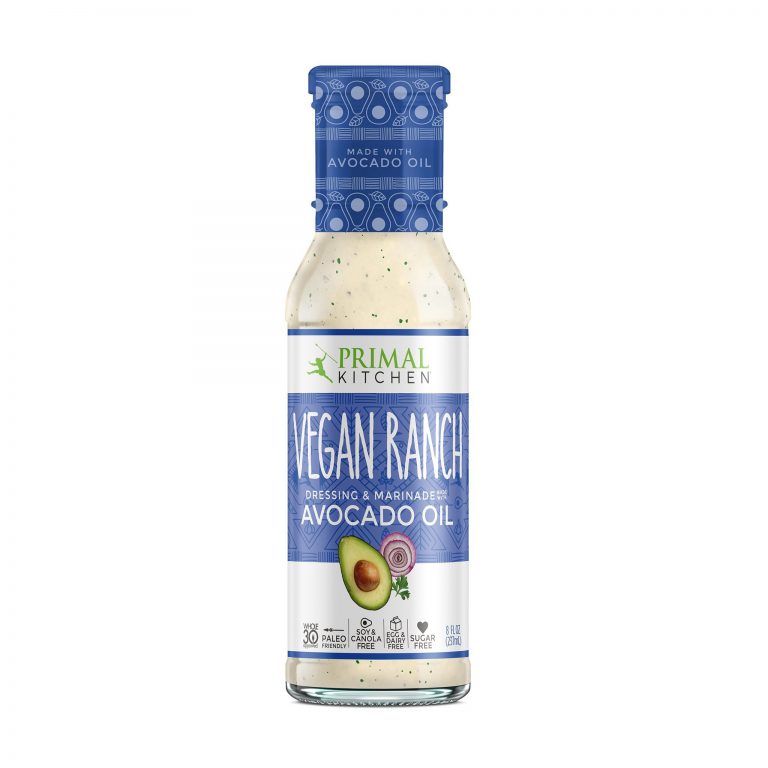 OXNARD, Calif. — Primal Kitchen introduces Vegan Ranch Dressing made with Avocado Oil to their collection of avocado oil dressings and marinades at the 2018 Natural Industry Products Expo. Made with avocado oil, this dressing is an allergen-free, dairy-free, gluten-free, vegan version of their original Ranch Dressing made with Avocado oil—the #1 bestselling dressing in natural grocery in 2017*. Primal Kitchen's Vegan Ranch Dressing strikes the perfect balance of garlic and savory herbs, making it the ideal creamy classic dressing for salads, dips, and for topping just about every meal.
"This dressing is the first of its kind," said Mark Sisson, founder of Primal Kitchen. "Crafted with avocado oil containing monounsaturated fats and packed with organic herbs and spices, our Vegan Ranch is a true plant-based food champion with an uncompromising delicious flavor that everyone can get behind. But what truly sets this Vegan Ranch Dressing apart is its quality: by creating this revolutionary dressing without preservatives, artificial additives, natural flavors, industrial seed oils or sugar, Primal Kitchen promptly kicks traditional industry pitfalls to the curb."
Dairy-free, egg-free, Whole30-Approved, Certified Gluten-Free, and Paleo and Keto-friendly, Primal Kitchen's Vegan Ranch Dressing upholds the legacy of culinary brilliance that has defined the company since its inception. From day one, Primal Kitchen has made creating nutrient-dense condiments with clean, simple ingredients its core mission. Each of their products seeks to raise the bar on quality and flavor, transforming every dish into an unforgettable blend of taste sensations and wellness. As a leader and innovator in the health food space, Primal Kitchen includes a variety of Paleo, Keto-friendly and Whole30-Approved products spanning mayonnaise, salad dressing, vinaigrette and marinades, avocado oil, collagen nut & seed bars, collagen protein and whey protein.
The entire dressing collection includes: Ranch, Vegan Ranch, Balsamic, Caesar, Green Goddess, Greek, Honey Mustard, Italian, Dreamy (Creamy) Italian, Sesame Ginger and Lemon Turmeric varieties all made with avocado oil. Primal Kitchen products are sold in grocery and natural grocery stores and online at primalkitchen.com.
About Mark Sisson & Primal Kitchen
Mark Sisson, New York Times bestselling author, media personality, ex-endurance athlete (5th place USA Marathon Championship, 4th place Hawaii Ironman finish) founded Primal Kitchen in 2015. He has been educating the world on nutrition and the benefits of healthy fat and high-quality protein for the last decade via his blog, MarksDailyApple.com. Mark set out to create the world's best-tasting, real-food pantry staples. Primal Kitchen delivers on its promise to create uncompromisingly delicious products that are always dairy, gluten, grain, soy free, full of beneficial fats and high-quality protein. As Mark would say, Eat Like Your Life Depends on It, because it does. Learn more at primalkitchen.com.
*Source: SpinsScan, Shelf Stable and refrigerated Salad Dressing, Natural Channel, 52 week ending 1/28/18 — of the Top 20 selling salad dressing brands