Lundberg Family Farms Launches Organic Grainspirations Frozen Rice & Quinoa Bowls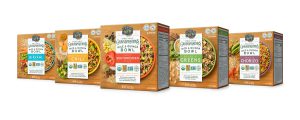 RICHVALE, Calif. — Lundberg Family Farms, a national leader in organic rice, rice products and US-grown quinoa, today announced their expansion into the frozen category with their Organic Grainspiration Rice & Quinoa Bowls. The new product line-up features all organic ingredients and is available in five savory flavors from around the world.
"Our new Organic Grainspirations frozen bowls offer consumers the ultimate in taste and convenience," said Grant Lundberg, CEO of Lundberg Family Farms. "Each bowl is packed with delicious wholegrains and veggies, and they're already prepared, so it's easy to warm in your microwave or oven."
Lundberg Family Farms' new frozen bowls are made with their popular organic brown basmati rice and organic American-Grown quinoa and offer 10-13 grams of plant protein per serving, making them vegan-friendly. They are also USDA Organic certified, and non-GMO verified!
Organic Grainspirations Rice & Quinoa Bowls are available in five flavors, at an MSRP of $5.99 each:
Beans & Greens
Veggie Chorizo
Korean Style Chili
Spicy Southwestern Style
Vegetable Biryani Style
For more information about Lundberg Family Farms and other products, visit www.lundberg.com.
About Lundberg Family Farms
Since 1937, the Lundberg Family has been farming rice and producing rice products at their farms in the Sacramento Valley. Now led by its third generation, Lundberg Family Farms uses organic and eco-positive farming practices to produce wholesome rice and quinoa products while protecting and improving the environment for future generations. For more information, visit Lundberg.com and follow us on Facebook, Pinterest, Twitter and Instagram.