Chef'd Meal Kits Now Available in Retail Stores Nationwide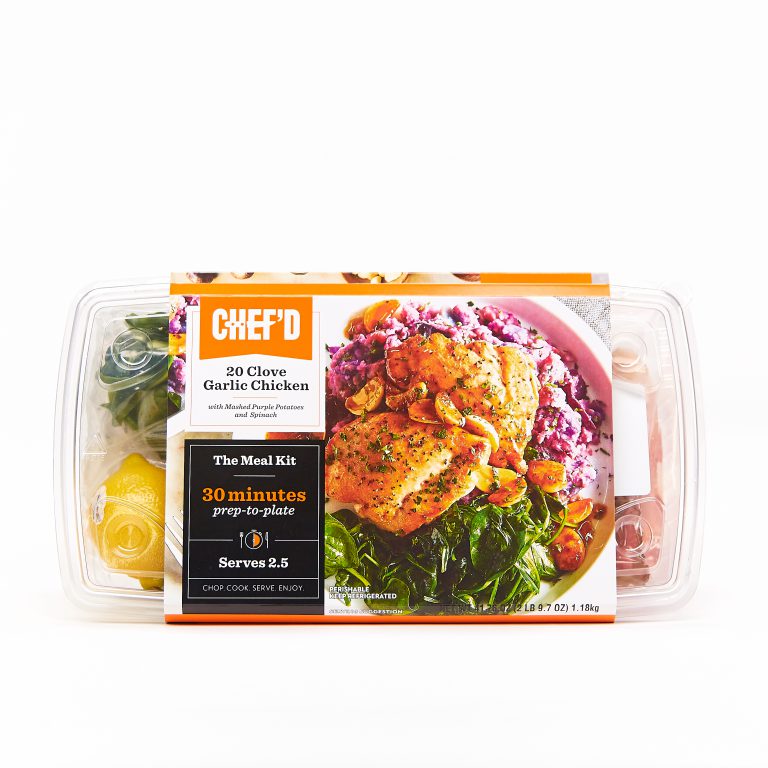 LOS ANGELES — Leading meal kit company Chef'd announces the arrival of its meal kits at grocery stores nationwide, in partnership with Smithfield Foods. Its quick and easy recipes are now available at more than a dozen retailers in 27 states, including Costco, Harris Teeter, Tops, Hy-vee, Weis, and Gelson's Markets. Each kit features ready-to-cook pre-portioned ingredients, including fresh herbs, leafy greens, and USDA Choice proteins. In-store Chef'd meal kits are designed for convenience, with total prep-to-plate times of 10 to 30 minutes, and 1-2 pan clean up.
According to the food data company Food Genius, as many as 80 percent of Americans don't know what they are having for dinner by 4pm that same day. Chef'd meal kits present an innovative solution for these time-constrained shoppers, providing inspiration, convenience, and value. Chefd.com has been the only non-subscription meal store from its launch, and features thousands of recipes for next-day delivery. The company's retail partnerships extend Chef'd meal kits to new audiences and occasions.
"Meal kits are the fastest growing channel across the entire food industry," says Sean Butler, Senior Vice President of Retail at Chef'd. "The expansion of Chef'd into retail enables us to serve the large group of shoppers who have never tried a meal kit but are eager for non-subscription solutions. Our goal is to give more shoppers more meals in more places to help them eat better, save time, and explore new flavors."
The company's in-store offerings feature elevated versions of weeknight dinner classics. Highlights include 20 Clove Garlic Chicken with Mashed Purple Potatoes and Spinach; Weeknight Chicken Pad Thai with Carrots and Sugar Snap Peas; and Black Truffle Butter Sirloin Steaks with Roasted Garlic Potatoes and Asparagus.
Chef'd has pioneered groundbreaking technology to bring shoppers the freshest possible produce and proteins, enabling the company to deliver products to store shelves with three times the fresh life of competitive meal kit companies.
"Chef'd looks forward to rapid expansion in the coming months. As the market leader in the industry, we are dedicated to investing in new technology to continue to enhance the at-home cooking experience and to provide greater value to our customers," says Kyle Ransford, CEO of Chef'd.
In-store meal kits serve two or more and start at $14.99.
About Chef'd
Headquartered in Los Angeles, California, Chef'd is a high-quality ingredient meal kit company that was created to help consumers rethink the home-cooked meal by offering fresh, pre-portioned ingredients that aim to eliminate food waste and cut consumer grocery costs, all without the hassle of subscriptions and delivered conveniently to their door. Launched in April 2015, Chef'd is the only non-subscription-based ecommerce company in the meal kit industry that offers home chefs a variety of recipe options available any time and conveniently delivered as often as they desire. Chef'd also partners with celebrated chefs and culinary influencers to create a variety of delicious recipes that make it easy for home chefs to create memorable culinary moments. In addition to its ecommerce business, Chef'd offers national retail distribution in partnership with Smithfield Foods in grocery stores including Costco, Harris Teeter, Tops, and Gelson's, enabling customers to conveniently incorporate Chef'd meal kits into their shopping lists. In partnership with Smithfield Foods, Chef'd can combine its ecommerce insights, product development expertise, best in class manufacturing assembly, and culinary excellence with Smithfield's unique knowledge of product development and in-store marketing, strong sourcing capabilities and distribution network, and understanding of retail customers. To ensure customers experience the freshest possible produce and proteins whether purchasing in-store or online, Chef'd has pioneered groundbreaking new packaging technology to create meal kits with unparalleled shelf life. Offering more than 1,000 recipes online, Chef'd allows shoppers to purchase the meal kits they want, when and where they want them. Follow on Twitter @get_chefd and Instagram @Chefd. Taste what's possible at Chefd.com.