Alden's Organic Releases New Ice Cream Bars and Sandwiches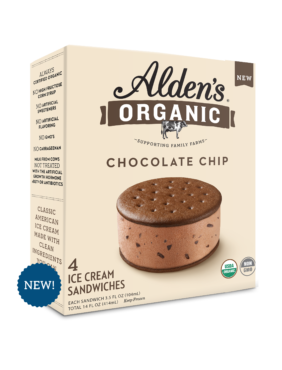 EUGENE, Ore. — Just like the ice cream truck that signals the arrival of a summertime treat, the first organic Orange Cream bar from Alden's Organic promises to capture the nostalgic taste of summer…with nothing artificial. On the heels of launching an organic upgrade to some of America's most popular ice cream flavors, Alden's has done it again, giving a delicious organic "make under" to the classic orange cream combination with clean, organic ingredients: milk from cows not treated with the artificial growth hormone rBST or antibiotics; no high fructose corn syrup or artificial sweeteners; and always certified organic.
"We've captured the summer feeling of long, care-free afternoons with our new organic Orange Cream bar. It's so good we're calling it 'summer on a stick,'" said Michelle Hunt, vice president of Alden's Organic. "We've transformed a classic citrus favorite with clean, organic ingredients that marry refreshing, organic orange sherbet swirled with creamy, organic vanilla ice cream."
The new Orange Cream bars are one of five new organic novelties from Alden's, which include:
Orange Cream Bars: A nostalgic combination of tangy orange sherbet swirled with classic vanilla ice cream. (90 Calories)
Double Fudge Bars: Classic chocolate fudge bars swirled with an extra helping of rich organic fudge. (100 calories)
Chocolate Chip Ice Cream Sandwich: Milk chocolate ice cream loaded with organic chocolate chips and sandwiched between two chocolate wafers.
Birthday Cake Ice Cream Sandwich: Festive birthday cake ice cream with ribbons of purple icing, sandwiched between two vanilla wafers.
Strawberry Ice Cream Sandwich: Sweet strawberry ice cream swirled with tangy strawberry jam, sandwiched between two vanilla wafers.
The addition of these items brings Alden's novelty line to a total of 10 items. These five new novelties, available in packages of 4 per box, are making their way to freezers this month in natural food stores and conventional grocers nationwide with a SRP of $4.99 – $5.99.
About Alden's Ice Cream
Based in Eugene, Ore., Alden's Organic Ice Cream is America's best-selling organic ice cream, offering 15 classic flavors, as well as five ice cream sandwiches and five ice cream bars. The brand was introduced in 2004 by Oregon Ice Cream. For more information visit www.aldensicecream.com.
#1 organic ice cream brand source: U.S.: SPINS, 52 Week Ending 12-31-17, Total US – MULO and Total US – Natural, Certified Organic