Once Upon a Farm Debuts New Applesauce Adventures Line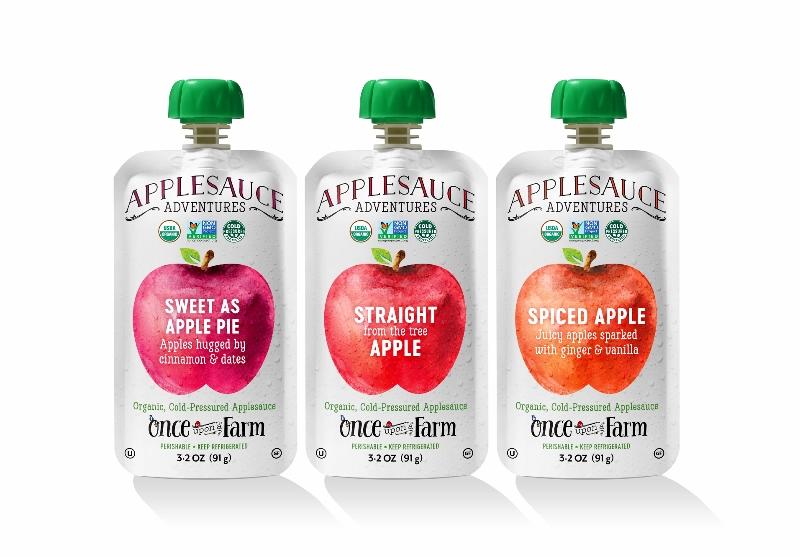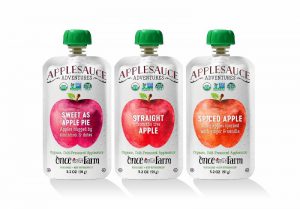 SAN DIEGO, CALIF.– Once Upon a Farm, pioneer of cold-pressed, organic baby foods for all stages of infant development, today announced the launch of a new snacking innovation for applesauce lovers everywhere, Applesauce Adventures. Debuting at Natural Products Expo West in Anaheim Calif. at the Once Upon a Farm booth #H100, Applesauce Adventures will be available in three delicious flavors: Straight From The Apple Tree, Spiced Apple and Sweet As Apple Pie. The smooth, yet vibrant blends are made with USDA Certified Organic apples from orchards in Washington state, and offer a juicy, fresh-from-the-farm take on everyone's favorite beloved childhood snack. Applesauce Adventures will begin shipping to retailers nationwide in March.
"I loved applesauce growing up, and it's something that I would still eat regularly as an adult, but most options are lacking in that bright, fresh-picked apple flavor because they're cooked at high temperatures and have added preservatives and fillers," said Cassandra Curtis, co-founder and COO of Once Upon a Farm. "We're so passionate about this new line because it is truly unique in the category, and a whole-food snack we know everyone from parents, to college students, to babies will love. Our applesauces taste unlike anything else on the market because they are made only with fresh organic apples that are handpicked then cold-pressed, resulting in the purest flavor possible. This is a gamechanger for the category we can't wait to share with the world!"
Unlike other applesauce options, Once Upon a Farm Applesauce Adventures are crafted with whole, organic apples, hand-picked by farmers, resulting in pure and flavorful blends that can be enjoyed by anyone, anywhere. Like all Once Upon a Farm products, the blends are made with high pressure pascalization (HPP); a cold pressure process that preserves the nutrients, flavors, aromas, colors and textures of the whole, fresh ingredients. Applesauce Adventures are perfect as a snack straight out of the pouch, on top of yogurt, as an egg replacement in recipes or in a yummy smoothie. Conveniently packaged in re-sealable pouches for snacking at home or on-the-go, shoppers can purchase the blends in four-pack boxes for $6.99. Additional details include:
Straight From the Apple Tree – As fresh as the day the apple was picked from the tree, this blend offers a new take on traditional applesauce, made purely with wholesome organic apples that are naturally sweet.
Spiced Apple – Juicy apples are sparked with hints of vanilla and ginger, combining for a delicious blend that is the perfect balance of sweet and tangy that will elevate any snacking occasion.
Sweet As Apple Pie – A taste that's as good as grandma's homemade pie, this sweet blend offers notes of organic cinnamon and dates that gives a refreshing twist to everyone's favorite dessert.
All Once Upon a Farm foods are USDA Certified Organic, Kosher, and Non-GMO Project Verified, and are free from any processed purees, concentrates or preservatives. Once Upon a Farm's unique BPA-Free Certified pouch packaging also encourages self-feeding, while offering flexibility and convenience whether at home or traveling. The blends can also be left un-refrigerated for up to four hours, taken on-the-go with an ice pack, or frozen and thawed to accommodate mealtimes anywhere at any time of day.
Once Upon a Farm is available online through the brand's website, as well as at traditional grocers nationwide including Wegmans and Kroger, as well as select Whole Foods Markets. For more information on Once Upon a Farm, its products and ingredients, please visit www.uponafarm.com.
About Once Upon a Farm
Once Upon a Farm is the pioneer of early childhood nutrition, offering 12 specially designed blends of whole fruits, vegetables and superfoods, specifically customized for three of the most important nutritional stages of an infant's life. All blends are free of concentrates, preservatives and processed purees, and are infant nutritionist certified and pediatrician recommended. Unlike typical shelf-stable baby food, Once Upon a Farm uses high pressure pascalization (HPP), which preserves the flavors, aromas, colors, textures and nutrients of the whole ingredients. Packaged in convenient, refrigerated and re-sealable pouches, Once Upon a Farm is USDA Certified Organic, Kosher and Non-GMO Project Verified. To learn more about Once Upon a Farm, visit www.uponafarm.com, 'like' us on Facebook or follow us on Twitter and Instagram.