Snack Factory Launches Fruit Sticks and Veggie Sticks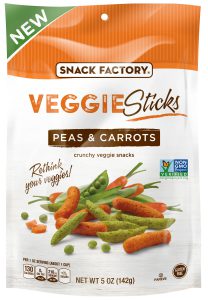 Snack Factory, the makers of snack favorite Pretzel Crisps, announces the official introduction of its Produce Line, featuring better-for-you, produce-inspired snacks. Made from fresh fruit and vegetables, light and crispy Fruit Sticks and Veggie Sticks are gluten free, Non-GMO Project Verified and free from added sugars and preservatives. Veggie Sticks will join Fruit Sticks on retail shelves as the nationwide rollout begins immediately.
Snack Factory Fruit Sticks are made with 100% Washington State apples and are available in three flavors—Apple, Apple Cinnamon and Apple Strawberry. Each bag of Fruit Sticks contains 5-6 apples, making it easier than ever to eat an apple a day. Snack Factory Fruit Sticks are low fat, low sodium, high fiber and contain only 80 calories per serving of crunchy deliciousness.
Made with real vegetables as the first ingredient, Veggie Sticks are baked and seasoned snacks available in Snap Pea and Peas & Carrots varieties. At 120 calories per serving, crispy Snap Pea Veggie Sticks are made from whole green peas. Peas & Carrots Veggie Sticks are also made from whole green peas with the addition of baby carrots and are 130 calories per serving.
Find new Snack Factory Fruit Sticks and Veggie Sticks in the produce, natural or dried fruits sections of grocery stores nationwide. For more information about the Produce Line or the entire Snack Factory portfolio, please visit: www.snackfactory.com.