Instacart and Peapod Launch Hotel Pilot Program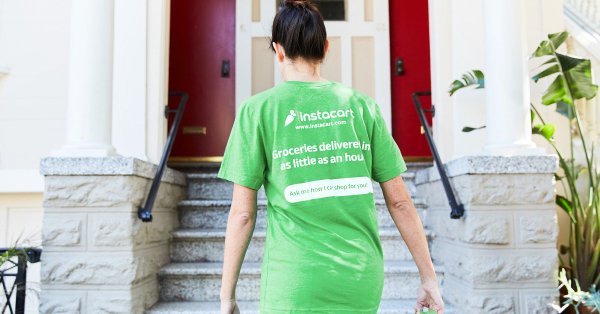 PARSIPPANY, N.J.– Attention travelers: hunting down the closest grocery store in an unfamiliar city when craving the comforts of home is a thing of the past, thanks to Hawthorn Suites by Wyndham®. Wyndham Hotel Group's welcoming extended stay brand now gives guests easy access to the ingredients they need to feel at home on the road with its just-launched grocery delivery offering, bringing groceries straight to guests' doors through new partnerships with Instacart, a fast-growing retail delivery service, and Peapod, the country's leading online grocer.
The handy service – currently piloting at eight Hawthorn Suites hotels in and around Chicago, Ill.; Philadelphia, Penn.; Raleigh and Charlotte, N.C.; Hartford, Conn.; and Orlando, Fla. – is the brand's newest offering developed to help long-term guests maintain their routines when away from home. It's the latest addition to Homemade @ Hawthorn®, the brand's in-room, chef-driven cooking program designed for hotel living serving up seasonal, home-cooked recipes from award-winning chefs which can be easily prepared in a fully equipped in-suite kitchen.
With just a few clicks at www.hawthorn.com/homemade, guests at the pilot hotels can easily find and order all of the ingredients for their favorite Homemade @ Hawthorn recipe, or their most-wanted grocery items, and have them delivered straight to their hotel.
"We know convenience is king for long-term travelers staying in new cities for weeks or months at a time," said Larry Hambro, vice president, brand operations, Hawthorn Suites. "An essential part of helping our guests stick to their regular regimens when they stay with us is delivering the comforts of home, like a homemade meal or their go-to snack. Our grocery delivery pilot makes that possible by giving guests the power of selection combined with the convenience of online shopping and curated dishes. We get everything delivered these days straight from our computers and phones, from car rides to shaving kit subscriptions to groceries – so why shouldn't we also get them when we're traveling for extended periods?"
Interest in online grocery ordering and delivery is on the rise: U.S. consumers spent an estimated $42 billion online in groceries in 2016, up more than 160% over 2015. Industry experts predict the segment has the potential to grow five-fold over the next decade with American consumers spending upwards of $100 billion by 2025.
Hambro continued, "More and more people are getting groceries delivered at home – last year, one in 10 Millennials and Gen Xers in the U.S. shopped for groceries online, up almost 10% from 2015. Why shouldn't they have that same convenient experience when away from home?"
New Season, New Recipes
With cookout season just around the corner, Hawthorn Suites created a delicious selection of new easy-to-make recipes perfect for spring and summer whether travelers are hitting the road or firing up the backyard grill, available at www.hawthorn.com/homemade. Each home-cooked dish – like a decadent pub cheese and ham sandwich, colorful summer pasta with vegetables, and a refreshing watermelon salad – was designed to be easily prepared in 30 minutes or less.
The brand tapped acclaimed culinary minds Chef Hari Nayak – a New York-based chef, restaurateur, author and culinary consultant – and Chef James Rigato – former Top Chef competitor and owner of the award-winning The Root Restaurant & Bar and Mabel Gray in Michigan – to create these exclusive recipes designed for hotel living.
A recent survey1 from Hawthorn Suites uncovered 66% of Americans, including 84% of Millennials, agree being able to cook in a hotel room would make them feel more at home when traveling. The same survey found comforting and familiar foods topped the list with 38% of respondents longing for baked goods, followed by pasta (31%) and salad (27%).
1 The Hawthorn Suites by Wyndham Survey was conducted by Wakefield Research between September 20 and 26, 2016. Quotas were set to ensure reliable and accurate representation of the U.S. adult population 18 and older.
About Hawthorn Suites by Wyndham
Part of Wyndham Hotel Group, Hawthorn Suites by Wyndham® is a chain of extended stay hotels that provide an ideal atmosphere and a home-away-from-home for today's extended stay guests. Hotels feature spacious suites with fully equipped kitchens, free Wi-Fi, guest laundry, on-site business services, free hot breakfast buffet daily and evening social hours. Homemade @ Hawthorn®, a chef-driven in-room cooking program, is designed to help guests feel at home when hitting the road for long stretches. Select hotels allow pets and offer meeting and fitness facilities, swimming pools, and convenience store items. Guests can save more when they stay longer with extended stay rates. Travelers have the opportunity to earn and redeem points through Wyndham Rewards®, the brand's guest loyalty program, which can be joined for free at www.wyndhamrewards.com. All Hawthorn Suites by Wyndham hotels are either franchised by Hawthorn Suites Franchising, Inc. (HSF), or its affiliate, or managed by an affiliate of Wyndham Hotel Group, LLC. HSF is a subsidiary of Wyndham Hotel Group and parent company Wyndham Worldwide Corporation (NYSE: WYN). Reservations and information are available by visiting www.hawthorn.com.
Wyndham Hotel Group is the world's largest hotel company based on number of hotels, encompassing more than 8,000 hotels and over 699,700 rooms in 79 countries. Additional information is available at www.wyndhamworldwide.com. For more information about hotel franchising opportunities visit www.whgdevelopment.com.
Wyndham Hotel Group, hotel giant with an unmatched global presence, is one of three hospitality business units of Wyndham Worldwide (NYSE: WYN). Driving the democratization of travel, Wyndham Hotel Group is elevating the experience of the everyday traveler, changing the game so every traveler – no matter how much they spend or how they like to travel – has an extraordinary experience. As both a leading hotel brand franchisor and hotel management services provider, the company's global portfolio consists of more than 8,000 hotels and over 699,700 rooms in 79 countries under the following brands: Dolce Hotels and Resorts®, Wyndham Grand®, Dazzler® Hotels, Esplendor® Boutique Hotels, Wyndham Hotels and Resorts®, Wyndham Garden® Hotels, TRYP by Wyndham®, Wingate by Wyndham®, Hawthorn Suites by Wyndham®, Microtel Inn & Suites by Wyndham®, Ramada®, Baymont Inn & Suites®, Days Inn®, Super 8®, Howard Johnson®, Travelodge® and Knights Inn®. Wyndham Rewards, ranked number one hotel rewards program for 2016-2017 by U.S. News & World Report, offers more than 50 million members the opportunity to earn and redeem points at more than 25,000 hotels, condos and homes globally. For more information, visit www.wyndhamworldwide.com.
About Peapod
Peapod, an Ahold USA company, is America's leading online grocer with over 40 million orders delivered to date. Peapod's intuitive, inspiring website and award-winning mobile app allow customers to shop faster and smarter as well as save time and money with each order. Peapod is an easy and convenient solution for the busy consumer shopping for fresh groceries, pantry stables and meal solutions. Peapod offers delivery to both homes and businesses, and has over 200 pick-up locations. Peapod is available in 24 metro markets across New York, New Jersey, Connecticut, Rhode Island, Massachusetts, New Hampshire, Illinois, Wisconsin, Indiana, Pennsylvania, Maryland, District of Columbia, and Virginia. For more information visit Peapod.com.
About Instacart
Instacart allows people to order groceries online by connecting them with shoppers who hand pick items at customer's' local, favorite stores and deliver straight to their doors. Founded in San Francisco in 2012, Instacart has quickly scaled to 50 markets nationwide and partnered with dozens of grocery retailers, including popular national chains (Whole Foods Market, Publix, Costco, Petco) as well as local, regional grocers such as Schnucks. By combining a personal touch with cutting-edge technology, Instacart offers customers a simple solution to save time and eat fresh food from the grocery brands they trust. Instacart is the only grocery service that can meet today's on-demand lifestyle by delivering in as little as one hour. First delivery is free at www.Instacart.com.