Enerhealth Bags Lucky's Market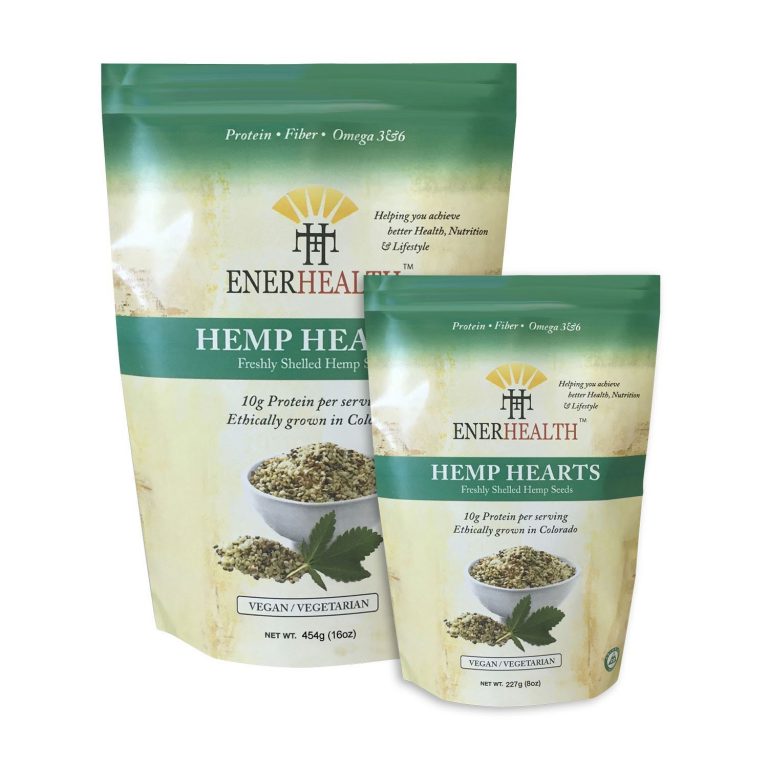 LONGMONT, Colo. — Natural and organic products manufacturer EnerHealth announced the expansion of its bestselling food and herbal tincture products into two Colorado Lucky's Market locations, in Longmont and South Boulder. Lucky's Market – a true success story in family operated natural products groceries – is among the first brick and mortar retailers to offer EnerHealth's functional food products on its store shelves.
Dedicated since 2005 to offering premium natural and organic foods that promote optimal health and nutrition, Longmont, CO-based EnerHealth manufactures and sells products that "feed and care for both the body and mind," said CEO and founder Steve St. Clair.
The two Boulder County Lucky's Market locations now offer Hemp Hearts, Enerhealth's freshly shelled raw hemp seeds that are ethically grown and harvested in Colorado.
In addition, Lucky's Market now offers Enerhealth's Coconut Milk Powder, plus a variety of single and blended herbal tinctures, including EchinOsha, Intestinal Cleanse and other handcrafted herbal extract products.
"We are pleased to be in Lucky's Market as they share our passion for natural health," said St. Clair. "We've seen demand for functional foods and herbal wellness tinctures grow over the years and to have such a distinguished grocer as Lucky's Market pick up our products shows how in-tune the company is with the natural foods and wellness marketplace."
Lucky's Market was founded in 2003 by husband and wife team Trish and Bo Sharon in Boulder, CO. A specialty grocery focused on natural, organic and locally grown products "for the 99%," the company has quickly grown in popularity, with 26 stores throughout the U.S. In April 2016 Kroger announced a strategic partnership with Lucky's Market, which has significantly accelerated Lucky's Market's growth in new and existing markets.
The EnerHealth line-up now available at Lucky's Market Longmont and South Boulder include:
Coconut Milk Powder – One of nature's finest super foods promoting health and vitality, Enerhealth's Coconut Milk Powder contains approx. 65% virgin coconut oil that is packed with medium chain fatty acids, omega 3's, and is also a rich source of lauric, caprylic, and capric acids which are known for their health promoting properties.
Herbal Tinctures – Herbal extracts, oils and salves are made using the highest quality, organic, medicinal plants available. The tinctures are made in small batches by hand in Enerhealth's Colorado lab and manufacturing facility to ensure the highest quality.
Hemp Hearts – Freshly shelled raw hemp seed hearts that are ethically grown and harvested in Colorado, USA. The shell has been removed from the seed, making it easy to digest. Each serving provides 10g of protein, 2.5g of Omega-3, and 8.5g of Omega-6 fatty acids. The heart of the hemp seed has a rich nutty flavor and a tender chewy texture. Sprinkle them on cereal, salads, yogurt, and fruit to boost your nutrition.
About Enerhealth
Founded in 2005, Enerhealth manufactures and sells an extensive variety of health and food products, including single herb extract oils, blended herbal formulations made from medicinal plants, herb-infused salves, a line of organic cocoa powder and organic coffee blended with medicinal mushrooms, products for cleanses and detox, portable water filters and bottles, and emergency preparedness items. Visit www.enerhealthbotanicals.com.
Where to Find Us
EnerHealth's botanical and functional food products are available at leading natural products retailers including Lucky's Market, Natural Grocers and Alfalfa's Market. Products also are available online at www.EnerHealthBotanicals.com and www.NutriCafeNow.com or by calling866.762.9238. For wholesale inquiries, contact tel: 303.702.0833, email: sales@enerhealthbotanicals.com.