Bare Bones Launches New Classic Turkey Bone Broth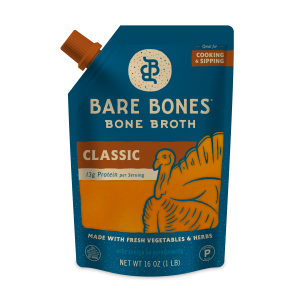 MEDFORD, Ore.— Bare Bones Broth Co., a pioneer in the booming bone broth space, announced the launch of a new flavor at the Natural Products Expo, in conjunction with their social mission to reduce waste and feed the hungry.
Bare Bones Classic Turkey Bone Broth is made from the bones of pasture-raised turkeys, along with organic vegetables and herbs that aren't sold to grocers and would otherwise go to waste.
The company, which first started online three years ago, released the Classic Turkey as a seasonal online special during the 2016-17 holiday season. Based on consumer demand and feedback, they decided to make it a permanent part of their retail lineup. With the new Classic Turkey product, the company now serves up five chef crafted flavors of its nutrient-dense bone broth.
With this launch, Bare Bones is reinforcing its commitment to help fight both food waste and hunger by upcycling farm waste into nourishing products for a life lived well. In the United States, we waste an estimated 30-40 percent of our food supply, according to the U.S. Department of Agriculture.
Bone broth inherently helps address this problem, said cofounder and CEO Katherine Harvey, by using produce and parts of the animal that would otherwise go to waste. Bare Bones is taking it a step further by consciously sourcing only the most ethically grown and raised ingredients, thereby supporting farmers and ranchers who are committed to sustainable practices.
"Through our careful sourcing, we're also helping boost the bottom line for grass-fed beef ranchers and conscientious poultry farmers who care about how they raise and feed their animals," Harvey said. "We're also buying up all the misshapen produce from organic farmers that isn't 'pretty enough' for retail. As a result, Bare Bones is making it more affordable and profitable for these farmers to keep doing what they're doing."
The company is also making a public commitment to donate a portion of its proceeds from all broth sales to local food banks to help feed those in need.
"Each year, roughly one-third of all food that is produced in the U.S. ends up in landfills," said cofounder and COO Ryan Harvey. "At the same time, 40 million Americans are living in a state of food insecurity. This means that they don't know when they'll eat their next meal. Our mission is to help feed those people, not landfills."
Husband-and-wife team Ryan and Katherine Harvey launched Bare Bones in 2013, building a nationally recognized brand of chef-crafted and ethically sourced bone broths online before making their retail debut in 2016.
Bare Bones is building the first iconic food brand committed to the fight against food waste and hunger. The Oregon-based company sources surplus food from sustainable ranches and organic farms that would normally go to waste, and turns it into nourishing and convenient ready-to-eat foods. They are reducing the environmental impact food production has on our planet and reducing hunger. The company donates funds from every purchase to provide meals to those in need.