HTY's Asian-style Sweet Beef Now Available in U.S. at Costco
SOUTH SAN FRANCISCO, Calif.– HTY's radically different style of beef Jerky is now available to US jerky lovers at Costco. Their Sweet Beef Jerky, soft and tender and cooked with a lightly sweet fruit-based glaze, is like nothing American jerky consumers have tasted before.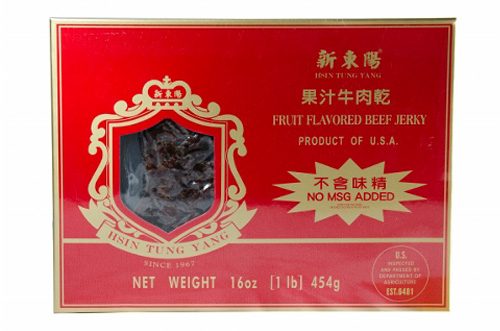 Costco will be the first retailer to carry HTY's Sweet Beef Jerky, cooked with natural fruit for a savory and sweet protein snack. This extra-soft style has been the #1 premium jerky across Asia for over 50 years. "We have over 70 luxury jerky shops across Taiwan devoted to selling our HTY jerky so it's exciting to introduce it to the American market with Costco," Says KaiYen Mai, CEO of HTY USA and daughter of HTY's founders.
"Launching our signature Sweet Beef Jerky is a culmination of decades of my family's work to bring our traditional recipes and hand-crafted technique to bear and I'm proud to be a part of such a storied lineage, and even more excited to debut our renowned jerky to the American jerky audiences!"
HTY's sweet, glazed, beef is falling-apart tender, incredibly addictive, with a texture completely unique to Taiwan's most addictive snack. KaiYen Mai has built a new USDA-inspected facility here in the United States to craft HTY's time-honored jerky in small batches using only natural US raised-beef and whole muscle cuts and just a few ingredients and spices.
Given the incredible popularity of jerky across Asia, HTY is confident that the US market will embrace the distinctive, almost-candied Asian-style jerky that has been previously so hard to find state-side. Costco is partnering with HTY to retail the Sweet Beef Jerky.
About HTY USA
HTY has been producing small-batch Asian-style jerky and meat products for decades using family recipes passed down for a generation through Asian markets across the US. They are excited to bring their authentic Taiwanese jerky to crossover into the wider American grocery space as consumers continually seek new flavors and nourishing, protein-packed snacks.