ENTUBE Debuts New Spicy Umeboshi Plum Paste
LOS ANGELES (October 10, 2016) – Entube, maker of modern chili pastes in a tube, today unveiled a new addition to its line of gourmet chili pastes: Spicy Umeboshi Plum Paste. Expanding the brand's global palate, the new variety features ume plum, a traditional Japanese staple. Other ingredients include vinegar, cayenne, and beet, resulting in a colorful, nutritious condiment that aids in digestive support, nausea, and fatigue, including hangovers. Spicy Umeboshi Plum Paste will be available in gourmet retailers across the U.S. beginning in October 2016.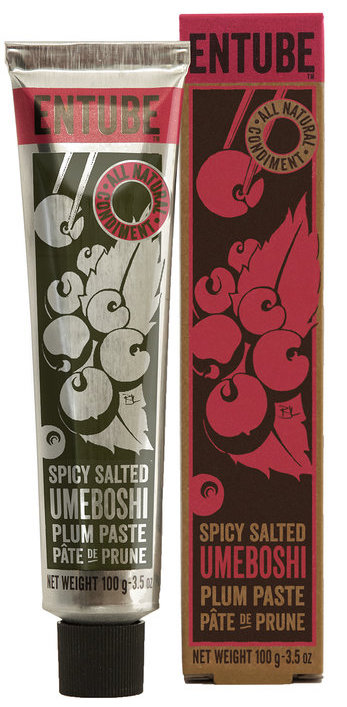 "In response to the success of our inaugural products, Harissa and Indian Curry, which pay homage to North African and Indian flavors, we set out to provide a new global flavor experience for our customers inspired by the Japanese ume plum," said creator and founder, Richard Lassalle. "Using the highest quality ingredients, Spicy Umeboshi Plum Paste is an easy-to-use, versatile product that will add bright color and flavor to dishes, empowering anyone to become a chef."
Spicy Umeboshi Plum Paste is a fermented fruit-based paste, best used in raw form as a finishing condiment on sushi, oysters, vegetables and in cocktails. Like all Entube products, Spicy Umeboshi Plum Paste is gluten free, vegan and does not contain any added sugar, artificial coloring or preservatives.
Entube products are available in the U.S., Canada and U.K., as well as online. Each product is available in a 100g tube with an SRP of $8.00.
About Entube: Entube chili pastes are the modern reinvention of traditional global flavors. A hybrid of bold design and exceptional flavor for the gourmet market, Entube products are made with the highest quality, all-natural ingredients and packaged in a polished, easy-to-use aluminum tube. With mouthwatering flavors and eye-catching colors, Entube products are vegan, paleo, non-GMO, free of any sugar, preservatives or artificial coloring. They are designed in Los Angeles and manufactured in Montreal, Canada with 100 percent recyclable packaging. Follow the brand on Instagram, Pinterest, Twitter and Facebook.