KRAVE Elevates Tailgating For Football Fans With "Pair, Share & Win" Campaign
SONOMA, Calif., Sept. 8, 2015 /PRNewswire/ — KRAVE®, a brand known for leading the jerky renaissance with guilt-free snack upgrades, is now giving football a fancy food focus with a contest worthy of an end zone victory dance. The "Pair, Share & Win" campaign challenges fans to kick-off the season by pairing KRAVE® gourmet jerky with unique tailgating treats and sharing their pairings on social media for the chance to win the Ultimate Tailgate Trip.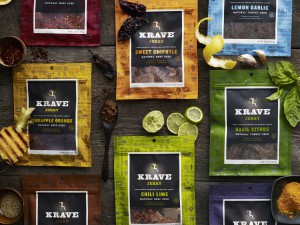 Your football snacks will never fumble again with KRAVE in the mix. Inspired by the culinary excellence and heritage of California's wine country, KRAVE takes jerky to another level. With all-natural, whole-muscle-cut pieces of meat, KRAVE is an extraordinary and delicious snack that is gluten-free and devoid of nitrites, MSG and corn syrup. As the 12th Man of game day food, KRAVE brings a culinary touch to football beverages and snacks. Leading the jerky revolution, KRAVE scores a touchdown when paired with an array of football favorites such as craft beer, wine, refreshing non-alcoholic beverages and stadium snacks. KRAVE offers inventive flavor varieties that make for excellent pairings, including Sea Salt Original, Basil Citrus, Lemon Garlic, Black Cherry Barbeque, Grilled Sweet Teriyaki, Chili Lime, Garlic Chili Pepper, Sweet Chipotle and Pineapple Orange.
"KRAVE is jerky elevated, and our approach is strictly gourmet. We look to capture the unique flavor characteristics of wine country and want to inspire tailgating experiences that have the same culinary commitment to incredible taste," said KRAVE Vice President of Marketing, Rusti Porter. "We are thrilled to have this opportunity for fans to engage and share their KRAVE flavorful favorites and their unique tailgating pairings with us through 'Pair, Share & Win' for an exciting season on the field and snacking on the sidelines."
Participants in "Pair, Share & Win" are asked to snap a shot of their favorite food or beverages with any KRAVE Jerky flavor and share it on social media using #KRAVEKitchenContest for a chance to win the Ultimate Tailgate Trip and a variety of other football prizes. One Grand Prize winner will receive roundtrip airfare for two to San Francisco, two night hotel stay, a $300 American Express gift card and tickets to the KRAVE Pair, Share & Win Event in February 2016. Twenty First-Prize winners who pair like a pro will take home a prize package featuring KRAVE tailgating essentials. The "Pair, Share & Win" campaign will begin 9/1/15 and is supported on social media channels including Facebook, Twitter and Instagram. The campaign will also be activated via in-store point of purchase displays at major retailers; print in national active lifestyle and health & wellness publications, radio, events and field marketing in key markets. For more information on KRAVE and "Pair, Share & Win", please visit www.kravejerky.com/pairsharewin.
About KRAVE®: From the celebrated vineyards, coveted micro-climates and renowned gourmet outposts of California wine country comes, of all things, KRAVE. Founded in 2009, KRAVE is a leading producer of artisanal jerky, located in Sonoma. A cut above the old, leathery, chemically processed products, KRAVE represents a jerky renaissance, providing an all-natural, gluten-free snack that is both healthy and flavorful, made using only all natural, high-quality ingredients. The meat is carefully treated by hand and is double marinated and baked to lock in moisture. KRAVE's meat is roasted, not dried or dehydrated, and is braised first, utilizing the "low and slow" method to produce the jerky's signature moist and tender texture. Ranging from sweet and tangy to savory and spicy, KRAVE's innovative flavor profiles will appeal to the everyday jerky lovers and to the discerning palates of today's food-savvy, health conscious gourmands.