DuBreton Pledges to Raise 300,000 More Crate-Free Pigs by 2018
RIVIÈRE-DU-LOUP, QC, Sept. 24, 2015 /PRNewswire/ – Not all pork is created equal, and now those looking for humanely raised options have a reason to celebrate. Today, duBreton®, North America's #1 producer of Organic and Certified Humane Raised and Handled® pork, announced its commitment to raising 300,000 more crate-free pigs by 2018. This unprecedented move represents an investment of $30 million to advance the duBreton® vision to be the world leader in Organic and Certified Humane Raised and Handled® pork and an international role model for best practices based on animal welfare and organic, GMO-free practices. This is one of the biggest announcements ever in advancing the crate-free farming movement.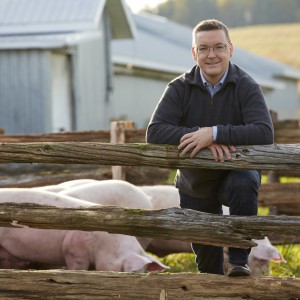 Consumer Movement to Crate-free. Humane. Organic.
Consumer demand for Organic and Certified Humane Raised and Handled® pork is outpacing global supply, and the North American market is growing quicker than ever anticipated. DuBreton® already supplies its antibiotic-free and GMO-free pork to many recognized leaders and food innovators in the naturals and organic market including Whole Foods, Chipotle Mexican Grill and major Canadian grocery chains. By increasing production to include 300,000 more crate-free pigs over the next three years, duBreton® is "betting the farm" on the fact that consumer demand for higher standards for the ethical treatment of animals raised for consumption will continue to gain momentum.
"DuBreton® has been at the forefront of the humanely raised movement since the late 1990s, and this announcement simply solidifies and expands our commitment," says Vincent Breton third-generation president of duBreton®. "Compared to commodity or traditional farming practices, it costs us 50 per cent more to raise Certified Humane® pork and more than double to raise an organic pig. The result is the highest quality pork possible, and as this translates into only a slight increase at retail, we believe it is well worth the cost to preserve the dignity and respect of the animals in our care. Obviously, consumers agree as demand is outpacing supply in many markets where we trade."
DuBreton® Organic and Rustic Farm Pork Products are already internationally celebrated. Both product lines are Certified Humane®, antibiotic-free and hormone-free, and the pigs are fed a diet that does not contain any animal by-products. All pigs are raised crate-free which means they are allowed to roam in a communal environment with other pigs. Conventionally, a sow is raised in a crate that measures approximately 2 feet by 7 feet and is equipped with bars on all sides. The sow can only move forward or back a few steps – it cannot turn around; it can only stand or lie down in one position. The duBreton® logo means that the pigs have enjoyed a controlled and Certified Humane® environment – including farms, transportation and processing – that is superior in every way. Organic pigs also have a certified organic, GMO-free diet and are guaranteed outdoor access.
"DuBreton® first approached us in 2003 to begin the certification process," says Adele Douglass, founding executive director of Humane Farm Animal Care (HFAC), the U.S. based non-profit organization that grants the Certified Humane® certification. "Since then, duBreton has made great strides to expand on its Certified Humane® properties and operations and we are proud to partner with this progressive leader. DuBreton truly cares about animal welfare and is changing farming industry standards."
Saving the Family Farm
Many family farms are in peril as they simply cannot compete with the factory farms that are prevalent throughout the land. Through this commitment, duBreton® is making a difference by working with more than 300 family farms in Ontario and Quebec Canada to help them maintain their autonomy, increase their profitability and secure their future success. By committing to duBreton's Organic or Certified Humane Raised and Handled® meat production, these family farms are serving an important and sustainable niche market and avoiding the challenge of competing with big corporate high volume production. DuBreton® compensates the farmers fairly for their product, without the risk of the uncontrollable highs and lows of pricing in the pork commodity market.
DuBreton® is a family farming business and the only pork producer in North America to be verified Certified Humane Raised and Handled® and certified by the Global Animal Partnership which promotes and encourages the highest standards of animal welfare. DuBreton® pork is in demand on an international basis and is shipped throughout the U.S., and around the world, including Japan and Australia.
Ask Questions. Vote with your Wallet.
The duBreton® vision is to make animal welfare a top priority. For the growing number of consumers who care about this issue, Mr. Breton has some recommendations: "Use your wallet to support the companies that align with your values and do the research to see who they are. I take pride in the fact that our customers know the duBreton® logo guarantees the highest quality possible. It makes them feel good and that is our ultimate goal."
About duBreton®: A Family Business, a Tradition of Quality: The year 1944 marked the beginning of a new company built by a passionate young farming couple named Napoleon and Adrienne Breton. Over time and through acquisitions and development of other companies, the Breton Tradition 1944 became one of the jewels of Quebec agri-food production, particularly in the pork sector. Now a leading pork processing specialist, duBreton's® goal is to satisfy the tastes of the world's greatest chefs, restaurants and homes throughout Canada, the United States, Asia and Europe. DuBreton® offers a complete range of pork products including organic and its recently launched Rustic Farm Pork line has an increased focus on humane farming techniques.
About Certified Humane®: Founded in 2003, Certified Humane® is the international certification and labelling program administered by Humane Farm Animal Care (HFAC). DuBreton® was the first pork producer in North America to apply for certification and was approved on September 17, 2003. No other major pork producer in Canada or the U.S. has applied for inspection and certification.
For more information, please visit dubreton.com