SUMMER 2018 | JUNE 4+5 | NEW YORK, NY
A Two-Day Business Conference
for the Natural Food Industry
You are viewing a past event. NOSH Live Winter 2018 took place on June 4+5, 2018 in New York, NY at the Metropolitan West. NOSH Live conferences are two-day business conferences for the natural food industry held twice a year in New York, NY and Santa Monica, CA. Upcoming conference dates can be found at nosh.com/events. Take a look back at NOSH Live Summer 2018:
INDUSTRY STARS SPEAK ON LESSONS LEARNED AND THE FUTURE OF THE INDUSTRY
All-Star speakers from established and up-and-coming brands inspire action through topics your business can apply now, like: lessons in growth, branding and marketing, how to raise and use capital, navigating the ever-changing state of retail, harvesting and harnessing customer insights and using data to make decisions. Industry experts drop knowledge on innovation, the investment climate and the future of the industry.



You're running a business. Our on-stage content is curated for co-founders, CEOs, CMOs, COOS, revenue leaders and decision makers from across your organization.
CURRENT ROSTER OF SPEAKERS
Seth Goldman

Chairman, Beyond Meat; TeaEO, Honest Tea

Seth Goldman

Chairman, Beyond Meat; TeaEO, Honest Tea

Seth Goldman co-founded Honest® Tea in 1998 with Professor Barry Nalebuff of the Yale School of Management. In March 2011, Honest Tea was acquired by The Coca-Cola Company, helping to further the reach and impact of Honest Tea's mission by becoming the first organic and Fair Trade brand in the world's largest beverage distribution system. Today, Honest Tea is the nation's top selling ready-to-drink organic bottled tea and Honest Kids® is the nation's top-selling organic kids' juice drink. The brands are carried in more than 130,000 outlets in the United States, including all Wendy's, Chik-fil-A, and SUBWAY restaurants. In 2016 Honest Tea's distribution expanded to Europe. In 2016, Seth transitioned to a new role at Honest Tea as TeaEO Emeritus and Innovation Catalyst for Coca-Cola's Venturing & Emerging Brands business unit. This transition allows him to take on an additional role as Executive Chairman of Beyond Meat, a privately held California-based enterprise on the cutting edge of plant-based protein research and development. In 2015 Seth was named the #1 Disruptor by Beverage World, and Beverage Executive of the Year by Beverage Industry magazine; he was also inducted into the Washington DC Business Hall of Fame. Seth has also been recognized by the United States Healthful Food Council with a REAL Food Innovator Award for helping change the food landscape by providing options that are healthier for both the body and the planet. Seth serves on the advisory boards of Ripple Foods, the Yale School of Management, the American Beverage Association, and Bethesda Green (a local sustainability non-profit he co-founded). He graduated from Harvard College (1987) and the Yale School of Management (1995), and is a Henry Crown Fellow of the Aspen Institute. Seth and Barry are the authors, along with graphic artist Soongyun Choi, of The New York Times bestseller Mission in a Bottle. The book, told in comic book form, captures their efforts to create a mission-driven business in a profit-driven world. Seth lives with his wife and three sons near Honest Tea's Bethesda, MD headquarters in an eco-friendly house.

Shazi Visram

Founder & ChairMom, Happy Family Brands

Shazi Visram

Founder & ChairMom, Happy Family Brands

Shazi Visram is an entrepreneur and mother committed to bettering the world through business that is socially, financially, and environmentally enlightened. Visram is the Founder and ChairMom of Happy Family Brands, which she led to become the #1 organic baby food company in the US market with disruptive innovations that have democratized organic food for new families. Visram's business focus is rooted in an unflinching dedication to the health and wellness of children and families around the world. As an advocate of social entrepreneurship, Visram is actively engaged as an investor and advisor to companies innovating for a brighter future, including EpiBone, Bulletproof, Ovia Health, Frontier Nutrition, and Recycle Track Systems. Additionally, Visram holds a seat on the board of Environmental Working Group and serves on the Board of Overseers at her alma mater, Columbia Business School.

Gary Hirshberg

Co-Founder & Chief Organic Optimist, Stonyfield Farm

Gary Hirshberg

Co-Founder & Chief Organic Optimist, Stonyfield Farm

Gary Hirshberg is Co-Founder and Chief Organic Optimist of Stonyfield Farm, the world's leading organic yogurt producer, and the author of Stirring It Up: How to Make Money and Save the World (Hyperion, 2008). Gary frequently speaks on topics including sustainability, organic agriculture and the profitability of green business. Gary serves on several corporate and non-profit boards, including Blue Apron, Forager, Orgain, Peak Organic Brewing, and UNreal chocolates as well as Advisory Board member for Applegate. He has received 12 honorary doctorates and numerous awards for corporate and environmental leadership including a 2015 Champion for Children Award from Mount Sinai Hospital's Children's Environmental Health Center and a Lifetime Achievement Award by the US EPA.

Matthew McCarthy

Vice President of Foods, Unilever North America

Matthew McCarthy

Vice President of Foods, Unilever North America

Matthew McCarthy heads up Unilever's Food business in North America. In his 20 years with the company Matthew has cultivated a diverse path in marketing and general management working across Foods and Personal Care. He has led a wide range of iconic consumer brands and has a passion for building teams and creating transformative growth. Matthew has received a number of industry recognitions including Cannes Gold Lion, One Show Gold Pencil, IAB MIXX and Adweek's Brand Genius award. As Vice President Foods NA Matthew is a member of Unilever's US country board and global Foods Leadership team. Matthew's wife Lisa is a director at the Bronx Zoo/Wildlife Conservation Society and together they are actively involved in their personal passions of animal welfare and social justice.

Janica Lane

Managing Director, Piper Jaffray

Janica Lane

Managing Director, Piper Jaffray

Janica Lane is a managing director at Piper Jaffray focused on providing investment banking and M&A advisory services to consumer companies in healthy, active and sustainable living industries, with a focus on food and beverage, as well as nutritional supplements. Prior to joining Piper Jaffray, Lane was a partner at Partnership Capital Growth, a boutique investment bank providing M&A and private placement services to health and wellness-oriented businesses. Prior to investment banking, Lane was a researcher at Stanford University's Center for Environmental Science and Policy (CESP) and an equity research associate on Prudential Securities' energy team. Lane has a Master of Business Administration degree from the Stanford Graduate School of Business. She received dual bachelor's degrees (international relations and Spanish) with Phi Beta Kappa honors from Stanford University. She spent six months living in Santiago, Chile, as part of her undergraduate education and is fluent in Spanish.

Jared Rosenbaum

Senior Director, Corporate Development & Strategy, Kellogg

Ashley Borden

Product Director – Center of Store, 7-Eleven

Ashley Borden

Product Director – Center of Store, 7-Eleven

Ashley Borden joined global c-store retailer 7-Eleven Inc. in 2012 and assumed her current role as Center of Store Product Director in February of 2017. During her 5 years with 7 Eleven, Ashley has successfully managed a variety of food and non-food categories: Senior Category Manager of Confectionery as well as the Category Manager for Wireless. As a member of the Merchandising team, Ashley has spearheaded initiatives which focus on managing external relationships with vendors, improving internal collaboration between cross-functional business units and developing extensive merchandising plans which emphasize customer segmentation and exclusive brand product launches. Ashley has a Bachelor of Science degree from Texas Christian University. She enjoys traveling, spending time with friends and family.

Leigh Keith

COO & Co-Founder, Perfect Bar

Leigh Keith

COO & Co-Founder, Perfect Bar

Leigh Keith is Perfect Bar, LLC's Co-founder and COO, who at 19 years old launched the brand that revolutionized the highly-competitive functional foods category by producing The Original Refrigerated Protein Bar. Alongside older brother and CEO Bill, and their 11 siblings, Leigh has played an integral role in the continued success of Perfect Bar with functions spanning all facets of the company, including marketing, accounting, operations and human resources; having grown the company, today, to nearly 100 employees. Over the course of 13 years, Leigh has been consistent in her leadership style, grounded in the family culture and work-life balance on which the brand was founded. As COO, she remains steadfast in building healthy communities from the inside out, which is evident by the Perfect Bar's clean ingredient labels, industry accolades, employee volunteer and benefits package, and regular donations to hundreds of charities each year. Learn more at www.perfectbar.com.

Bill Keith

CEO & Co-Founder, Perfect Bar

Bill Keith

CEO & Co-Founder, Perfect Bar

You could say Perfect Bar, LLC's CEO and Co-Founder Bill Keith was born a leader. After all, he's the eldest of 13 siblings known for producing The Original Refrigerated Protein Bar on the market. Bill's quest to create Perfect Bar began in college, when he submitted a business plan for a class project, outlining his concept for a first-of-its-kind refrigerated protein bar made with whole food ingredients — a concept hatched from a childhood recipe, created by his father. Over the next 13 years, Bill and his younger siblings worked tirelessly to turn the crowded, $6-billion protein bar industry upside down, leading consumers away from the highly-processed, non-perishable snack aisles, to the fresh and functional snack and beverage coolers where Perfect Bar continues to carve out desirable, high-velocity fridge real estate in some of the largest grocery store chains nationwide, including Costco, Target, Kroger, Safeway, Whole Foods, Trader Joe's, Starbucks and 7-Eleven. Learn more at www.perfectbar.com.

Jon Sebastiani

Founder, Sonoma Brands

Jon Sebastiani

Founder, Sonoma Brands

Jon founded Sonoma Brands in January 2016 to invest in high-growth, emerging consumer brands and selectively incubate new concepts. Through Sonoma Brands, Jon intends to build a leading growth equity fund exclusively focused on the CPG space. As a successful entrepreneur with experience in building multiple brands, Jon understands a founder's need to look beyond capital and select a partner with value-add capabilities around sales, marketing, supply chain operations, and R&D. Jon oversees current and prospective portfolio investments and leads the firm's investment and operation teams. Jon began his career steering the sales & marketing for Viansa, his family's winery, and eventually leading the business as President, becoming one of the most successful destination wineries in the Napa and Sonoma valleys. After helping drive the M&A process leading up to Viansa's sale, Jon served as Managing Director of wine.com, assisting in the turnaround toward its first profitable quarter. As an avid runner training for the New York City Marathon in 2009, Jon realized the opportunity to turn jerky, a commonly used training food, into something truly special. Influenced by his wine background, Jon founded KRAVE Pure Foods ("KRAVE") to create a differentiated jerky brand with culinary-inspired flavor profiles and all-natural ingredients. As the Founder and CEO of KRAVE, Jon led one of the most disruptive, fastest growing CPG brands in the industry, culminating in the company's acquisition by The Hershey Company in 2015.

Bill Weiland

Founder & CEO, Presence Marketing

Bill Weiland

Founder & CEO, Presence Marketing

Bill started working in a natural food store when he was 16 and began reading books on nutrition and healthy living at a fervent pace. Paavo Airola, Norman Walker and Paul Bragg were some of the early natural food enthusiasts who influenced his lifestyle choices, along with the inimitable Dr. John R. Christopher, an early pioneer in herbal medicine. After nearly a dozen years of working in the Natural Products Industry, in varied roles within the sales and retail sectors, he launched Presence Marketing in January, 1990. He is surrounded by a dedicated cast of creative and intelligent people who carry out the mission of bringing healthy products to consumers, with great energy, passion, and resolve. With nearly 35 years of industry experience, he is uniquely qualified to lead Presence Marketing/Dynamic Presence during booming as well as unstable economic times. His passion for sustainable agriculture, healthy foods and integrated medicine are key drivers behind his commitment to continue building Presence Marketing/Dynamic Presence, the only independently owned, national - natural products brokerage in the United States.

Natasha Case

CEO & Co-Founder, Coolhaus

Natasha Case

CEO & Co-Founder, Coolhaus

Natasha Case founded Coolhaus in 2009 with Freya Estreller after she was working in architecture at Walt Disney Imagineering. They launched their architecturally-inspired, unique ice cream sandwich company from their barely driveable postal van at the Coachella Music Festival to an audience of 100,000. They built a loyal following over the festival weekend and returned to LA to an abundance of viral press, a rapidly building social media following, and an eager foodie audience. Since then, Natasha has been named a Forbes 30 under 30 Food & Beverage, Zagat 30 Under 30, Linked in 10 under 35 for Food & Leisure, as well as being featured in many national publications and radio like Cosmo, Dwell, and NPR, and TV shows including Food Network's Chopped, Barefoot Contessa, Unique Sweets, Good Morning America, King of Cones, Andy Cohen Live and many more. The company has become one of the leading innovative small dessert businesses, growing significantly to include 4 trucks and 2 storefronts in LA, 2 trucks and one cart in NYC, and 4 trucks in Dallas, Texas. Moreover, consumers can now find Coolhaus' pre-packaged ice cream sandwiches, hand-dipped bars, and hand-packed pints in 6,000+ gourmet grocery stores nationally, including Whole Foods and Gelson's, and larger retailers like Meijer and Safeway, and now internationally in Asia and the Middle East.

Will Lisman

President, Emerging Brands Unit, The Hershey Company

Will Lisman

President, Emerging Brands Unit, The Hershey Company

Will Lisman is the President of the Emerging Brand Unit at The Hershey Company. Formed in 2017, the Emerging Brand Unit is a new independent operating division at Hershey that includes barkTHINS, KRAVE, Brookside along with other incubator snack brands. In this new leadership role, Will is spearheading Hershey's snacking transformation by building a new unit to cultivate its emerging brands and a platform for future M&A. Prior to leading the Emerging Brand Unit, Will was General Manager of barkTHINS following Hershey's acquisition of the business in 2016. At barkTHINS, Will worked hand-in-hand with its founder, Scott Semel, and management team to accelerate growth, build the brand, and upgrade its supply chain. Prior to this, Will held executive roles in Marketing and Corporate Strategy at Hershey. Will joined Hershey in 2012 from the The Parthenon Group, a management consulting firm in Boston, where he advised consumer private equity and venture capital firms and their portfolio companies on critical issues in strategy, operations, and M&A. Will holds an MBA with distinction from the Kellogg School of Management at Northwestern University and a B.S. in Management from Boston College.

Jeremiah McElwee

Senior VP of Merchandising & Product Development, Thrive Market

Jeremiah McElwee

Senior VP of Merchandising & Product Development, Thrive Market

A twenty-five year veteran of the Natural Products industry, Jeremiah has been on all sides of the business and supply chain, literally from seed to shelf. Thrive Market's Senior Vice President of Merchandising + Product Development, Jeremiah also served for 7 years as the Executive Global Coordinator for the Beauty, Apparel & Wellness categories at Whole Foods Market, a $1.5 billion annual division of the business during his tenure. During his time at WFM, he pioneered multiple, industry changing, quality standard initiatives including natural beauty standards (AKA WFM's Premium Body Care standard), organic labeling requirements for personal care, and the largest ever sustainable packaging guidelines for a major retailer later adopted by WalMart. Jeremiah is also a passionate advocate for and creator of Fair Trade standards that changed the natural products landscape. In addition to developing hundreds of branded products that line natural food store shelves and managing the Whole Foods & 365 private label brands, he also helped Dr. Andrew Weil develop his branded product platform. Thrive Market launched in November 2014 and has skyrocketed to become the largest national Non-GMO food retailer in the US while democratizing access to natural + organic foods for all Americans. Jeremiah was part of the startup team and built the initial product launch catalog and also is responsible for Thrive Market's premium quality, yet value priced, private label program. Since December 2015, Thrive has launched over 370 private label items with over 500 more products in the pipeline scheduled for launch in 2018 & beyond! 98% of the items launched to date are Certified Organic with a focus on regenerative agriculture practices as well. Jeremiah and his team spend countless hours sourcing the highest quality, organic + non-GMO products so that Thrive Market Members can feel confident they are getting the absolute best for themselves and their families everyday. When not working as an eco-superhero, he can be found in the Texas Hill Country practicing hot vinyasa yoga, spending time with his daughters, or checking the surf report and planning his next escape to the coast.

Poorvi Patodia

CEO & Founder, Biena Snacks

Poorvi Patodia

CEO & Founder, Biena Snacks

Poorvi Patodia launched Biena Snacks in 2012, when the plant-based protein snack trend was still in its infancy. Inspired by a favorite childhood snack, she started experimenting with roasted chickpeas in her own kitchen, and ultimately came up with a unique roasting process that resulted in a light and crispy texture, that maintained the protein, fiber and nutrients of a whole chickpea. Today, Biena Snacks has reached national distribution with availability in over 14,000 retail locations, secured dozens of "best snack" awards and recently introduced a first-of-its-kind line of chocolate-covered roasted chickpeas, which includes a Girl Scout Cookie™-Inspired Thin Mints™ flavor that launches in June. Poorvi has been recognized as an emerging business leader, being featured as a "Rising Star" CEO among the Inc. 5000 fastest growing companies in 2017, and one of Food Navigator USA's "Entrepreneurs to Watch. Poorvi has her MBA from Duke University Fuqua School of Business, and lives in Boston with her husband and two daughters. She frequently mentors other budding food entrepreneurs in the Boston area, offering guidance to help grow and produce more successful local businesses.

Livio Bisterzo

Founder, Green Park Brands & HIPPEAS

Zoe Leavitt

Senior Intelligence Analyst, CB Insights

Zoe Leavitt

Senior Intelligence Analyst, CB Insights

Zoe Leavitt is a senior intelligence analyst at CB Insights focused on CPG and retail innovation. Zoe's research has been featured in the New York Times, Wall Street Journal, Good Morning America, and more, and Zoe was named the #1 voice in retail for 2018 by LinkedIn. Along with her data-driven reports, she also leads the weekly newsletter CPG Insights. Prior to joining CB Insights, Zoe worked in equity research at Cowen and drove consumer analytics efforts at the consumer finance group of the Bank of China in Shanghai. Zoe graduated from Stanford University with a degree in International Relations.

Peter Rahal

CEO & Co-Founder, RXBAR

Joel Clark

CEO, Kodiak Cakes

Joel Clark

CEO, Kodiak Cakes

Joel Clark began selling homemade flapjack mixes out of his red wagon at just 8 years old. Years later, Joel's brother Jon took the family pancake recipe and started Kodiak Cakes in 1995. Joel took over the company in 1997 while going to college and working other jobs to keep the fledgling pancake business alive, and has been running the company ever since. Headquartered in Park City, Utah, Kodiak Cakes has grown into a multimillion dollar business with products in multiple grocery categories. Joel went to school for his undergraduate degree in economics at the University of Utah, and then went on to get his MBA at Oxford University in England.

Cheryl Clements

Founder & CEO, PieShell

Cheryl Clements

Founder & CEO, PieShell

For Cheryl Clements, food is personal. It's about connection. Growing up, in Smiths Falls, Ontario, Canada, Cheryl spent summers helping her mother run a pie business, with help from her Dad and brother they made close to 10,000 pies. Aptly named The Pie Shell, it was headquartered where all good startups begin; the family's basement. After working as an accountant for 5 years, Cheryl had the opportunity to take on the tech world. She jumped at the change and for more than 15 years, she was an independent contractor, becoming a highly sought-after Senior Program/Project Manager; working with major corporations such as Hershey, General Mills, and Miller Beer and overseeing the implementation of SAP – the world's largest enterprise resource planning software. But while this work was immensely satisfying, Cheryl yearned to do something more personal and a couple of years ago she explored crowdfunding to start her own business based on her Mom's infamous salad dressing. As she delved into her research, it quickly became apparent that with a 75% failure rate the existing sites were clearly lacking, at least for food and beverage companies. Cheryl quickly realized that the world needed a better crowdfunding solution for food-oriented businesses, more than another salad dressing. Cheryl brings the same effective project management and forward-thinking to PieShell so all "PieShellers," both campaigners and supporters alike, can be sure that their experience on the site is engaging, seamless and meaningful. She understands the mix of hard work, commitment, and passions that drive every entrepreneur and looks forward to helping them realize their dreams. It was from her mother that Cheryl learned what it takes to build a successful food operation, but more than that, she learned how communities grow around the food that people share. Cheryl lives in New York City with her husband, Adrian, and yes she proudly serves up her Mom's salad dressing when entertaining!

Peter Burns

President & CEO, ONE Brands

Peter Burns

President & CEO, ONE Brands

A seasoned food veteran with a knack for accelerating sales, Peter Burns joined the ONE team in 2017 as a next step in his impressive career in the food and beverage industry. Most recently, Burns led Justin's Nut Butter as President and CEO. Working hand-in-hand with founder and namesake Justin Gold, Burns developed and executed a successful 2-year plan culminating in a $286 million acquisition by Hormel. Prior to this, Burns left a trail of success in positions such as President of Celestial Seasonings and CSO of Hain Celestial USA, where he performed CEO-like responsibilities and focused on sales growth and volume forecasting in dominant retailers across the US, leading to 20 consecutive quarters of top and bottom line growth. Burns was tapped as a leader for ONE by renowned venture capital fund CAVU, founded by CPG veterans Rohan Oza, Clayton Christopher, and Brett Thomas. His 20+ years of experience is anchored in sales, most notably as President of Sales and Marketing at Jones Soda Co, and before that as the Vice President of Sales at IZZE Beverage Company. At IZZE, Burns developed a long-term strategic plan that achieved $20 million in sales in less than two years. He also held senior executive positions at the Mauna Loa Macadamia Nut Corporation and The Hershey Company. Burns is a graduate of Randolph Macon College and currently resides in Boulder, Colorado.

Kyle Ransford

Founder & CEO, Chef'd

Kyle Ransford

Founder & CEO, Chef'd

Kyle is the founder and CEO of Chef'd, the only nationally distributed omni-channel perishable food platform in the U.S. Mr. Ransford is a proven entrepreneur who has successfully started several businesses, including Cardinal Investments and Bank of Manhattan. He has extensive investment banking experience, having previously worked at Hoolihan Lokey and Halcyon Asset Management, LLC. Mr. Ransford has been on the other side of the transaction as well, having successfully raised more than $50M for his own startup companies.

Rachel Drori

Founder & CEO, Daily Harvest

Rachel Drori

Founder & CEO, Daily Harvest

Rachel Drori is the founder and CEO of Daily Harvest, the direct-to-consumer brand blending health and innovation to provide delicious superfoods straight to your freezer. Founded in 2015, Daily Harvest was launched as a solution to Rachel's own daily challenge: squeezing in healthy, nutritious meals into her busy life. From the early days of hand-delivering homemade smoothies from her car, Rachel has built Daily Harvest into one of the fastest-growing nutritional food brands in the U.S. The company has over 100k subscribers, delivering activated breakfast bowls, "nice cream" sundaes, and soups to freezers across the U.S. Today, Rachel continues to reimagine 'frozen fresh' to make health foods convenient without sacrificing nutrition or taste. Prior to founding Daily Harvest, Rachel harnessed her skills as a customer-centric marketing executive, leading teams at Gilt Groupe, American Express, and Four Seasons Hotels and Resorts. Rachel holds a Bachelor of Arts degree from the University of Pennsylvania and an MBA from Columbia Business School. She currently resides in New York City with her family.

Lisa Hyman

Co-Founder & Head of Strategy and Ideas, goodDog

Lisa Hyman

Co-Founder & Head of Strategy and Ideas, goodDog

Lisa runs Strategy and Ideas at goodDog. She has 20+ years experience locating meaningful stories for businesses, celebrities and politicians. She's good with words and always finds the bullseye. She runs point on goodDog's strategic engagements.

Max Kabat

Co-Founder & Head of Relationships, goodDog

Jeffrey Klineman

Editor-in-Chief, BevNET

Jeffrey Klineman

Editor-in-Chief, BevNET

As Editor-in-Chief of BevNET, Jeffrey Klineman oversees the organization's reporting across all of its web sites, as well as BevNET Magazine. Jeffrey is also responsible for developing the content for conferences like BevNET Live and Food and Beverage University (FBU). Jeffrey previously worked as a newspaper reporter for the Lawrence Eagle-Tribune, the Boston TAB and the Metrowest Daily News, and has freelanced for publications like Slate, Boston Magazine, Self, George, Commonwealth, and the Chronicle of Philanthropy. Jeffrey is a graduate of Yale University and Columbia University's Graduate School of Journalism. A frequently-cited expert on the beverage industry, Jeffrey has also been named in Forbes as one of the 25 Most Influential Kingmakers in Consumer and Retail Companies. He is still trying to live that one down.

Carol Ortenberg

Editor, NOSH

Carol Ortenberg

Editor, NOSH

Carol is the Editor of NOSH, BevNet's media property focusing on Natural, Healthy, Sustainable and Organic food products. Carol previously worked and consulted for several consumer goods companies, many within the food space. She also was on the marketing team for Whole Foods Market in the North Atlantic region. Prior to focusing on the food industry, Carol worked at several tech companies, including HubSpot, and served as a consumer researcher at AMP Agency. A graduate of Brandeis University in Journalism, Cultural Anthropology and Theater Arts, Carol is passionate about the food, agriculture and beverage industries.
THE INDUSTRY IS GROWING AND SO ARE WE. ENTER DAY 2.
The natural products space is booming at close to $150 billion dollars annually. Investment is extraordinary with million dollar raises becoming common-place, while trendy spaces like plant-based meats have companies like Impossible Foods who just raised another $114 million.
The playbook for brands is ever-changing with big shifts in retail and new players entering the traditional and club channels causing brands to ask big questions. And there are as many questions about direct-to-consumer. The industry is booming so we added a second day to help make sense of where we have been and where we are heading.
A DISTINCT FOCUS ON BRAND AWARENESS AND INDUSTRY EXPOSURE
The NOSH Live experience is about the community getting acquainted, learning about what's next and accelerating. Some brands are just starting and looking for capital and awareness. Others are established and have something to teach. Some brands are in discovery mode, looking for brands to add to an incubator or to spot their next product opportunity. Others want to gain an advantage with their production or marketing. Enter Pitch Slam and the Sampling Experience + Expo.
---
NEW: NOSH LIVE SAMPLING EXPERIENCE & EXPO POWERED BY PINATA
NOSH Live is a show about natural foods and we take the experience of trying natural foods seriously. Our new Sampling Experience + Expo, powered by PINATA, gives brands a chance to be the sampler in a structured networking setting where everyone can try new, hot and trendy single-serve and prepared foods with opportunities to get down to business at our expert roundtables and interact with suppliers and service providers who can help you with growth at scale.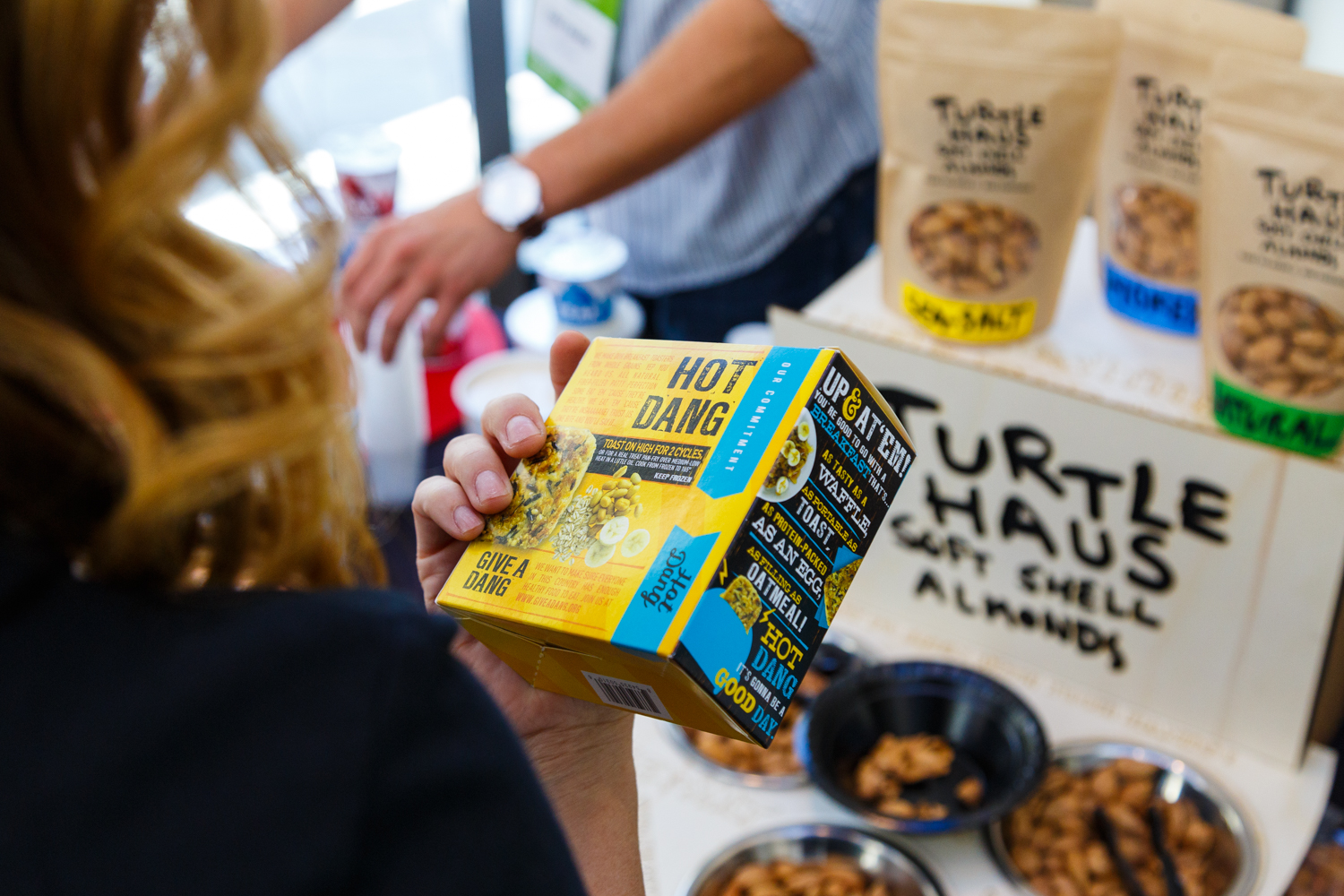 ---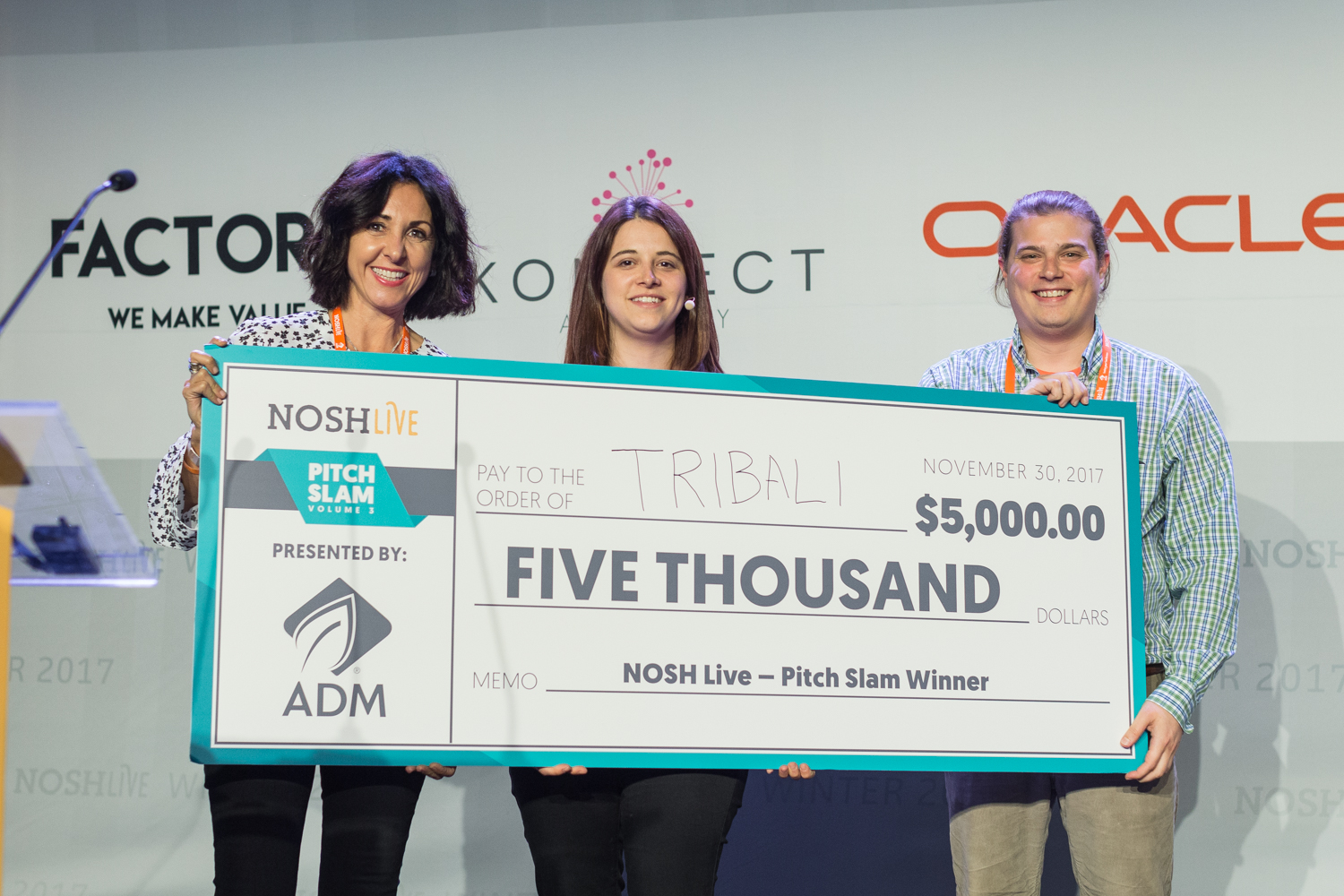 PITCH SLAM VOLUME 4: YOUR BRAND CENTER STAGE
We put the hottest new brands in the spotlight in our annual Pitch Slam contest, presented by General Mills' 301 Inc., "the emerging brand elevator."
Up-and-coming startup brands prepare their best presentation for the NOSH Live main stage. Founders receive instant feedback from a group of expert judges of top retailers, brands, investors, designers, the NOSH community and the world via our livestream. The winner achieves the distinction of being champion along with a digital industry awareness package on NOSH that will give them more valuable exposure to the broader community.
COLLABORATE, OPEN DOORS, PLUG-IN
The vibe of NOSH Live is highly collaborative. The event attracts a group of decision makers, including founders and CEOS from established and new brands who are ready to learn, innovate and grow, along with top experts from investment, retail, supply, distribution and services.
If you want to walk up to your favorite investor to have a conversation, you will have time. If you want to sit with thought leaders to discuss opportunities that have been puzzling you or that you are ready to kick off, the opportunity is there to seize.
The NOSH and BevNET edit teams and staff will be there to help you make connections and talk about coverage.
BOOTCAMP IS VITAL FOR INDUSTRY NAVIGATION
Experts making an industry change and fresh faces alike find that an industry primer ahead of the main event is a great gut check for newbies to the massive natural products space. Learn how to choose the right investor and capitalize your business. Get tips on designing your package. Learn the ins and outs of legal and accounting. Hear story-telling and buzz creation advice from experts in marketing and public relations. Sit down with the pros after the presentations to ask your own specific questions in an environment paced for learning and discussion.


RECENT EVENT ANNOUNCEMENTS
GET CONFERENCE UPDATES
Sign up to receive NOSH Live speaker and program announcements straight to your inbox.