The Checkout: KIND Bets On Protein, Organic Industry Calls Out USDA
Welcome to The Checkout: an express lane for weekly news you need to know, always 10 items or less.
Give the people what they want. That's the sentiment the food industry has seemingly taken to heart this week. From a major snack maker launching its first protein-packed bar to industry leaders using their voice in the media to represent consumer demands, here are your top news stories.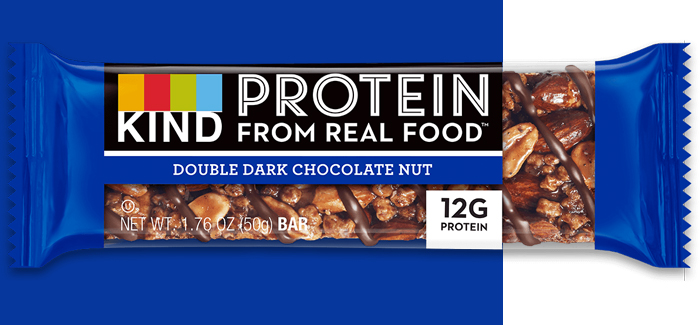 KIND Launches its First Protein Bar
KIND's real food-centric snack products and bars have been on shelves for more than 14 years. In that time, the brand has never offered a protein bar — until now.
The snack leader, which is valued at more than $4 billion and recently received a minority-stake investment from confectionary giant Mars, announced Wednesday the launch of KIND "Protein From Real Food" bars. The bars contain 12 grams of protein from soy and nutritionally dense ingredients such as nuts, seeds and grains.
KIND is jumping into protein at a time when the supplement is being added to everything from pasta and chips to cookies and ice cream. As a result, it may be a tough go for KIND as it works to stand out amid the noise, especially in a bar category that often acts as a turnstile for new protein-based snack brands. However, there are a few things working in KIND's favor. Aside from its brand recognition and consumer loyalty, KIND's bar appeals to protein consumers looking to the ingredients panel for simple, nutritious and familiar ingredients. This is also true of rising-star The Best Bar Ever, which was acquired by Nature's Bounty last week.
Instacart Acquires Unata
Same day grocery service provider Instacart acquired Toronto, Canada-based Unata, which supplies one-to-one digital solutions for grocery retailers, on Wednesday. Terms of the deal were not disclosed. The acquisition will reportedly allow Instacart to meet its goal of becoming an independent partner to its retailers.
The Unata deal comes a month after Target announced that it had completed a $550 million cash acquisition of Shipt. Kroger also announced this week that it's looking to beef up its online shopping and delivery services. The New York Post reported that the retailer is interested in buying online wholesaler startup Boxed, which sells bulk items, including staples such as toilet paper and pet food, and delivers them to consumers' front doors.
Retailers are looking to add online-shopping into their playbooks because consumers, especially the coveted millennials, are plugged in and online now more than ever, all in the name of saving some cash. So who will see the most success? The retailer who builds an efficient operational system that supplies shoppers with the most convenient options to suit their busy lifestyles. May the odds be ever in your favor.
Organic Brands Buys Full-Page Ad, Issues Demand to USDA in Washington Post
Nope, this is not fake news.
In a full-page paid advertisement in Tuesday's Washington Post, a group of organic brands, farmers and researchers demanded U.S. Secretary of Agriculture Sonny Perdue to reinstate the Organic Livestock and Poultry Practices rule issued by the USDA in January 2017. The rule has been a point of discussion within and outside the organic industry in recent months. Cosigners include Organic Valley, Stonyfield Farms, Horizon Organic, Whole Foods Market, National Co+Op Grocers, Applegate, Pete and Gerry's Organic Eggs and the Organic Trade Association.
Signers believe the natural food world has historically been built on the notion of transparency and truth. It is what distinguishes brands and retailers from their conventional counterparts, they say, and allows the industry to capitalize on premium, quality ingredients. If consumers begin to doubt the value of the Organic seal, it could make consumers less likely to pay higher prices for these products. To protect their livelihoods, it seems likely that brands will continue to get more politically active in 2018.
FDA Makes Moves to Improve Food Safety
The Food and Drug Administration (FDA) issued a draft guidance on product recalls, including food recalls. The guidance serves to improve food safety, which is one of four pillars in the agency's recently published strategic policy roadmap for 2018.
After a government report published late last year criticized the agency for slow and inconsistent recall notices, the FDA used that feedback to address what suppliers should and should not include in their notices. In 2016, there were more than 750 food recalls reported, 20 percent more than the year before.
Industry officials have been calling for clearer FDA rules and guidelines — without unnecessary red tape and regulations — for years in order to protect themselves, their profits and their consumers. In a unique political environment, these moves highlight how the Trump administration is generally more open to hearing what the business community thinks or wants to say. Other moves, however, show the administration doesn't always act on that feedback.
Report: Trader Joe's Named No.1 Retailer
Love Trader Joe's? Most consumers do.
Dunnhumby's inaugural Retailer Preference Index (RPI), which surveyed 11,000 U.S. households and analyzed consumer emotional sentiment for 59 grocery retailers, named Trader Joe's, Costco and Amazon as the top three retailers in the U.S.
Though the crowned companies specialize in different retail channels, they have a core commonality: value. Each retailer indexed highly on both quality and price. The survey even found that consumers are willing to sacrifice on convenience and speed in order to get a worthwhile deal.