Once Again Launches Sunflower Hemp Butter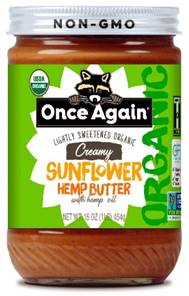 NUNDA, N.Y.– The sunflower seed shines with all its glory in Once Again's new organic sunflower hemp butter. This allergy-friendly addition to the brand's lineup is made with organically grown sunflower seeds, dry roasted for enhanced flavor and milled creamy to make your taste buds dance. Organic hemp oil gives this product a powerful boost of antioxidants, amino acids, and Omega fatty acids, while just a bit of sugar and salt are added for taste. Certified organic and Non-GMO Project Verified, the new product is also free of preservatives, cholesterol, trans fat, plus gluten-free certified, vegan, kosher, and part of the brand's Honest in Trade program.
Delivering 5g of plant-protein per serving plus a healthy dose of iron and potassium, Once Again's organic sunflower hemp butter is also rich in Vitamin E thanks to both its sunflower seed and hemp oil ingredients. The product is delicious paired with toast or fruit, mixed into oatmeal or yogurt, baked into cookies, or eaten straight from the jar.
Said Gael J. B. Orr, Marketing-Communications and PR Manager, "Hemp oil is shaking up the food industry as a new way to add functional nutrition to products, and we're on board! This on-trend ingredient complements our organic sunflower seeds beautifully, both in taste and its phenomenal health benefits."
Once Again's new organic sunflower hemp butter is currently available for retailers to carry and will be sold in stores and online come January 2020. The SRP is $6.49 per 16oz recycled glass jar. Visit onceagainnutbutter.com for more information.
About Once Again Nut Butter
Once Again Nut Butter Collective, Inc. is an 100% employee-owned company with a passion for doing things the right way for its people, products and the planet. Founded in 1976 by a husband-and-wife team with an entrepreneurial flair, Once Again has grown from a company run out of an 800-square-foot basement into a thriving business that produces millions of pounds of organic and natural nut and seed butters. In 2016, Once Again expanded into a new SQF Certified, 37,000 square-foot facility in rural upstate New York where it now produces its peanut butters. The company's tree nut and seed butters are produced in a separate facility nearby. Recognized as a leader in ethical and sustainable business practices, the company founded its Honest In Trade program to define the team's efforts and take them to the next level. In addition to their support of farmers in underdeveloped countries, initiatives to protect the environment, and unsurpassed safety and quality standards, this fun-loving family of 86 employees also actively supports its community and non-profit organizations. The brand's mascot, Rocky-Roo the raccoon, symbolizes their wholesome nature and responsibility to the earth and their products. Once Again Nut Butter's product offerings include new Amoré spreads, along with organic and natural peanut, almond, cashew and seed butters, and honey for retail and foodservice customers. Visit OnceAgainNutButter.com to learn more and follow @OnceAgainNutButter on social media.