Callie's Charleston Biscuits Partners with Pappy & Company on New Bourbon Maple Biscuits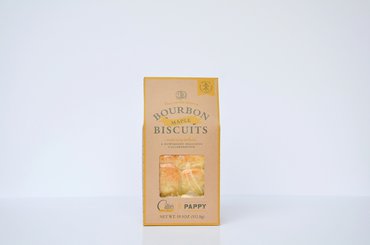 CHARLESTON, S.C.— Callie's Charleston Biscuits, in partnership with bourbon inspired lifestyle and culinary brand Pappy & Company, is releasing a new limited edition flavor to the award-winning biscuit collection this spring. Pappy & Company, the Louisville, Kentucky-based company creates products inspired by their great grandfather's Old Rip Van Winkle and Pappy Van Winkle renowned bourbons. Made by hand in small batches with no machinery whatsoever, the Bourbon Maple Biscuit with sweet icing uses Pappy & Company's Bourbon Barrel-Aged Pure Maple Syrup in the biscuit dough and is topped with a sweet, creamy icing.
Creating a co-branded product together was a no-brainer for these two female founded businesses who similarly value heritage, quality ingredients and most importantly carrying on a family tradition.
"We're so excited to be partnering with Callie's Charleston Biscuits, this was a natural collaboration waiting to happen, it was just a matter of finding the right time. Showcasing our best-selling Bourbon Barrel-Aged Maple Syrup with Callie's classic biscuits, blends flavors of maple, bourbon and butter in a unique product we think both our customers will be thrilled to try. Working with partners like Callie's Charleston Biscuits is what we do best, bringing together best in class artisans that compliment out bourbon inspired culinary and lifestyle products unlike anything else in the market," said Pappy & Company's co-founder Carrie Van Winkle Greener.
"I've long admired Pappy & Company and am excited to collaborate with like-minded female entrepreneurs who are dedicated to growing their business alongside their families," said Carrie Morey, founder of Callie's Charleston Biscuits. "They have taken a family recipe and modernized the brand taking it to new heights and demographics which is what we aim to do at Callie's as well."
Most importantly however is a shared love of maple syrup, biscuits and bourbon. Full bodied with flavors of vanilla, oak and butter, Pappy & Company's Bourbon Barrel-Aged Pure Maple Syrup brings out the best of Callie's classic buttermilk biscuit recipe.
The biscuits retail for $48.50 for two dozen and will be available for pre-sale on March 6, 2019 on www.calliesbiscuits.com, www.pappyco.com and after April 1, 2019 through select gourmet retailers across the country as well as at Callie's Hot Little Biscuit locations in Charleston, South Carolina; Atlanta, Georgia and now Charlotte, North Carolina.
About Callie's Biscuits
Carrie Morey founded Callie's Charleston Biscuits in 2005 with the goal of making the tender, butter, made-by-hand biscuits of her mother accessible across the country. Using no machinery whatsoever and with only the finest ingredients, the small team of bakers are keeping the tradition of Southern biscuit making alive. Callie's Hot Little Biscuit, is a counter-service restaurant location in Charleston Upper King District, the Charleston City Market, Atlanta's vibrant Virginia Highland Neighborhood and Charlotte's South End. Callie's Hot Little Biscuit serves a variety of freshly baked Callie's Biscuits and a range of other delicious breakfast, lunch and late night treats perfect for anyone on the go. Shoppers can find the full range of frozen and refrigerated Callie's Biscuits products as well as those from "The Buttery" line like cocktail pecans, their signature King Bean Coffee Roasters blend, grits as well as honey and jams.
About Pappy & Company
Pappy & Company was founded in 2013 by sisters Carrie, Louise and Chenault Van Winkle who are also triplets and the great grand daughters of bourbon legacy Pappy Van Winkle. Located in Louisville, KY, Pappy & Company is a bourbon inspired retail and culinary brand that works to infuse elements of the bourbon culture into all of their products. Artisan goods include their famous Bourbon Balls, Bourbon Barrel-Aged Pepper Sauce and Bourbon Barrel-Aged Pure Maple Syrup. The apparel line features tees and golf shirts, hats and belts, neckties and bowties. The home and barware collection includes glasses, flasks and bar accessories as well as a limited edition furniture line and kitchenware. Lastly, is the exclusive barrel fermented cigar collection in partnership with one of the most sought after cigar producers in the world. What unifies the Pappy & Company brand are thoughtfully made products with strategic partners that embody the values and craftsmanship of Pappy Van Winkle himself. More information can be found at www.pappyco.com.