TRIBALÍ Foods Releases Mini Sliders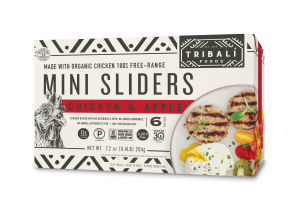 SAN MARINO, Calif. — TRIBALÍ Foods which celebrates its one-year anniversary in grocery stores, has added Chicken & Apple and Pork & Sage mini sliders to its portfolio of clean, frozen homecooked classics. Inspired by breakfast, yet versatile enough for any mealtime of the day, these 1.2 oz. mini sliders blend high quality organic fruit and herbs with pork or chicken from small family farms, for a flavorful, nutritious entrée centerpiece that's ready in minutes.
Refined with the help of a group of Southern California foodies and their Instagram followers, Founder and Holistic Nutritionist Angela Bicos Mavridis created the new product to meet the demand for healthier breakfast meats. The new varieties add the spice and flavors of fall comfort foods, without additivities, preservatives or unnecessary sugar.Chicken & Apple blends organic, free-range chicken with tart, tangy apples, sage, thyme and a touch of nutmeg for a lean 13g of protein per serving that's low in sodium and sugar. Those favoring high-fat, low carb diets will particularly appreciate the sugar-free Pork & Sage mini slider's 17g of fat, 1g of carbohydrates and 11g of protein per serving of two sliders. Sampling early prototypes of the new varieties in slider and link form, the health food connoisseurs and their Instagram polls proved the mini sliders victorious.
"In the Ketogenic world, finding compliant and healthy foods is nearly impossible and I have to practically make everything myself; No one has time for that!" said brunch attendee Shay Brook, the prolific Instagrammer behind @HookedonKeto. "I love how TRIBALÍ Foods is so accessible. The pork sliders are exactly what I need to stay healthy, keep it simple and thrive in the Keto lifestyle."
Paleo certified, Whole30 approved, Non-GMO, and free of gluten, dairy and soy, TRIBALÍ Foods was inspired by founder Angela Bicos Mavridis' own health journey and experience as a Holistic Nutritionist. After a 35-year stint as a vegetarian, she rediscovered the Paleo diet, reintroduced meat, and set out to create a convenient, wholesome meal option for others. Initially launched with 4 oz. Mediterranean Style Beef, Umami Beef and Chipotle Chicken patties on the west coast, TRIBALÍ products are now available from coast-to-coast in retailers including Super Target and Natural Grocers, and shipping nationwide via its website. All ingredients come from a sustainable, transparent supply chain with meat that's humanely raised without any added antibiotics or added hormones.
"There's a common misconception that eating healthy cannot be easy or affordable, and that a healthy diet doesn't include meat or delicious flavors," said TRIBALÍ Foods CEO Angela Bicos Mavridis. "We're committed to changing that by using real, whole foods to capture meal inspirations from across the globe."
Launched just in time for September rounds of Whole30, TRIBALÍ Foods mini sliders are now available exclusively in its online store with four-packs of six-slider boxes $27.96, and $6.99 six-slider boxes will launch in retailers including Walmart in October. Throughout the month of September, several official Whole30 Coaches will share their mini slider creations with step-by-step instructions on TRIBALÍ's Instagram. Follow @tribalifoods and the hashtag #MyTribali for culinary inspiration.
For more information about TRIBALÍ Foods, including its product lineup and where to buy, visit www.tribalifoods.com.
About TRIBALÍ Foods
Gathering flavor inspirations from around the globe, TRIBALÍ Foods uses only high-quality ingredients and a sustainable, transparent supply chain to deliver clean, delicious home-cooked classics. Featuring 100% organic grass fed and finished, pasture-raised beef, 100% organic free-range, air chilled chicken or pasture-raised pork, all meat is humanely raised on family farms without any added antibiotics or added hormones. Cooked from frozen and ready in minutes, the globally inspired patties and mini sliders are currently available in Mediterranean Style Beef, Umami Beef and Chipotle Chicken patties, and Chicken & Apple and Pork & Sage mini sliders. All TRIBALÍ Foods products are Paleo certified, Whole30 approved, Non-GMO and free of gluten, dairy, soy, preservatives and fillers. All recipes were created by Holistic Nutritionist and TRIBALÍ founder Angela Bicos Mavridis, merging her passions for wholesome, ancestral ingredients and fun, globally-inspired flavors. TRIBALÍ Foods products are sold in the freezer section at grocers including Super Target, Whole Foods Markets, Whole Foods 365, Erewhon, Woodlands Markets, Grassroots, Lassens, Bristol Farms, Mother's Market, Lazy Acres, Clark's Nutrition, Jensen's, Gelsons, as well as TRIBALÍ's online store, Amazon.com, TheSimpleGrocer.com, and HealthyGoodness.com. For more information, visit www.tribalifoods.com