Muuna Launches Pumpkin & Spice Cottage Cheese
NEW YORK  – It's officially pumpkin season, and Muuna, the award-winning dairy brand, continues to reimagine cottage cheese with the launch of the first ever, Pumpkin & Spice flavored cottage cheese.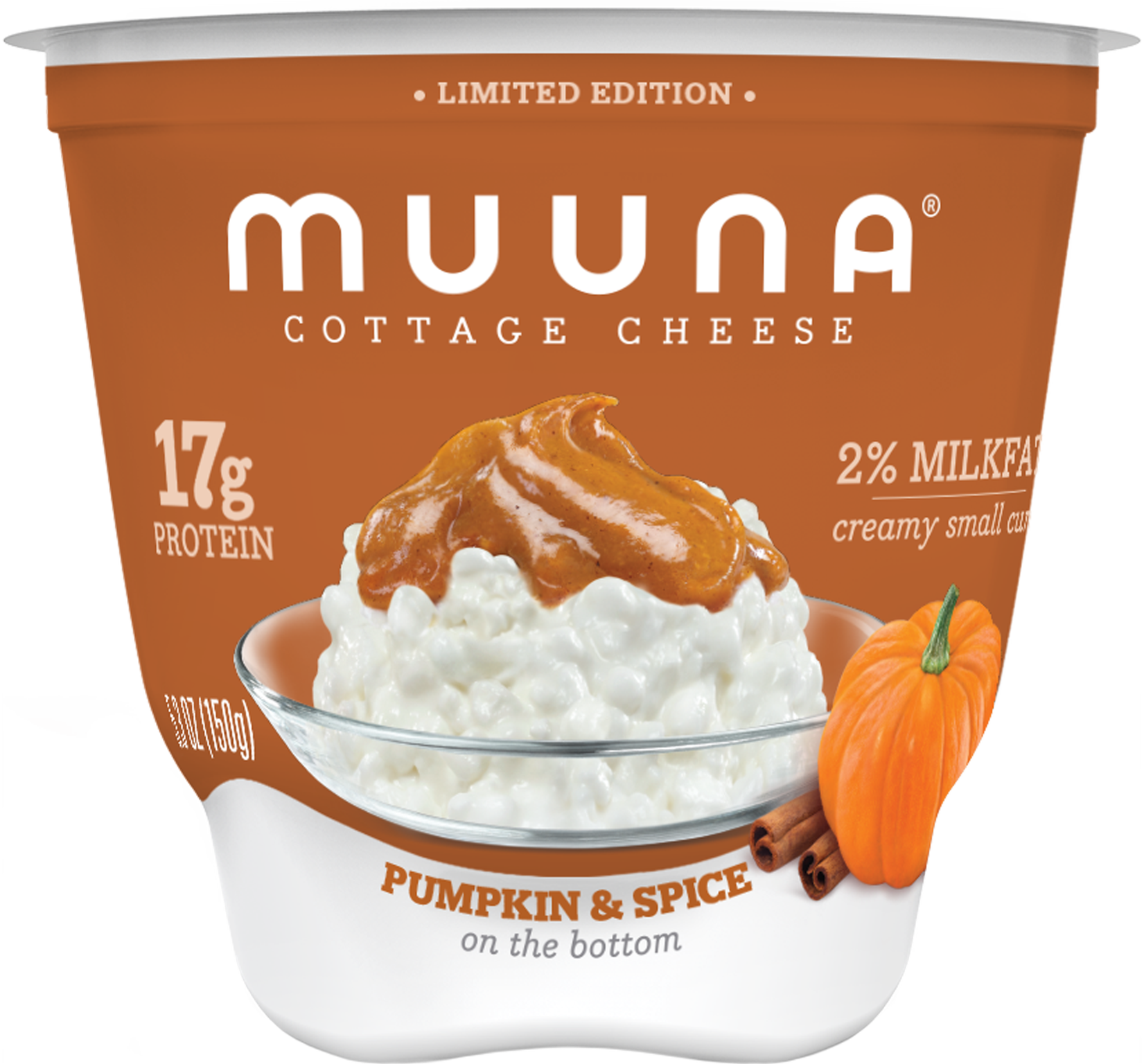 Consumers' appetite for pumpkin flavored products is on the rise according to Nielsen[1], with sales up 15% to $489 million in the 52 weeks ending August 25, 2018.
As October 21st is National Pumpkin Cheesecake Day and October 26th is National Pumpkin Day, the launch is well-timed. "There is a large demand for pumpkin spice product, and we are thrilled to debut a Pumpkin & Spice first in the cottage cheese category," said Gerard Meyer, CEO of Muuna.
Muuna's Pumpkin & Spice flavor is a special blend of real pumpkin puree, pumpkin spice seasoning and creamy, protein-packed cottage cheese, conjuring the flavor of pumpkin cheesecake. Consumers who clamor for all things pumpkin can reap the nutritional benefits of their favorite seasonal flavor guilt-free. For instance, one medium pumpkin spice latte averages approximately 50 grams of sugar and little to no protein whereas a 5.3-ounce snack cup of Muuna's new Pumpkin & Spice flavor has only eight grams of sugar plus a whopping 17 grams of protein, and even contains probiotics and potassium.
Muuna's Pumpkin & Spice joins the brand's original line of low-fat plain and a wide variety of fruit-on-the-bottom flavors such as Black Cherry, Vanilla, Raspberry, Pineapple, Peach, Blueberry, Strawberry and Mango each of which are loaded with protein and contain calcium, vitamins A & C, potassium and probiotics.
Pumpkin & Spice launches this week in select retailers and is available while supplies last. Muuna is available in more than 7,500 grocery stores in the Northeast, Southeast and Midwest.
About Muuna: 
Muuna is on a mission to change the way consumers think about cottage cheese. Muuna is reimagining cottage cheese and bringing excitement to the category with its proprietary melt-in-your-mouth creamy texture plus real pieces of fruit in single-serve cups. Available in creamy Lowfat Plain and eight delicious fruit-on-the-bottom flavors including Strawberry, Blueberry, Pineapple, Peach, Mango, Raspberry, Vanilla, Black Cherry and limited edition Pumpkin & Spice, Muuna is rich in protein, with 15-19g per cup and only 4-9g sugar. The brand's recent addition of the probiotic Bifidobacterium Lactis (B. lactis) to its offerings makes Muuna one of the only brands of cottage cheese that contains probiotics across a broad variety of items. Muuna also offers multi-serve containers of Lowfat Plain and Classic Plain. Muuna has won multiple taste awards.