EPIC Provisions to Launch New Line of Jerky Snack Strips
AUSTIN–Â EPIC Provisions, category leader of sustainably sourced meat-based products, will showcase a brand new line of premium Jerky Snack Strips at the 2017 Winter Fancy Food Show at booth #361 from January 22-24 in San Francisco. Launching January 2017 in Whole Foods Markets nationwide, the strips will be available in four gourmet flavors: Wagyu Beef, Venison Sea Salt Pepper, Salmon Smoked Maple, and Turkey Cranberry Sage.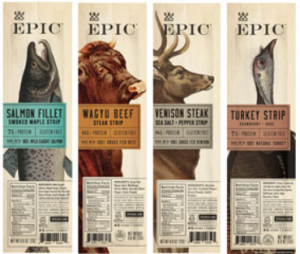 The new meat snack offers a cleaner, gourmet take on the convenience store favorite. Unlike conventional jerky sticks, EPIC's new innovations are made with high quality meats, including 100% grass-fed wagyu beef and venison as well as 100% wild caught salmon and natural turkey. Each of the jerky snacks will offer six to eight grams of protein; simple, all-natural ingredients; and will be low in sugar.
"We are continuously looking for new ways to utilize the beautiful creatures we source," said EPIC co-founder, Katie Forrest. "Our jerky snack strips are made with premium meat sourced from ranchers deeply rooted in the same ideologies as EPIC: to provide the best quality of life for the animals while honoring our sacred land."
Along with the Jerky Snack Strips, EPIC will also be showcasing the new Venison Sea Salt Pepper Bites, the most recent flavor added to the brand's roster of Bites. A tribute to the "classic" venison jerky recipe, the Venison Sea Salt Pepper Bites contain pasture centered, grass fed deer meat paired with bold spices. The product launches nationwide at major retailers in January 2017.
EPIC will serve samples of these new innovations at booth #361. For more information on the brand and its flavor-forward offerings, please visit epicbar.com.
About EPIC Provisions
EPIC Provisions is an Austin-based company focused on revolutionizing the food industry through the creation of innovative and category creating humanely raised, sustainably sourced meat snacks. EPIC's products are packed with nutrient-rich ingredients and deliver the highest quality of nutrition by using hormone-free, antibiotic-free, and gluten-free-ingredients. EPIC enriches the lives and welfare of the animals they source and helps to regenerate the planet through rewarding ranchers that practice restorative land management. The flagship EPIC bar is a 100% grass fed animal based protein bar designed as nature intended. EPIC believes foods should inspire EPIC health, and as a result, all EPIC products are Paleo-friendly, low in sugar and comprised of only whole foods. For more information on the brand and products, please visit www.epicbar.com.