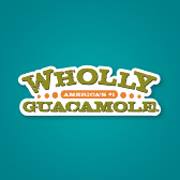 Company: Wholly Guacamole
Social:
Overview
America's #1 Brand of Guacamole! Check us out at http://eatwholly.com This Wholly Guacamole Facebook page is a fun, family-friendly place where people can swing by to share their passion for our products and where Wholly can interact with fans and have some fun! While we're excited to hear from you, it's important to note that consumer postings to the Wholly Guacamole Facebook page are not representative of the opinions of Wholly Guacamole or Fresherized Foods nor do we confirm their accuracy. Hey, we're not Wikipedia! We love interacting with our fans, but hey! We've got guac to sell! So we can't always monitor every posting or conversation. That's why we expect users to keep it clean and follow a few common courtesies that keep the good fuzzies out there in cyberspace. - Remember the Golden Rule and be nice! No abusive, defamatory, or obscene language is tolerated! - Keep it real. No fraudulent, deceptive or misleading posts allowed. - Keep it original. Don't post it if it ain't yours to post! No posts that would be in violation of any intellectual property right of another. - No soliciting, advertising or selling your wares on our turf. If you can't take the heat and want to get out of the kitchen, please feel free to remove yourself by clicking the "Unlike" link located on the left-hand sidebar. That's about it. So, go ahead and get your guac on!
---
Avocado Dip & Spread
Guacamole with Tortilla Chips
Request Access to Edit
Stemming from a desire to bring all of the goodness and flavor of WHOLLY GUACAMOLE products to a more portable package, these perfectly portioned Snack Cups are available in two flavor-packed varieties—Classic (Mild) and Spicy (Hot).
Submit News
No retailers or e-commerce options have been specified for this brand