WINTER 2018 | NOV 29+30 | SANTA MONICA
Immerse Your Company In Our Two-DayBusiness Conference For The Natural Food Industry
Navigation for the Booming Food Industry
With major changes in retail, investors pouring billions of dollars into brands, advancements in food technology and research, and in a space where over 20,000 new food and beverages launch each year, the natural food space often feels like a ride on the 405. NOSH Live is the event to help you map out the CPG industry and accelerate through this often chaotic space.
All-Star Brand Speakers And Industry Experts
On stage we speak to industry experts about innovation, the investment climate and the future of the industry. We assemble an all-star cast of brand leaders who talk about how they grew their companies through product, design and marketing decisions. The NOSH Live team carefully chooses speakers with detailed stories and actionable insights that will help our community accelerate their growth.
Be There to Discover What's Next
The NOSH Live conference creates additional opportunities for discovery by dedicating time to networking, tasting and seeing what's next. Speakers and experts are approachable, allowing you to walk up and ask them the questions that keep you up at night. The new Sampling Experience + Expo allocates two hours for everyone to try the latest prepared and single-serve natural foods. Expert tables provide a setting where it's easy to ask questions about production, ingredients, legal issues, investment and package design. The Pitch Slam puts rising star brands on display in a competitive environment. NOSH and BevNET edit teams are available to discuss what trends and brands they are covering and to make connections between attendees.
INDUSTRY STARS SPEAK ON LESSONS LEARNED AND THE FUTURE OF THE INDUSTRY
All-Star speakers from established and up-and-coming brands inspire action through topics your business can apply now, like: lessons in growth, branding and marketing, how to raise and use capital, navigating the ever-changing state of retail, harvesting and harnessing customer insights and using data to make decisions. Industry experts drop knowledge on innovation, the investment climate and the future of the industry.

You're running a business. Our on-stage content is curated for co-founders, CEOs, CMOs, COOS, revenue leaders and decision makers from across your organization.
CURRENT ROSTER OF SPEAKERS
Angie Bastian

Co-founder, Angie's BOOMCHICKAPOP

Angie Bastian

Co-founder, Angie's BOOMCHICKAPOP

Angie Bastian, entrepreneur, co-founder and namesake of Angie's BOOMCHICKAPOP, took a kernel of an idea and popped it into one of the fastest growing brands of natural popcorn. She and husband Dan founded their snack company in their Mankato, MN garage in 2001 as a means of creating a college fund for their children. Their gluten free, non-GMO, whole grain popcorn is proudly sold in natural food, grocery, club and mass retail outlets nationwide with a product presence in Canada, South Korea, Peru, Japan, Taiwan, the Caribbean and Mexico. The company is constantly innovating and is one of the fastest growing and most successful popcorn brands in the market today. Angie's BOOMCHICKAPOP is loved by fans as an empowered, spirited brand that represents authentic, real food that delivers on the attributes of clean, transparent labeling and great taste experience. The company has twice won Star Tribune's Top workplace honors. Angie herself is a recipient of the 2015 ACG BOLD Award for corporate growth and Connect Business Magazine's 2012 Person of the Year. Girl Scouts honored her as a Pioneering Trailblazer and she is a 2015 Inductee to the Minnesota Women's Business Owner's Hall of Fame. She has been featured in the Wall Street Journal, Huffington Post, Forbes Magazine and appeared on the Martha Stewart Show. Her products have been recognized and awarded by numerous national publications and media. To learn more about Angie's BOOMCHICKAPOP, visit boomchickapop.com or visit the Angie's BOOMCHICKAPOP Facebook, Twitter and Instagram pages.

Miguel Garza

Co-Founder & CEO, Siete Family Foods

Miguel Garza

Co-Founder & CEO, Siete Family Foods

Miguel Garza is Co-founder & CEO of Siete Family Foods, a healthy Mexican-American food brand that makes grain-free tortillas and tortilla chips, hot sauces and dairy-free cashew quesos. He holds degrees in business and law from the University of Texas.

John Foraker

Co-Founder & CEO, Once Upon a Farm

John Foraker

Co-Founder & CEO, Once Upon a Farm

John is the Co-founder and CEO of Once Upon A Farm, a company with the mission of providing yummy and nutritious "farm-to-family" foods to kids of all ages. Company information can be found at www.onceuponafarmorganics.com Prior to his new start-up, John spent more than 30 years in the natural and organic food industry running businesses with a sharp focus on sustainability and social responsibility. John was the longtime leader of Annie's, Inc., a leading natural & organic food brand, in the US from 1999 to 2017. As CEO of Annie's, he took the company public in 2012 under the symbol BNNY before General Mills acquired the business in 2014 for $820 million. For the following three years John ran the Annie's operating unit and also advised General Mills' small business incubator 301, Inc. He was recognized as an Ernst & Young Entrepreneur of the Year® 2015 in Northern California. In August 2017, he transitioned into a new role as Chairman of the Bunny, where he continues to work with General Mills to drive leadership in company culture, organic and regenerative agriculture, and strategy support. Foraker received a B.S. in agricultural economics from UC Davis and an MBA from UC Berkeley.

Alex Trott

Merchandising Client Lead for Natural Foods, 84.51° (Owned by Kroger)

Alex Trott

Merchandising Client Lead for Natural Foods, 84.51° (Owned by Kroger)

Alex Trott, Senior Client Lead, is responsible for natural foods merchandising. Previously, Ms. Trott worked as Client Lead at 84.51°. She graduated with a Bachelor of Arts in Psychology from Miami University. 84.51° helps companies create sustainable growth by putting the customer at the center of everything. Using a sophisticated suite of tools and technology, 84.51° works with some of the world's leading CPG manufacturers and partners. With more than 700 talented and fearless associates, 84.51° is a wholly owned subsidiary of The Kroger Co.

Nicole Bernard Dawes

Founder, Late July Snacks

Nicole Bernard Dawes

Founder, Late July Snacks

Nicole Bernard Dawes is a pioneering business owner whose lifelong dedication to transforming the food system resulted in her founding Late July Snacks, one of the country's most successful organic snack brands. Nicole has been named Food & Wine and Fortune Magazine's 'Most Innovative Women in Food and Drink' and Forbes Magazine's 'Top Five Women Breaking Barriers in Food and Beverage.' Furthering her dedication to the industry, Nicole is excited to announce the launch of Nixie Sparkling Water, hitting shelves in 2019.

Matt Gase

CEO, Lantana Foods

Matt Gase

CEO, Lantana Foods

Matt Gase is CEO of Lantana Foods, the innovation leader in the hummus category. Lantana uses alternative bases like black beans, lentils, edamame and vegetables to create unique flavor combinations. Most recently, Lantana launched Fruit hummus to bring plant-based spreads to breakfast. Prior to joining Lantana, Matt was President and Chief Executive Officer at Stubb's Legendary Bar-B-Q, the leading premium bar-b-q sauce, marinade and spice rub brand in the U.S. Following four plus years of double-digit growth, Matt led an auction process that resulted in the company being sold to McCormick & Co. Before joining Stubb's, Matt led Commemorative Brands, a leading scholastic consumer products company based. Prior to Commemorative Brands, Matt was focused on building businesses and brands for CPG companies such as ConAgra Foods, Ralston Purina and Continental Baking. His career has taken him across the US, as well as Southeast Asia and Australia. Matt earned an undergraduate degree from the University of Michigan and an M.B.A. from Loyola Marymount University.

Bryan Freeman

Chief Executive, Real Good Foods; Managing Partner, Slingshot Consumer Partners

Bryan Freeman

Chief Executive, Real Good Foods; Managing Partner, Slingshot Consumer Partners

As Chief Executive of Real Good Foods, Bryan has the privilege of working with an exceptional team of food professionals that are helping change how comfort food can be Real Food You Feel Good About Eating. Prior to RGF, Bryan has led 3 other food companies from early stage to strategic acquisition. Bryan has also served as an executive at AdvancePierre Foods prior to it being acquired by Tyson. He is also the Managing Partner of Slingshot Consumer Partners that invests and helps in early stage food companies. Bryan has a JD/MBA in finance from Loyola Law School and Loyola Marymount University. He earned a BA in International Economics from UCLA and lives in La Canada, CA with his wife Teresa and 2 children.

Katlin Smith

Founder & CEO, Simple Mills

Katlin Smith

Founder & CEO, Simple Mills

Katlin Smith is the Founder and CEO of Simple Mills, a Chicago-based company at the forefront of a clean food movement that is shaping the next generation of natural foods. Named to the Forbes 30 Under 30 Class of 2017, Smith launched Simple Mills in 2013 to provide a cleaner alternative to the natural baking mixes then on the market. Today, despite a crowded market space with long-established competitors, Simple Mills ranks as the #1 fastest-growing natural baking mix and cracker brand. Additionally, Simple Mills ranks as the #1 natural baking mix, the #1 natural cracker, and #2 natural cookie by dollar sales, according to SPINS syndicated data. Simple Mills products are currently distributed in more than 13,000 conventional and natural grocery stores including Whole Foods, Sprouts, Target, Kroger and Safeway as well as through Amazon and Thrive Market. All products are free of gluten, grain, dairy, soy, GMOs, excessive sugar, and artificial flavors and fillers, addressing consumer concerns about food sensitivities and the safety of the food supply chain. The current lineup includes baking mixes, frostings, almond flour crackers, sprouted seed crackers and ready to eat crunchy cookies. Smith is a former Deloitte Consulting management consultant, winner of the University of Chicago's Booth School of Business New Venture Challenge, and a columnist for Inc. magazine.

Robert Jakobi

Founder & CEO, BOU

Robert Jakobi

Founder & CEO, BOU

Robert is a food entrepreneur. He is the CEO and Founder of BOU and the former CEO and Co-owner of Metcalfe's skinny and Metcalfe's Food Company. Robert grew up in London. He moved to the US for College and studied at Duke University as a freshman before transferring to the University of Pennsylvania where he graduated in May 2007. After graduation Robert joined Barclays Capital in New York as an analyst, and then returned to London in 2008 where he continued his career at Barclays Capital. In March 2009, whilst still working in finance, Robert decided to launch a chocolate and yoghurt edamame range under the brand name Pod bites in the UK. In an effort to have his Pod bites range stocked in itsu and Pret, Robert sent samples to both retail outlets for consideration and it was this move that captured the attention of their Founder Julian Metcalfe. With an eye for new products, Julian was impressed with Robert's innovative range and arranged a meeting to learn more. The meeting led to the launch of Metcalfe's Food Company in October 2010. Robert's business and financial leadership were integral to the success of Metcalfe's Food Company. The Company enjoyed a compound annual growth rate of over 200% in revenues between 2011 and 2014, and reached fourth place on the Sunday Times Fast Track 100 list in December 2014 - a first for a company in the food industry. It was the fastest-growing, privately-owned food and drink company in the UK. In September 2015, Robert and his partner, Julian Metcalfe spun Metcalfe's skinny out of Metcalfe's Food Company. At the time, Metcalfe's skinny was the UK's leading premium popcorn brand. In January 2016, Julian and Robert sold a 26% stake in Metcalfe's skinny to Diamond Foods (then the owner of Kettle Chips). In September, 2016, the new owner of Kettle Chips, Snyder's, acquired the remaining 74% of the business, a deal that will ensure the brand's growth potential is maximized in the UK and Europe. In May 2017 Robert launched BOU which is a better-for-you range of bouillon and gravy cubes with the aim of disrupting categories in the food industry that have not seen innovation in years. BOU recreates timeless kitchen staples by packing better for you ingredients into easy to use cubes that never compromise on flavor or quality. By innovating a stale category, they were able to grow into a national company overnight by securing major retailers such as Amazon, Fresh Direct, Harris Teeter, Whole Foods and over 4,000 other retailers. Their current range of bouillon and gravy cubes are convenient and hassle-free and never sacrifice on taste or quality. They also just launched an exciting and innovative instant, better for you range of soup cups. All their products are non-GMO, made with no artificial ingredients, and have less sodium than leading brands.

Brian Reed

Principal, Market Structure, IRI

Brian Reed

Principal, Market Structure, IRI

Brian is a category management, shopper and consumer insights professional with over 25 years of experience. He has extensive focus in advanced analytics including modeling and testing and strategic planning with both manufacturers and retailers. Prior to joining IRI, Brian was the Director of Market Research at Furniture Brands International. He also served as the leader for the category planning process for Nestle Purina Pet Care.

Kathryn Peters

EVP, Retailer Services, SPINS

Kathryn Peters

EVP, Retailer Services, SPINS

Kathryn Peters has served SPINS for 10 years across numerous key areas of the growing business. Her commitment to and passion for retail inspires her work developing and sustaining valuable retail relationships at the foundation of the SPINS ecosystem. Kathryn's insight into helping retailers succeed with SPINS is informed by her previous vice president roles in merchandising and marketing at Ahold and BI-LO, LLC. as well as years of category management and sales experience with retailers during her time with Ralston Purina.

Kara Cissell Roell

Co-Founder & Managing Director, VMG Partners

Kara Cissell Roell

Co-Founder & Managing Director, VMG Partners

Kara co-founded VMG Partners in 2005 and focuses on all aspects of the Fund's investment strategy, sourcing, execution, portfolio company oversight and exit management. Since its inception, VMG has partnered with entrepreneurs and management teams to provide a breadth of value-add resources in the areas of sales, marketing, branding, finance, operations and legal support which enable its partner companies to rapidly increase brand awareness, accelerate growth and build equity value. Kara serves, or has served, on the boards of babyganics, Bare Snacks, Drunk Elephant, Health Warrior, Humm Kombucha, KIND Snacks, Pirate Brands, Pretzel Crisps, Quest Nutrition, Solid Gold Pet, Sun Bum, Waggin' Train and Vermont Smoke & Cure, among others. Kara has been an investor in emerging, lower-middle-market branded consumer companies for the last 18 years. Prior to her private equity career, Kara was an Analyst at the investment bank of Schroders plc and received her Bachelor of Arts in Economics and German from Colgate University.

Denise Lambertson

Founder & Chief Connector, LMS

Denise Lambertson

Founder & Chief Connector, LMS

Denise Lambertson is founder and Chief Connecter at LMS, a boutique entertainment marketing agency specializing in entertainment and marketing solutions for growth-stage and emerging brands. LMS got its humble start in 2009 with the goal of helping young brands better navigate partnership possibilities and celebrity integrations. Since then, Denise has grown the company to include influencer, micro influencer and affiliate programming, as well as fast-growth social media services. Though a small company itself, LMS does big business. Clients have included industry game-changers like Thrive Market, Daily Harvest, Gilt Groupe, WTRMLN WTR, CORE Hydration and many more. Some of LMS' marquee partnerships include Sofia Vergara & EBY, Beyoncé & WTRMLN WTR, Serena Williams & Gwyneth Paltrow for Daily Harvest and many more. Before founding LMS, Denise built her career in the entertainment world as Madonna's (yes, that Madonna) right hand woman for six years, and later a consultant for major companies including Volkswagen and David Yurman. Though she's played with the majors, Denise has always had a soft spot for the startup and growth-stage community and takes pride in the fact that LMS selectively represents the top industry-disrupting, innovative small brands. Currently, Denise resides in New York with her husband and business partner, Tim, and their bullmastiff, Big Ben.

Brandon Ng

Associate, Houlihan Lokey

Brandon Ng

Associate, Houlihan Lokey

Mr. Ng is a an Associate in Houlihan Lokey's Consumer, Food & Retail Group, focused on providing investment banking and M&A advisory services to consumer companies, with a specific focus on the better-for-you food & beverage and active nutrition space. Since joining Houlihan Lokey in 2014, Mr. Ng has worked on a variety of engagements including sell-side M&A transactions, other corporate finance assignments, and fairness opinions, including 15 sell-side M&A transactions in the healthy, active, and sustainable living industry. Additionally, he served in the Air Force for two years and competed on the Singapore National Youth Water Polo Team.

Jay Novak

Managing Director, Houlihan Lokey

Jay Novak

Managing Director, Houlihan Lokey

Mr. Novak is the Global Head of Houlihan Lokey's Consumer, Food & Retail Group. He focuses most of his time leading transactions in the high-growth segments within Food & Beverage, including the better-for-you and health and wellness brands. He serves on the firm's Management Committee and leads a group of approximately 60 consumer professionals worldwide. Since joining Houlihan Lokey in 1996, Mr. Novak has led more than 200 corporate finance engagements involving M&A, debt financings, and corporate restructurings. He has handled assignments for food, consumer products, retail, entertainment, and manufacturing companies. Prior to joining Houlihan Lokey, Mr. Novak spent five years in international investment banking, serving highly leveraged middle-market and Fortune 500 multinational corporate clients, primarily in consumer-branded goods. Mr. Novak also spent two years in the investment banking department at Kidder, Peabody & Co., where he specialized in M&A and debt and equity underwriting.

Rachel Krupa

Founder, The Goods Mart, Krupa Consulting

Rachel Krupa

Founder, The Goods Mart, Krupa Consulting

Over the last decade Rachel Krupa, founder of boutique PR firm Krupa Consulting, has launched incredible brands and discovered amazing products that share a common ethos – mindful practices, well-created natural foods and products, and a mission to do better. She has launched Thrive Market, Tastemade, Barnana, Brownie Brittle, goop Wellness, Sweetfin Poke, and Maman, also playing an integral role in the growth of Joe & the Juice's in the U.S., Good Culture cottage cheese, Pukka Tea, MatchaBar, McConnell's Fine Ice Cream as well as West Coast expansion of Milk Bar and Shake Shack. Her reach has also extended into culinary awareness for revolutionary festivals like Coachella, Arroyo Seco, Eat Drink Vegan, and Panorama. Inspired to inspire others by the restaurants, snack brands, and wellness thought leaders that she's worked with – all passionate about ingredient quality, ethical sourcing, and consciously created business – in 2018, Rachel opened The Goods Mart, a socially conscious convenience store. The Goods Mart has curated mission driven upgrades to standard store staples that are not only delicious but also better-for-you and the environment. The Goods is a new kind of destination where neighbors get to know each other while grabbing a sustainable coffee for $1.25, a dye-free candy bar, a tasty local artisanal sandwich, chips, or the essentials – eggs, toilet paper, and milk – all the while giving back to local charities. There are two TGM locations: Silver Lake, CA and New York, NY.

Michael Silverman

Founder & Managing Director, Samantha Brands Group

Michael Silverman

Founder & Managing Director, Samantha Brands Group

Michael Silverman is founder and Managing Director of Samantha Brands Group ("SBG"). SBG is an investor and operator in the CPG space which leverages an experienced centralized management platform and a data driven approach to help scale burgeoning brands. Michael founded SBG in late 2015 after several years of investing in young CPG brands and observing the recurring challenges that so many of them have in common. The SBG management platform includes in-house sales, marketing, operations, financial, and back office support for its portfolio of brands. Michael is passionate about promoting CPG as a financial asset class and exploring differentiated models to better unite operators and investors. Michael grew up in Carmel, California, attended the University of Southern California where he received his BA in Philosophy, and the University of Denver Sturm College of Law where he received his Juris Doctor. He currently resides in Denver, Colorado and is a member of the Colorado Bar. He's an avid hiker, skier, and Crossfitter in his spare time.

Michael Bush

Managing Partner, GrowthWays Partners, LLC

Michael Bush

Managing Partner, GrowthWays Partners, LLC

Michael Bush founded GrowthWays Partners to provide strategic advisory services to investors, management teams and related stakeholders to optimize the enterprise value of companies in the natural products industry. Michael has more than 25 years of experience leading venture-backed businesses in the natural products, healthcare and bioinformatics industries. As president and CEO of probiotic innovator Ganeden, Michael grew the market of the company's patented ingredient to over 65 countries and more than 1,000 SKUS, culminating with the 2017 merger with Kerry, Inc. Additionally, he founded a national business growth consultancy firm, co-founded a national biomedical services firm and led acquisitions and merger activities for a global medical services company. Bush has received numerous awards for his business leadership, including Crain's Cleveland Business 40 Most Influential People Under 40, four-time Weatherhead 100 winner as well as multiple innovation awards. Michael is a board member for several for and not-for-profit organizations, including Executive Board President of the International Probiotics Association (IPA). Michael is passionate about the natural products industry and speaks frequently at industry events including BevNet, Natural Products Expo and Supply Side. He holds degrees in Biomedical Technology and Business Administration.

Doug Raggio

Founder, Bias & Blind Spots

Brad Barnhorn

Board Member & Advisor, Barnhorn Growth Advisors

Brad Barnhorn

Board Member & Advisor, Barnhorn Growth Advisors

Brad works closely with leading growth-stage food and beverage companies as a board member and strategic advisor. His work leverages 25 years of company-building experience as entrepreneur, CEO, board member and investor, cutting across all strategic and operational dimensions of successful company-building in the food and beverage space. He currently serves on the Board of Fishpeople, Health Warrior, Simple Mills, Rhythm Superfoods, Biena, Rib Rack, and Red's All Natural. He previously served on the Board of Krave Jerky, Kevita and Chameleon Cold Brew from these companies early stages through their respective exits as category defining brands to Hershey's, Pepsi and Nestle. Building upon a foundation in management consulting and investment banking, Mr. Barnhorn's food and beverage journey began twenty years ago as Founder/CEO of the Fantasia Fresh Juice Company which he built into the leading superpremium fresh juice/smoothie company in the Midwestern United States culminating in a merger with Naked Juice to form the leading national brand in the category which was subsequently acquired by Pepsi. He holds an MBA from the Stanford Graduate School of Business.

Bob Burke

Founder, Natural Products Consulting Group

Bob Burke

Founder, Natural Products Consulting Group

As a consultant since 1998, Bob Burke provides assistance in bringing natural, organic and specialty products to market across most classes of trade. This includes work in strategic planning, growth strategies, writing sales, marketing and business plans, budgeting, pricing, building distribution, broker selection and management, organizational development, strategic options, branding and trade spending management. He is also the co-author and co-publisher of the Natural Products Field Manual, Fourth Edition and The Sales Manager's Handbook. Prior to consulting, Bob was with Stonyfield Farm Yogurt for 11 years as Vice President, Sales & Corporate Development and Vice President, Marketing & Sales. He has held marketing positions with Colombo, Inc. and Sperry Top-Sider. He received an MBA from Babson College.

Carol Ortenberg

Editor, NOSH

Carol Ortenberg

Editor, NOSH

Carol is the Editor of NOSH, BevNet's media property focusing on Natural, Healthy, Sustainable and Organic food products. Carol previously worked and consulted for several consumer goods companies, many within the food space. She also was on the marketing team for Whole Foods Market in the North Atlantic region. Prior to focusing on the food industry, Carol worked at several tech companies, including HubSpot, and served as a consumer researcher at AMP Agency. A graduate of Brandeis University in Journalism, Cultural Anthropology and Theater Arts, Carol is passionate about the food, agriculture and beverage industries.

Jeffrey Klineman

Editor-in-Chief, BevNET

Jeffrey Klineman

Editor-in-Chief, BevNET

As Editor-in-Chief of BevNET, Jeffrey Klineman oversees the organization's reporting across all of its web sites, as well as BevNET Magazine. Jeffrey is also responsible for developing the content for conferences like BevNET Live and Food and Beverage University (FBU). Jeffrey previously worked as a newspaper reporter for the Lawrence Eagle-Tribune, the Boston TAB and the Metrowest Daily News, and has freelanced for publications like Slate, Boston Magazine, Self, George, Commonwealth, and the Chronicle of Philanthropy. Jeffrey is a graduate of Yale University and Columbia University's Graduate School of Journalism. A frequently-cited expert on the beverage industry, Jeffrey has also been named in Forbes as one of the 25 Most Influential Kingmakers in Consumer and Retail Companies. He is still trying to live that one down.

Ken Plasse

CEO, Fishpeople

Ken Plasse

CEO, Fishpeople

Ken Plasse is CEO of Fishpeople, a certified B-Corporation that makes choosing pure, sustainably-sourced seafood both simple and wildly delicious. Fishpeople is committed to being a steward for the oceans and driving economic development in rural communities, helping to change the seafood industry one bite at a time. All Fishpeople products, including soups and bisques, Seafood Kits, Wild Alaskan Salmon Jerky and Ready, Set Salmon oven roasted salmon slices, are traceable connecting consumers back to the source of their sustainable fish. Prior to Fishpeople, Ken transformed a pioneering biotechnology into a disruptive award-winning microalgae food ingredient at Solazyme (now Corbion). Ken's background lies deep in marketing, innovation and sales, building premium food and beverage brands at Hershey & EJ Gallo. Prior to finding a home in the natural industry, he travelled the world in a number of management consulting and finance roles. Ken earned an undergraduate degree from University of Maryland at College Park and an M.B.A from the Wharton School of Business at the University of Pennsylvania.
NEW: A DEEP DIVE INTO A HOT EMERGING CATEGORY
The massive interest in -- and approaches to -- the incorporation of Marijuana, Hemp, THC and CBD as functional ingredients in food and beverage brands is shared by new companies and existing brands alike. Nevertheless, there is still much to understand. Food and beverage professionals are invited to navigate an ambiguous cannabis market and explore how it could impact their businesses at the new half-day forum.
Hosted on Saturday, December 1st, the weekend between NOSH Live and BevNET Live, professionals will receive a complimentary ticket to the Forum if registered for both conferences.
IMMERSE YOUR BRAND IN TWO DAYS OF NAVIGATION, AWARENESS, NETWORKING AND PARTNERSHIP
The natural products space is booming at close to $150 billion dollars annually. Investment is extraordinary with million dollar raises becoming common-place. We just saw ACG announce another $350M fund for rising star brands, while trendy spaces like plant-based meats have seen recent raises of $55M (Beyond Meat) and $14M (Impossible Foods).
The playbook for brands is ever-changing with big shifts in retail and new players entering the traditional and club channels causing brands to ask big questions. And there are as many questions about direct-to-consumer. Come to NOSH Live immerse your brand in 2 days of industry navigation, brand awareness and networking to find partners to help you execute your vision.

A DISTINCT FOCUS ON BRAND AWARENESS AND INDUSTRY EXPOSURE
The NOSH Live experience is about the community getting acquainted, learning about what's next and accelerating. Some brands are just starting and looking for capital and awareness. Others are established and have something to teach. Some brands are in discovery mode, looking for brands to add to an incubator or to spot their next product opportunity. Others want to gain an advantage with their production or marketing. Enter Pitch Slam and the Sampling Experience + Expo.
---
NOSH LIVE SAMPLING EXPERIENCE & EXPO POWERED BY PINATA
NOSH Live is a show about natural foods and we take the experience of trying natural foods seriously. Our new Sampling Experience + Expo gives brands a chance to be the sampler in a structured networking setting where everyone can try new, hot and trendy single-serve and prepared foods with opportunities to get down to business at our expert roundtables and interact with suppliers and service providers who can help you with growth at scale.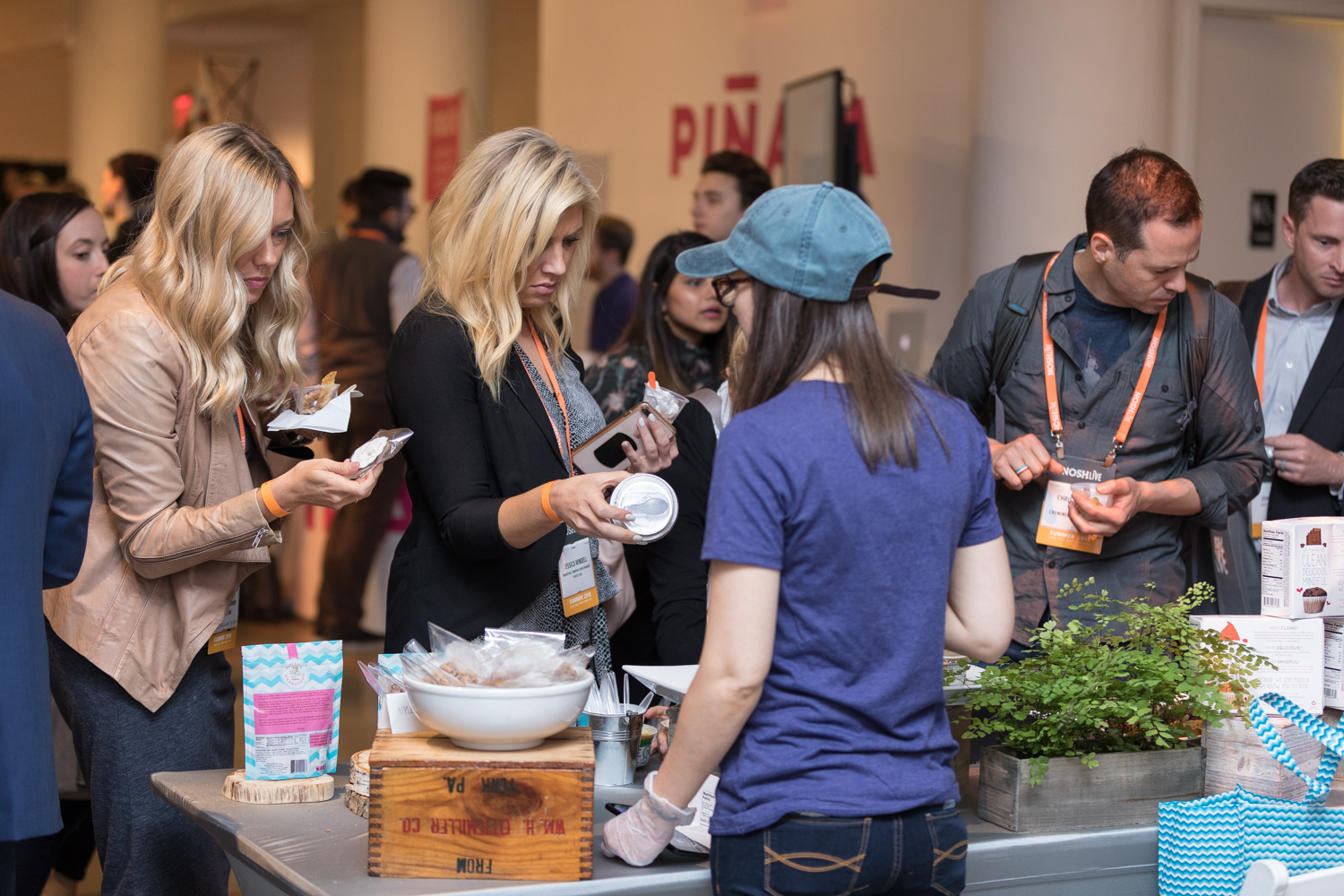 ---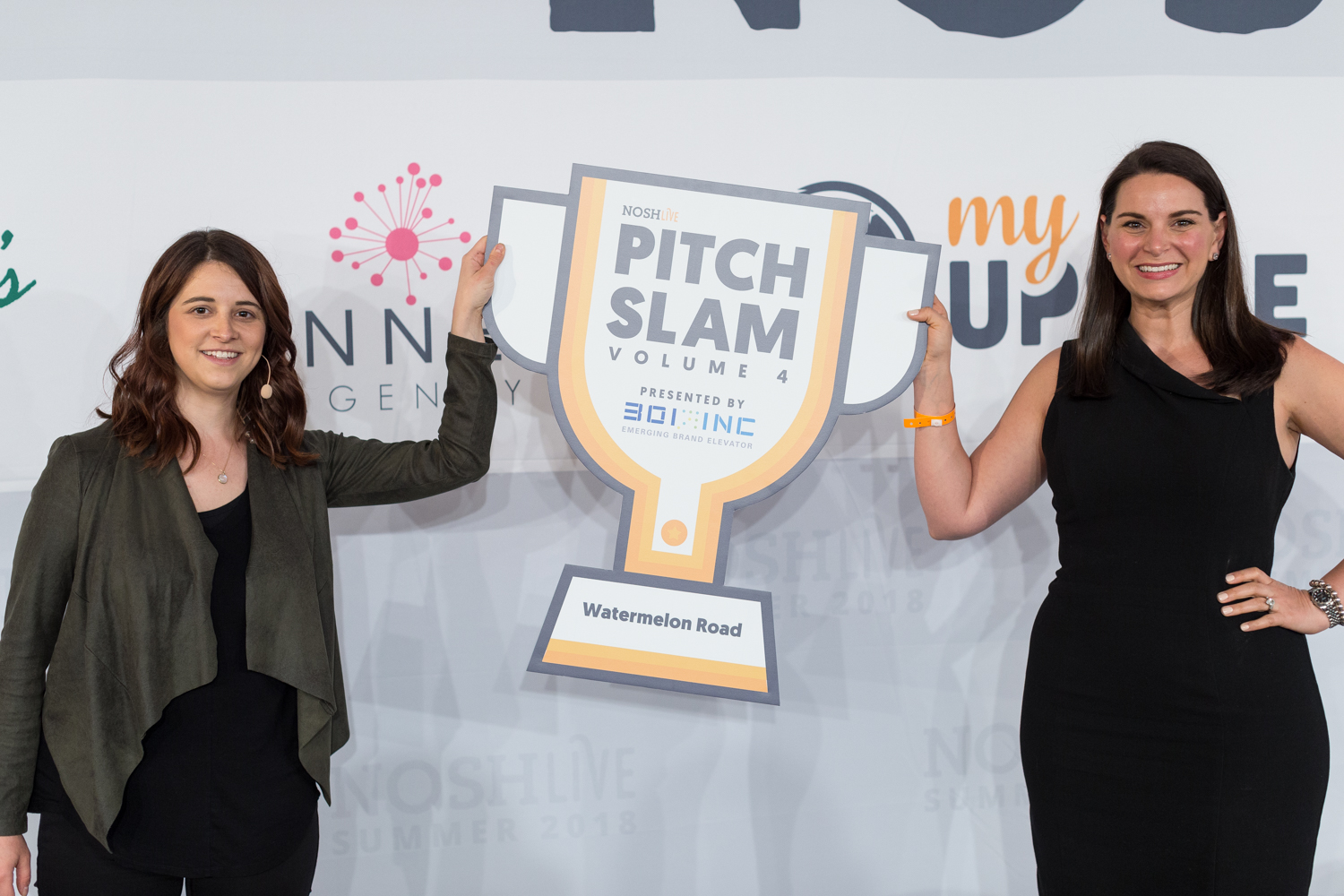 PITCH SLAM VOLUME 5: YOUR BRAND CENTER STAGE
We put the hottest new brands in the spotlight in our annual Pitch Slam contest.
Up-and-coming startup brands prepare their best presentation for the NOSH Live main stage. Founders receive instant feedback from a group of expert judges of top retailers, brands, investors, designers, the NOSH community and the world via our livestream. The winner achieves the distinction of being champion along with a digital industry awareness package on NOSH that will give them more valuable exposure to the broader community.
COLLABORATE, OPEN DOORS, PLUG-IN
The vibe of NOSH Live is highly collaborative. The event attracts a group of decision makers, including founders and CEOS from established and new brands who are ready to learn, innovate and grow, along with top experts from investment, retail, supply, distribution and services.
If you want to walk up to your favorite investor to have a conversation, you will have time. If you want to sit with thought leaders to discuss opportunities that have been puzzling you or that you are ready to kick off, the opportunity is there to seize.
The NOSH and BevNET edit teams and staff will be there to help you make connections and talk about coverage.
BOOTCAMP IS VITAL FOR INDUSTRY NAVIGATION
Experts making an industry change and fresh faces alike find that an industry primer ahead of the main event is a great gut check for newbies to the massive natural products space. Learn how to choose the right investor and capitalize your business. Get tips on designing your package. Learn the ins and outs of legal and accounting. Hear story-telling and buzz creation advice from experts in marketing and public relations. Sit down with the pros after the presentations to ask your own specific questions in an environment paced for learning and discussion.


RECENT EVENT ANNOUNCEMENTS
GET CONFERENCE UPDATES
Sign up to receive NOSH Live speaker and program announcements straight to your inbox.