WINTER 2018 | NOV 29+30 | SANTA MONICA
Immerse Your Company In Our Two-DayBusiness Conference For The Natural Food Industry
Navigation for the Booming Food Industry
With major changes in retail, investors pouring billions of dollars into brands, advancements in food technology and research, and in a space where over 20,000 new food and beverages launch each year, the natural food space often feels like a ride on the 405. NOSH Live is the event to help you map out the CPG industry and accelerate through this often chaotic space.
All-Star Brand Speakers And Industry Experts
On stage we speak to industry experts about innovation, the investment climate and the future of the industry. We assemble an all-star cast of brand leaders who talk about how they grew their companies through product, design and marketing decisions. The NOSH Live team carefully chooses speakers with detailed stories and actionable insights that will help our community accelerate their growth.
Be There to Discover What's Next
The NOSH Live conference creates additional opportunities for discovery by dedicating time to networking, tasting and seeing what's next. Speakers and experts are approachable, allowing you to walk up and ask them the questions that keep you up at night. The new Sampling Experience + Expo allocates two hours for everyone to try the latest prepared and single-serve natural foods. Expert tables provide a setting where it's easy to ask questions about production, ingredients, legal issues, investment and package design. The Pitch Slam puts rising star brands on display in a competitive environment. NOSH and BevNET edit teams are available to discuss what trends and brands they are covering and to make connections between attendees.
EARLY REGISTRATION SAVINGS EXPIRE ON FRIDAY, OCTOBER 19.
RESERVE A DISCOUNTED ROOM AT THE LOEWS BEFORE THEY SELL OUT
The NOSH Live Winter 2018 conference takes place at the Loews Santa Monica Beach Hotel. Enjoy the SoCal weather, magnificent sunsets, views of the Santa Monica Pier, and superior accommodations at the famous beachfront hotel. Registering now grants you access to discounted rooms, so don't delay!
INDUSTRY STARS SPEAK ON LESSONS LEARNED AND THE FUTURE OF THE INDUSTRY
All-Star speakers from established and up-and-coming brands inspire action through topics your business can apply now, like: lessons in growth, branding and marketing, how to raise and use capital, navigating the ever-changing state of retail, harvesting and harnessing customer insights and using data to make decisions. Industry experts drop knowledge on innovation, the investment climate and the future of the industry.

You're running a business. Our on-stage content is curated for co-founders, CEOs, CMOs, COOS, revenue leaders and decision makers from across your organization.
CURRENT ROSTER OF SPEAKERS
PAST SPEAKERS
Monika Coyle

Local Purchasing Coordinator, Whole Foods Market

Monika Coyle

Local Purchasing Coordinator, Whole Foods Market

Monika Coyle oversees Local Purchasing for Whole Foods Market Southern Pacific region. In this position, Monika gets to work first hand with artisans and suppliers to launch vibrant products in the region. Monika's experience started in the vibrant world of beer, wine and cheese, where she honed her palette and helped elevate product selection as well as team member engagement with the Specialty Foods world. She then brought her skillset to the regional Grocery team, overseeing operations and later purchasing for the region. Monika holds degrees from DePaul University in Chicago as well as Kendall, where she polished her culinary savvy. The limited time Monika is not exploring food in some capacity, she enjoys staying active with her husband and their 14 month old daughter as well as traveling as much as possible.

Peter Rahal

CEO & Co-Founder, RXBAR

Seth Goldman

Chairman, Beyond Meat; TeaEO, Honest Tea

Seth Goldman

Chairman, Beyond Meat; TeaEO, Honest Tea

Seth Goldman co-founded Honest® Tea in 1998 with Professor Barry Nalebuff of the Yale School of Management. In March 2011, Honest Tea was acquired by The Coca-Cola Company, helping to further the reach and impact of Honest Tea's mission by becoming the first organic and Fair Trade brand in the world's largest beverage distribution system. Today, Honest Tea is the nation's top selling ready-to-drink organic bottled tea and Honest Kids® is the nation's top-selling organic kids' juice drink. The brands are carried in more than 130,000 outlets in the United States, including all Wendy's, Chik-fil-A, and SUBWAY restaurants. In 2016 Honest Tea's distribution expanded to Europe. In 2016, Seth transitioned to a new role at Honest Tea as TeaEO Emeritus and Innovation Catalyst for Coca-Cola's Venturing & Emerging Brands business unit. This transition allows him to take on an additional role as Executive Chairman of Beyond Meat, a privately held California-based enterprise on the cutting edge of plant-based protein research and development. In 2015 Seth was named the #1 Disruptor by Beverage World, and Beverage Executive of the Year by Beverage Industry magazine; he was also inducted into the Washington DC Business Hall of Fame. Seth has also been recognized by the United States Healthful Food Council with a REAL Food Innovator Award for helping change the food landscape by providing options that are healthier for both the body and the planet. Seth serves on the advisory boards of Ripple Foods, the Yale School of Management, the American Beverage Association, and Bethesda Green (a local sustainability non-profit he co-founded). He graduated from Harvard College (1987) and the Yale School of Management (1995), and is a Henry Crown Fellow of the Aspen Institute. Seth and Barry are the authors, along with graphic artist Soongyun Choi, of The New York Times bestseller Mission in a Bottle. The book, told in comic book form, captures their efforts to create a mission-driven business in a profit-driven world. Seth lives with his wife and three sons near Honest Tea's Bethesda, MD headquarters in an eco-friendly house.

Gary Hirshberg

Co-Founder & Chief Organic Optimist, Stonyfield Farm

Gary Hirshberg

Co-Founder & Chief Organic Optimist, Stonyfield Farm

Gary Hirshberg is Co-Founder and Chief Organic Optimist of Stonyfield Farm, the world's leading organic yogurt producer, and the author of Stirring It Up: How to Make Money and Save the World (Hyperion, 2008). Gary frequently speaks on topics including sustainability, organic agriculture and the profitability of green business. Gary serves on several corporate and non-profit boards, including Blue Apron, Forager, Orgain, Peak Organic Brewing, and UNreal chocolates as well as Advisory Board member for Applegate. He has received 12 honorary doctorates and numerous awards for corporate and environmental leadership including a 2015 Champion for Children Award from Mount Sinai Hospital's Children's Environmental Health Center and a Lifetime Achievement Award by the US EPA.

Jeremiah McElwee

Senior VP of Merchandising & Product Development, Thrive Market

Jeremiah McElwee

Senior VP of Merchandising & Product Development, Thrive Market

A twenty-five year veteran of the Natural Products industry, Jeremiah has been on all sides of the business and supply chain, literally from seed to shelf. Thrive Market's Senior Vice President of Merchandising + Product Development, Jeremiah also served for 7 years as the Executive Global Coordinator for the Beauty, Apparel & Wellness categories at Whole Foods Market, a $1.5 billion annual division of the business during his tenure. During his time at WFM, he pioneered multiple, industry changing, quality standard initiatives including natural beauty standards (AKA WFM's Premium Body Care standard), organic labeling requirements for personal care, and the largest ever sustainable packaging guidelines for a major retailer later adopted by WalMart. Jeremiah is also a passionate advocate for and creator of Fair Trade standards that changed the natural products landscape. In addition to developing hundreds of branded products that line natural food store shelves and managing the Whole Foods & 365 private label brands, he also helped Dr. Andrew Weil develop his branded product platform. Thrive Market launched in November 2014 and has skyrocketed to become the largest national Non-GMO food retailer in the US while democratizing access to natural + organic foods for all Americans. Jeremiah was part of the startup team and built the initial product launch catalog and also is responsible for Thrive Market's premium quality, yet value priced, private label program. Since December 2015, Thrive has launched over 370 private label items with over 500 more products in the pipeline scheduled for launch in 2018 & beyond! 98% of the items launched to date are Certified Organic with a focus on regenerative agriculture practices as well. Jeremiah and his team spend countless hours sourcing the highest quality, organic + non-GMO products so that Thrive Market Members can feel confident they are getting the absolute best for themselves and their families everyday. When not working as an eco-superhero, he can be found in the Texas Hill Country practicing hot vinyasa yoga, spending time with his daughters, or checking the surf report and planning his next escape to the coast.

Sarah Michelle Gellar

Chief Brand Officer & Co-Founder, Foodstirs

Sarah Michelle Gellar

Chief Brand Officer & Co-Founder, Foodstirs

Sarah Michelle Gellar is a Golden Globe nominee and Emmy winning actress best known for her roles in Buffy the Vampire Slayer, ABC's All My Children, CBS's The Crazy Ones, and Cruel Intentions among others. Off screen, Gellar lends her time and support to child and hunger organizations as an advocate and activist. She works closely with No Kid Hungry and Baby Buggy as well as the nonprofit organization CARE. In October 2015, Gellar stepped into a new role as entrepreneur, co-founding Foodstirs (www.foodstirs.com) along with Galit Laibow and Gia Russo. Foodstirs is a culinary lifestyle brand that offers convenient, delicious and healthier ways to bring families together in the kitchen. From creative cooking kits to premium signature baking mixes, Foodstirs inspires creativity and curiosity, while emphasizing the importance of a healthier lifestyle.

Brett Thomas

Co-Founder, CAVU Venture Partners

John Foraker

Co-Founder & CEO, Once Upon A Farm

John Foraker

Co-Founder & CEO, Once Upon A Farm

John is the Co-founder and CEO of Once Upon A Farm, a company on a mission to build a purpose driven brand focused on reinventing a number of kid-food categories in the US toward better health & nutrition, while driving significant positive social and environmental impact. Company information can be found at www.onceuponafarmorganics.com. Prior to his new start-up, John spent more than 30 years in the natural and organic food industry running businesses with a sharp focus on sustainability and social responsibility. John was the longtime leader of Annie's, Inc., a leading natural & organic food brand, in the US from 1999 to 2017. As CEO of Annie's, he took the company public in 2012 under the symbol BNNY before General Mills acquired the business in 2014 for $820 million. For the following three years John ran the Annie's operating unit and also advised General Mills' small business incubator 301, Inc. He was recognized as an Ernst & Young Entrepreneur of the Year® 2015 in Northern California. In August 2017, he transitioned into a new role as Chairman of the Bunny, where he continues to work with General Mills to drive leadership in company culture, organic and regenerative agriculture, and strategy support. Foraker received a B.S. in agricultural economics from UC Davis and an MBA from UC Berkeley.

Deb Hannah

Director, Retail Brand Partnerships, Starbucks

Deb Hannah

Director, Retail Brand Partnerships, Starbucks

Deb joined Starbucks 5 years ago, and for the past year has led the Retail Brand Partnerships team. She and her team run the snack category across North America and have the enviable task of finding new food brands for Starbucks stores that customers can feel good about—ones made with simple, pure ingredients and crafted with love and care. Prior to working with food entrepreneurs to build a snack business for Starbucks stores, Deb spent 12 years in traditional consumer packaged goods. At Starbucks she created the shopper marketing and shopper insights function from the ground up, and managed various coffee brands for the FDMC channel including Starbucks packaged coffee, Seattle's Best, and VIA Instant coffee. At Kimberly-Clark she worked in various brand management and innovation roles. There she managed the creation of multi-brand marketing programs and the brand and shopper marketing efforts for the U by Kotex® launch, which won numerous awards including an IRI product Pacesetter, a Silver Effie for Shopper Marketing, and a Gold Hub Prize. Prior to Kimberly-Clark, Deb worked as a consultant with several leading retailers for Kurt Salmon. Deb has an undergraduate degree from Texas A&M and an MBA from Goizueta Business School at Emory University.

Adnan Durrani

Founder & CEO, Saffron Road

Adnan Durrani

Founder & CEO, Saffron Road

Mr. Durrani is the CEO and founder of American Halal Co, Inc. — which markets the Saffron Road brand line of culinary cuisines and plant based protein snacks. Saffron Road is the first halal product to be sold nationally in the USA. Whole Foods has noted Saffron Road as being one of the most successful brand launches nationally in their 30-year history. Saffron Road is now a leading Natural/Organic PLATFORM brand and is sold in over 20,000 retail food stores. According to A.C. Nielson/SPINS Scantrak, Saffron Road is the fastest growing natural frozen entrée brand in USA and nationally ranked #2. Mr. Durrani is a serial entrepreneur and investment professional for almost 30 years, as President of Condor Ventures, Inc., a venture firm devoted to strategic investing in natural food companies. His entrepreneurial ventures have resulted in a successful track record of scaling and growing niche beverage and natural food product lines into mainstream branded companies that also deliver disruptive social impact. Mr. Durrani founded Vermont Pure in 1991. Today, Vermont Pure/Crystal Rock is the 2nd largest bottled water company in the Northeast. Mr. Durrani was also a partner in Stonyfield Farms, Inc., which was sold to Groupe Danone in 2001. He was also a principal of Delicious Brands, Inc., which he scaled, with the financial backing of Carl Icahn, to become the 5th largest cookie brand in the U.S. Adnan also sits on the Board of Directors of Maple Hill Creamery.

Natasha Case

CEO & Co-Founder, Coolhaus

Natasha Case

CEO & Co-Founder, Coolhaus

Natasha Case founded Coolhaus in 2009 with Freya Estreller after she was working in architecture at Walt Disney Imagineering. They launched their architecturally-inspired, unique ice cream sandwich company from their barely driveable postal van at the Coachella Music Festival to an audience of 100,000. They built a loyal following over the festival weekend and returned to LA to an abundance of viral press, a rapidly building social media following, and an eager foodie audience. Since then, Natasha has been named a Forbes 30 under 30 Food & Beverage, Zagat 30 Under 30, Linked in 10 under 35 for Food & Leisure, as well as being featured in many national publications and radio like Cosmo, Dwell, and NPR, and TV shows including Food Network's Chopped, Barefoot Contessa, Unique Sweets, Good Morning America, King of Cones, Andy Cohen Live and many more. The company has become one of the leading innovative small dessert businesses, growing significantly to include 4 trucks and 2 storefronts in LA, 2 trucks and one cart in NYC, and 4 trucks in Dallas, Texas. Moreover, consumers can now find Coolhaus' pre-packaged ice cream sandwiches, hand-dipped bars, and hand-packed pints in 6,000+ gourmet grocery stores nationally, including Whole Foods and Gelson's, and larger retailers like Meijer and Safeway, and now internationally in Asia and the Middle East.

Matthew McCarthy

Vice President of Foods, Unilever North America

Matthew McCarthy

Vice President of Foods, Unilever North America

Matthew McCarthy heads up Unilever's Food business in North America. In his 20 years with the company Matthew has cultivated a diverse path in marketing and general management working across Foods and Personal Care. He has led a wide range of iconic consumer brands and has a passion for building teams and creating transformative growth. Matthew has received a number of industry recognitions including Cannes Gold Lion, One Show Gold Pencil, IAB MIXX and Adweek's Brand Genius award. As Vice President Foods NA Matthew is a member of Unilever's US country board and global Foods Leadership team. Matthew's wife Lisa is a director at the Bronx Zoo/Wildlife Conservation Society and together they are actively involved in their personal passions of animal welfare and social justice.
NEW: A DEEP DIVE INTO A HOT EMERGING CATEGORY
The massive interest in -- and approaches to -- the incorporation of Marijuana, Hemp, THC and CBD as functional ingredients in food and beverage brands is shared by new companies and existing brands alike. Nevertheless, there is still much to understand. Food and beverage professionals are invited to navigate an ambiguous cannabis market and explore how it could impact their businesses at the new half-day forum.
Hosted on Saturday, December 1st, the weekend between NOSH Live and BevNET Live, professionals will receive a complimentary ticket to the Forum if registered for both conferences.
IMMERSE YOUR BRAND IN TWO DAYS OF NAVIGATION, AWARENESS, NETWORKING AND PARTNERSHIP
The natural products space is booming at close to $150 billion dollars annually. Investment is extraordinary with million dollar raises becoming common-place. We just saw ACG announce another $350M fund for rising star brands, while trendy spaces like plant-based meats have seen recent raises of $55M (Beyond Meat) and $14M (Impossible Foods).
The playbook for brands is ever-changing with big shifts in retail and new players entering the traditional and club channels causing brands to ask big questions. And there are as many questions about direct-to-consumer. Come to NOSH Live immerse your brand in 2 days of industry navigation, brand awareness and networking to find partners to help you execute your vision.

A DISTINCT FOCUS ON BRAND AWARENESS AND INDUSTRY EXPOSURE
The NOSH Live experience is about the community getting acquainted, learning about what's next and accelerating. Some brands are just starting and looking for capital and awareness. Others are established and have something to teach. Some brands are in discovery mode, looking for brands to add to an incubator or to spot their next product opportunity. Others want to gain an advantage with their production or marketing. Enter Pitch Slam and the Sampling Experience + Expo.
---
NOSH LIVE SAMPLING EXPERIENCE & EXPO POWERED BY PINATA
NOSH Live is a show about natural foods and we take the experience of trying natural foods seriously. Our new Sampling Experience + Expo gives brands a chance to be the sampler in a structured networking setting where everyone can try new, hot and trendy single-serve and prepared foods with opportunities to get down to business at our expert roundtables and interact with suppliers and service providers who can help you with growth at scale.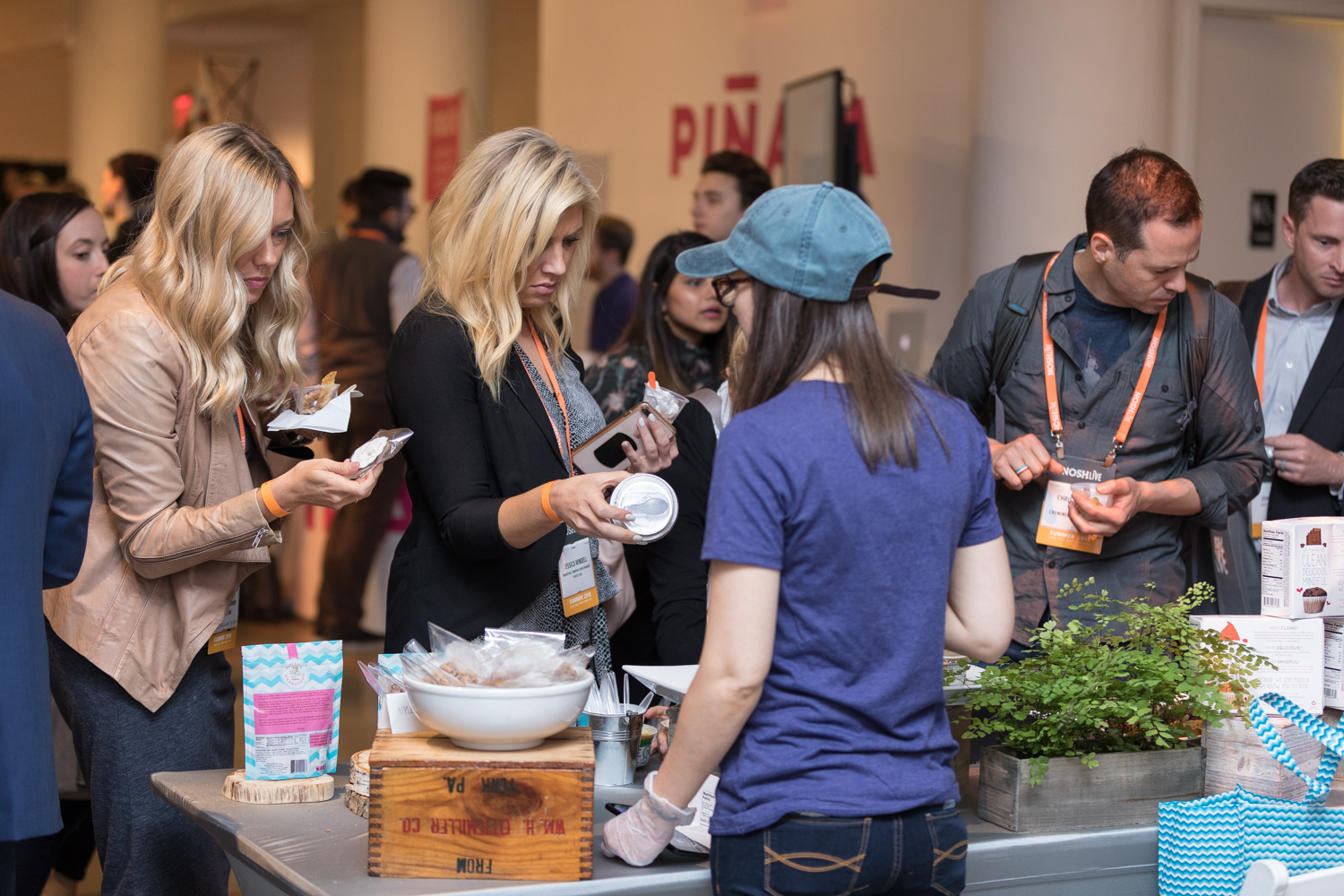 ---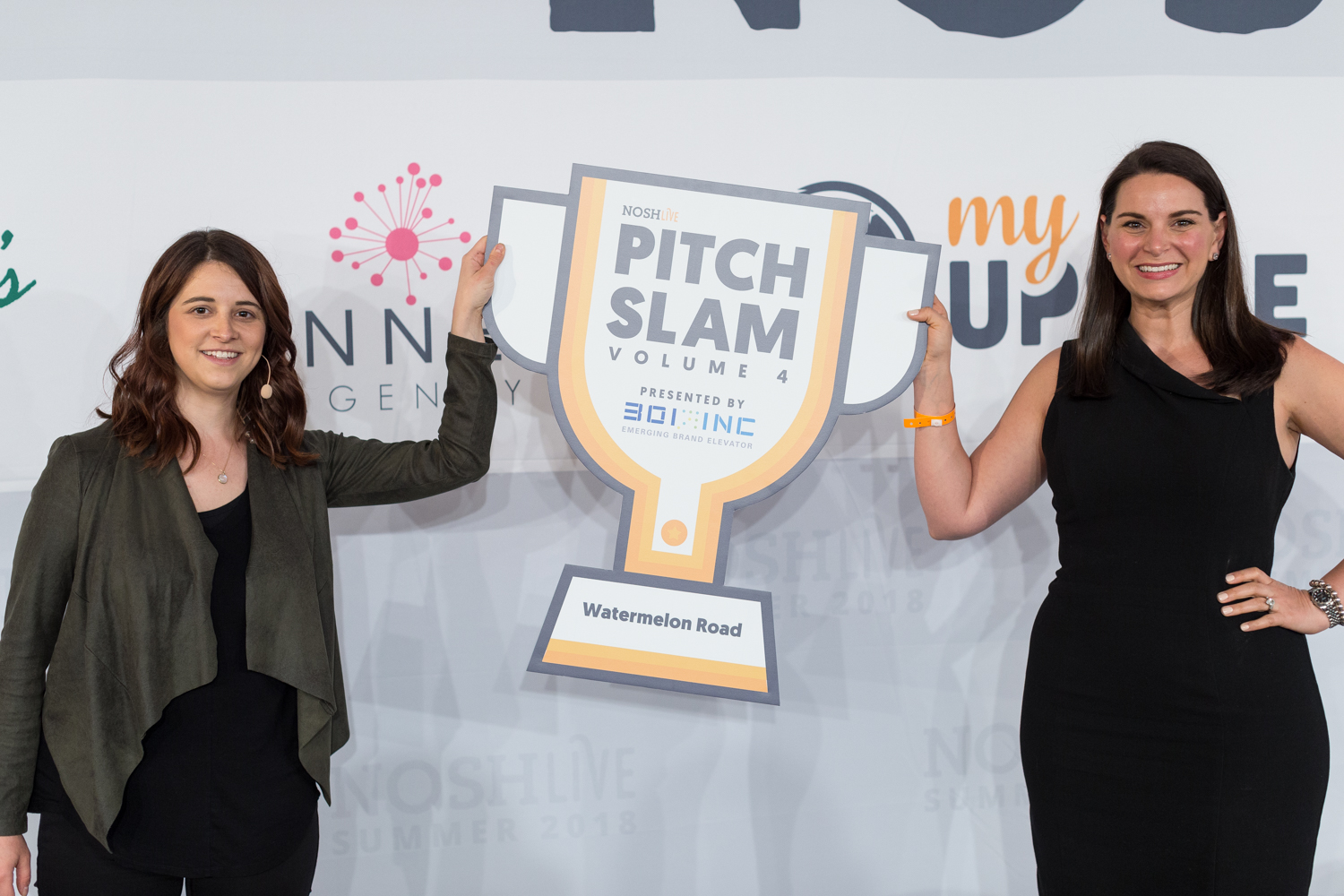 PITCH SLAM VOLUME 5: YOUR BRAND CENTER STAGE
We put the hottest new brands in the spotlight in our annual Pitch Slam contest.
Up-and-coming startup brands prepare their best presentation for the NOSH Live main stage. Founders receive instant feedback from a group of expert judges of top retailers, brands, investors, designers, the NOSH community and the world via our livestream. The winner achieves the distinction of being champion along with a digital industry awareness package on NOSH that will give them more valuable exposure to the broader community.
COLLABORATE, OPEN DOORS, PLUG-IN
The vibe of NOSH Live is highly collaborative. The event attracts a group of decision makers, including founders and CEOS from established and new brands who are ready to learn, innovate and grow, along with top experts from investment, retail, supply, distribution and services.
If you want to walk up to your favorite investor to have a conversation, you will have time. If you want to sit with thought leaders to discuss opportunities that have been puzzling you or that you are ready to kick off, the opportunity is there to seize.
The NOSH and BevNET edit teams and staff will be there to help you make connections and talk about coverage.
BOOTCAMP IS VITAL FOR INDUSTRY NAVIGATION
Experts making an industry change and fresh faces alike find that an industry primer ahead of the main event is a great gut check for newbies to the massive natural products space. Learn how to choose the right investor and capitalize your business. Get tips on designing your package. Learn the ins and outs of legal and accounting. Hear story-telling and buzz creation advice from experts in marketing and public relations. Sit down with the pros after the presentations to ask your own specific questions in an environment paced for learning and discussion.


RECENT EVENT ANNOUNCEMENTS

The Sampling Experience + Expo returns to NOSH Live this winter to drive the conversations forward, support emerging brands, and sample innovative products. Brand founders get out from behind the booth to talk about the topics that will move their businesses forward like: the next raise, product roadmap, supply chain and package design while sampling other cutting-edge products and interacting with their founders.

We know you've been curious to see who will take the NOSH Live Winter 2018 stage this November 29 and 30 in Santa Monica, CA. We promise an all-star lineup, with brand leaders, industry experts, and gatekeepers galore. The full roster will be available in the coming weeks, but in the meantime, we have a sneak peek, showcasing three badass female founders focused on growing brands in the natural channel.

All retail is a competition, but this one also teaches: The NOSH Live Pitch Slam presented by 301 Inc. returns this November.
GET CONFERENCE UPDATES
Sign up to receive NOSH Live speaker and program announcements straight to your inbox.