NOSH Live: Watch Main Stage Presentations and Livestream Studio Interviews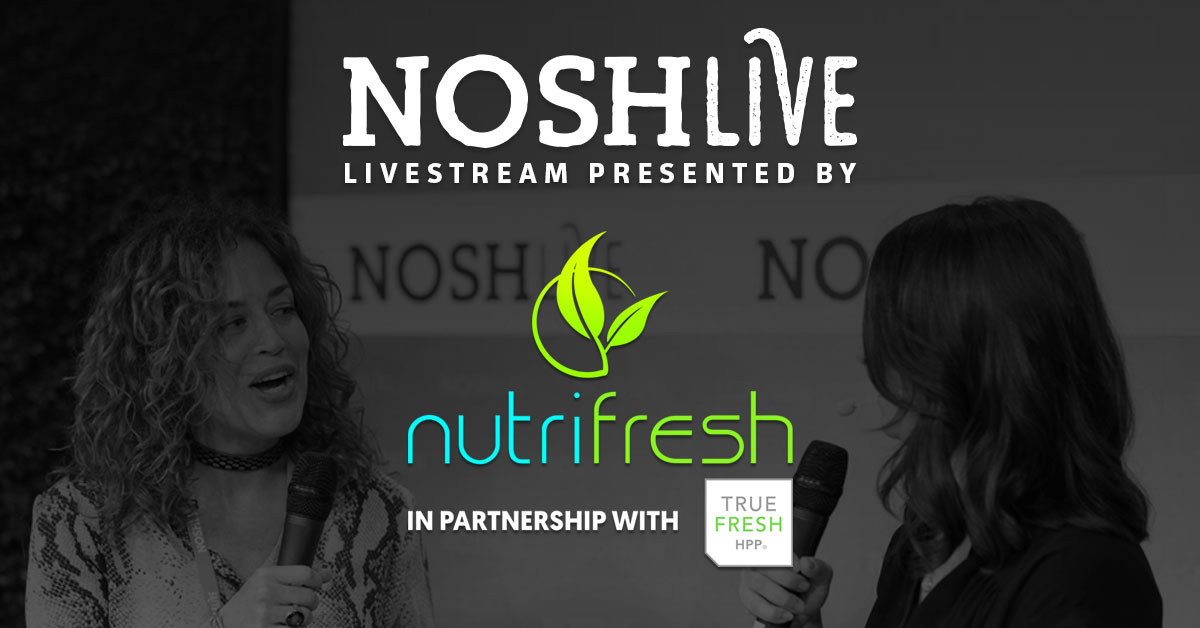 If you couldn't make it to Santa Monica this week for NOSH Live Winter 2018, we can help treat your FOMO. All main stage presentations and Livestream Studio interviews will be available to stream live on your computer, smartphone or tablet on November 29th and 30th, presented by Nutrifresh HPP in partnership with True Fresh HPP.
The free livestream runs tomorrow from 9 a.m. to 5 p.m. PT, and Friday, November 30, from 9 a.m. ET to 3 p.m. PT. The two-day NOSH Live agenda is filled with presentations and panels that explore growth opportunities for both emerging and established food brands, retail strategies, different perspectives within the M&A environment and what's next for the flourishing natural food industry.
Featured on day two: The final round of the NOSH Live Pitch Slam, presented by General Mills' 301 Inc., kicks off at 1:30 p.m. PT, featuring the brands Bumble & Butter, Creation Nation, Olyra, Punk Rawk Labs, Spudsy, and Tiny Giant.
If you plan on opening that extra tab tomorrow to tune in during your work day, you'll also have access to additional commentary and interviews through the NOSH Live Winter 2018 Livestream Studio. The attendee interviews we have lined up include Chobani, Better Bites Bakery, My/Mo Mochi, Beanfield, and Halen Brands. The full two-day Livestream Studio schedule can be found below.
Day 1 – Thursday, November 29th
10:35 AM – Zoe Feldman, Incubator Director, Chobani
10:45 AM – Madison Klinghoffer, Strategic Account Executive, Full Harvest
10:55 AM – Evan Holod, Chief Troublemaker, Michel et Augustin
12:35 PM – Filipp Chebotarev, COO/Partner, Cambridge SPG
12:45 PM – Leah Lopez, Founder/CEO, Better Bites Bakery
12:55 PM – Angela Mavridis, Founder/CEO, Tribali Foods
1:05 PM – Chris Carey, Principal, Stripes Group
1:15 PM – Elizabeth Avery, President & CEO, SNAC International
1:25 PM – Kelly Criswell, VP Creative & Client Services, The GRO Agency
1:35 PM – Russell Barnett, CMO, My/Mo Mochi Ice Cream
3:50 PM – Arnulfo Ventura, CEO, Beanfields
4:00 PM – Emily Williams, Co-Founder/CEO, Slice of Sauce
4:10 PM – Jason Wadler, Co-CEO, JimmyBar
4:20 PM Robert Jakobi, CEO BOU
Day 2 – Friday, November 20th
10:35 AM – Nick Desai, CEO, Snack It Forward
10:45 AM – Ibraheem Basier, CEO, A Dozen Cousins
12:35 PM – Aaron Greenwald, President, Halen Brands
12:45 PM – Jeremy Smith, Co-Founder/CEO, LaunchPad
12:55 PM – David Lafferty, Sr. Global Grocery Coordinator, Whole Foods
1:05 PM – Pete Speranza, Business Development Principal, 301 Inc, General Mills
1:15 PM – TBD, Nutrifresh
3:15 PM – Pitch Slam Winner Interview
To access the main stage presentations and Livestream Studio interviews, simply visit the livestream page starting at 9 a.m. PT tomorrow, November 29.
Once you see what you're missing, make a plan to join us next year at NOSH Live Summer 2019 in New York, NY and NOSH Live Winter 2019 in Santa Monica, CA. Early registration is now available.
---
About NOSH Live
NOSH Live is a two-day business conference for the natural food industry. The cutting-edge industry conference drives valuable industry connections and promotes the exchange of strategies and ideas. Specific to growing CPG food companies, the conference program explores growth strategy, sales, marketing, investment, and more through case-based presentations and panels by an all-star roster of speakers. The next conference takes place on November 29 and 30 at the Loews Santa Monica Beach Hotel in Santa Monica, Calif.