TUESDAY, SEPTEMBER 29
This is a past event. Replay the 40+ Virtually Live presentations with a digital subscription.
Subscribe today.
Event Post
On Sept. 29, Supercharge D2C's Roundtable Breakout sessions allow event attendees the chance to focus on specific areas of the D2C experience and ask questions directly to subject matter experts, speakers, and even their peers. Also, because we love to have brands teach each other, we've added one more case study — Miyoko Schinner, a D2C pioneer in the cold chain space.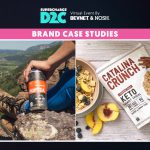 When you tune in to Supercharge: D2C on Tuesday, Sept. 29, you'll get more than advice from experts, you'll also hear from a pair of brands on their recent experiences in growing their businesses in the Direct-to-Consumer environment.
BevNET and NOSH will be presenting our very first Supercharge D2C event on Sept. 29 with the purpose of helping food and beverage brands develop, refine, and energize their approach to the direct to consumer channel. This event — included for BevNET and NOSH subscribers — will address strategic, operational, and marketing practices around D2C, as well as provide direct-from-the-entrepreneur stories of how companies are dealing with the D2C environment.