First Look: NOSH Live Winter 2018 Speakers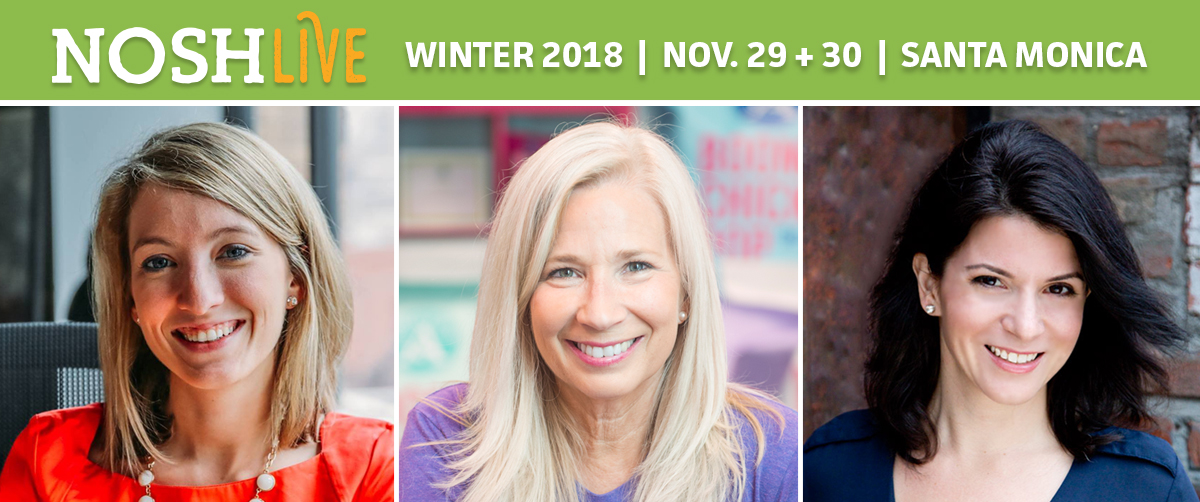 We know you've been curious to see who will take the NOSH Live Winter 2018 stage this November 29 and 30 in Santa Monica, CA. We promise an all-star lineup, with brand leaders, industry experts, and gatekeepers galore. The full roster will be available in the coming weeks, but in the meantime, we have a sneak peek, showcasing three badass female founders focused on growing brands in the natural channel. Let us introduce them:
Katlin Smith, founder and CEO of Simple Mills, is focused on bringing clean ingredients to the baking aisle. Even in a crowded marketplace, her company ranks as the #1 fastest-growing natural baking mix and cracker brand. She will share her recipe for success.
Angie Bastian is the co-founder of Angie's BOOMCHICKAPOP, one of the fastest growing brands of natural popcorn. She has carved her way through the natural food space, building an international brand in just five short years.
Denise Lambertson is founder and Chief Connecter at LMS, a boutique entertainment marketing agency, who helps brands better navigate partnership possibilities and celebrity integrations. You may have heard of some of the brands she works with: Thrive Market, Daily Harvest, WTRMLN WTR, and CORE Hydration. She will dive into the world of influencers and how natural food brands can build partnerships to achieve their goals and grow.
These three leading ladies will join a roster of respected industry playmakers, presenting actionable takeaways, fresh ideas and relevant case studies focused on innovation, growth, the investment climate and the future of the industry.
The immersive NOSH Live experience continues off-stage, with two-days of sampling, networking and competition. Significant features of the conference include the Pitch Slam startup competition, Sampling Experience + Expo, Bootcamp educational session, and NOSH Live Official Afterparty powered by Forcebrands.
NOSH Live Winter 2018 will be held on November 29 and 30 at the Loews Santa Monica Beach Hotel in Santa Monica, Calif. For early-stage companies, a complementary Boot Camp will be offered on November 28.
Early registration savings are coming to an end! The early registration deadline is under a month away on Friday, October 19th. Register now to save $200 per ticket.
Questions about the conference can be directed to Jon Landis. Sponsorship opportunities are available for companies looking for additional industry exposure.
---
About NOSH Live
NOSH hosts conferences twice a year to help develop and fuel the growth of entrepreneurial Natural, Organic, Sustainable and Healthy (NOSH) packaged food companies and service providers.
NOSH events are two-day, cutting-edge industry conferences that drive valuable industry connections and promote the exchange of strategies and ideas. Specific to growing CPG food companies, the conference program explores growth strategy, sales, marketing, investment, and more through case-based presentations and panels by an all star roster of speakers.
The next conference takes place on November 29 and 30 at the Loews Santa Monica Beach Hotel in Santa Monica, Calif. A Boot Camp for new brands and entrepreneurs will take place on Nov. 28 as part of the event.