First Look: NOSH Live Winter 2018 Agenda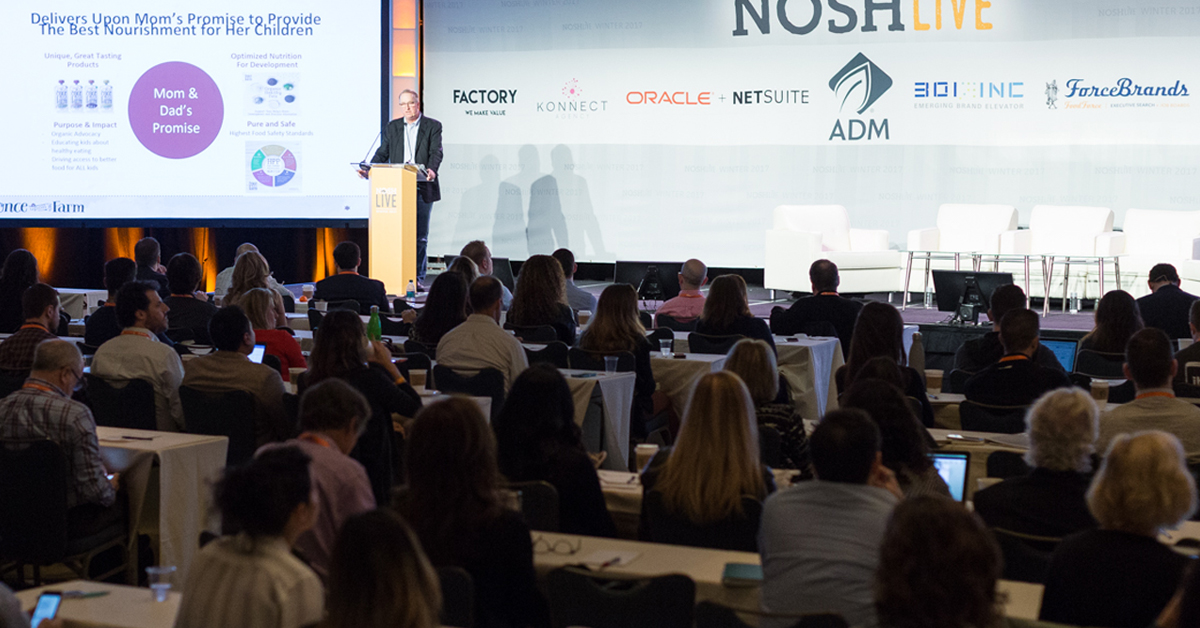 Here's your first chance to look at the official agenda for the NOSH Live conference coming up in Santa Monica on Nov. 29 and 30 at the Loews Santa Monica Beach Hotel.
Carefully assembled to give the universe of food entrepreneurs and their partners a look into strategies for growth, problem-solving and connection, a look at the program highlights the following key areas:
Entrepreneurial Leadership, with smart and successful founder/CEOs like Siete's Miguel Garza, Late July's Nicole Bernard Dawes, and Simple Mills' Katlin Smith on hand to talk about the way their products and ideas about business and culture combine to build winning companies
Access to Financing, with advice from high-profile investment bankers from Houlihan Lokey, a view from a leading source of institutional capital with Kara Roell of VMG Partners, and a special panel highlighting the approaches of a pair of nontraditional financial backers and the options they present for entrepreneurs
Sales and Marketing strategies from active entrepreneurs like Matt Gase of Lantana Foods and Brian Freeman of Real Good Foods
Retailer profiles ranging from new-model convenience store The Goods Market as well as mainstream supermarket giant Kroger — as well as special-to-attendees retailing data and analysis from experts at SPINS and IRI
The fifth edition of the NOSH Live Pitch Slam competition, which will give a glimpse of the next great set of innovative food entrepreneurs
Combine that with networking opportunities, the chance for early stage entrepreneurs to get a boost from the NOSH Live Boot Camp (held on Nov. 28) and unbeatable product and services sampling through the Sampling Experience + Expo, and it's a packed schedule indeed.
NOSH Live Winter 2018 will be held on November 29 and 30 at the Loews Santa Monica Beach Hotel in Santa Monica, Calif. For early-stage companies, a complementary Boot Camp will be offered on November 28.
Tickets for NOSH Live are going fast and the conference is fewer than 30 days away. Register now and reserve your seat.
Questions about the conference can be directed to Jon Landis. Sponsorship opportunities are available for companies looking for additional industry exposure.
About NOSH Live
NOSH hosts conferences twice a year to help develop and fuel the growth of entrepreneurial Natural, Organic, Sustainable and Healthy (NOSH) packaged food companies and service providers.
NOSH events are two-day, cutting-edge industry conferences that drive valuable industry connections and promote the exchange of strategies and ideas. Specific to growing CPG food companies, the conference program explores growth strategy, sales, marketing, investment, and more through case-based presentations and panels by an all star roster of speakers.