Learn from Deal Activity in the Natural Food Business at NOSH Live Winter 2019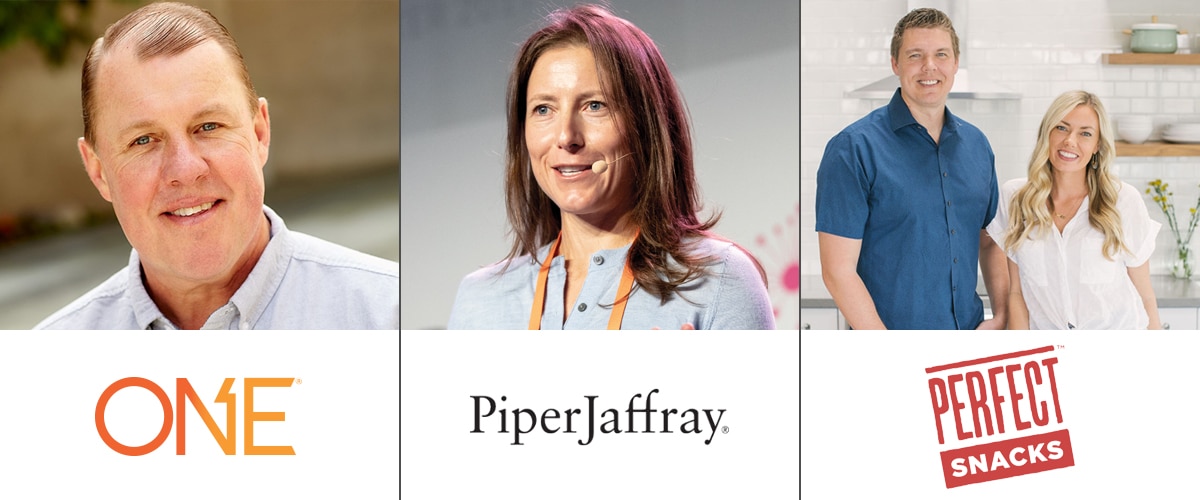 Hoping to sell your scrappy entrepreneurial brand to one of the food giants? This December at NOSH Live Winter 2019 the leaders of a pair of just-sold brands, One Bar and Perfect Snacks, will talk through the path to their exits alongside the investment banker who brought them there. Using those two brands, we'll discuss recent deal activity in the natural food business and reach a higher understanding of the factors that affect the decision to sell, the ultimate valuation of the companies, and the considerations surrounding founder, team, and mission that this process creates.
Just over a month ago, low-sugar, high-protein nutrition bar company One Brands was acquired by global snacking and confection company The Hershey Company, a deal valued at $397 million. And this past June, the founders of refrigerated snacking platform Perfect Snacks sold the majority of the company to global snack company Mondelēz International.
Guiding the NOSH Live audience through these exit experiences will be Janica Lane, the managing director of Piper Jaffray and the investment banker representing both sellers; Bill Keith, Perfect Snacks' CEO, and Leigh Keith, Perfect Snacks' President, and Peter Burns, ONE Brands President and CEO. The panel will help attendees prioritize their objectives when looking to sell, nail down the roles of founders and executive leadership throughout the process and explore how their respective product categories and the current marketplace impacted the equation.
At NOSH Live we will also hear the perspective of investors such as General Mills, Mondelez International, and Mark Cuban Companies, alongside a speaker roster featuring founders and executives from BuzzFeed's Tasty, RightRice and retailer GoodEggs.
Hundreds of natural food industry professionals will be in the audience, ready to tap into brand case studies, retail insights, market analysis, and expert predictions of future trends and growth opportunities. They will also be participating in additional sampling and networking opportunities like the Boot Camp startup educational session on Dec. 3, Pitch Slam business competition, and two-hour Sampling Experience + Expo.
The fast-approaching conference, NOSH Live Winter 2019, takes place at the Loews Beach Hotel in Santa Monica, Calif. on December 4 and 5. Early registration ends this month on Friday, October 25th. Register now to save $200 per ticket.
Questions about the conference can be directed to our NOSH team. Sponsorship opportunities are available for companies looking for additional industry exposure. For those interested in speaking opportunities, please fill out the speaker application.
---
About NOSH Live
NOSH Live is a two-day business event for the natural food industry. The cutting-edge conference drives valuable industry connections and promotes the exchange of strategies and ideas. Specific to CPG food companies, the program explores growth strategy, sales, marketing, investment, and more through case-based presentations and panels by an all-star roster of speakers.