Watch Now: NOSH Live Main Stage Presentations + Livestream Studio Interviews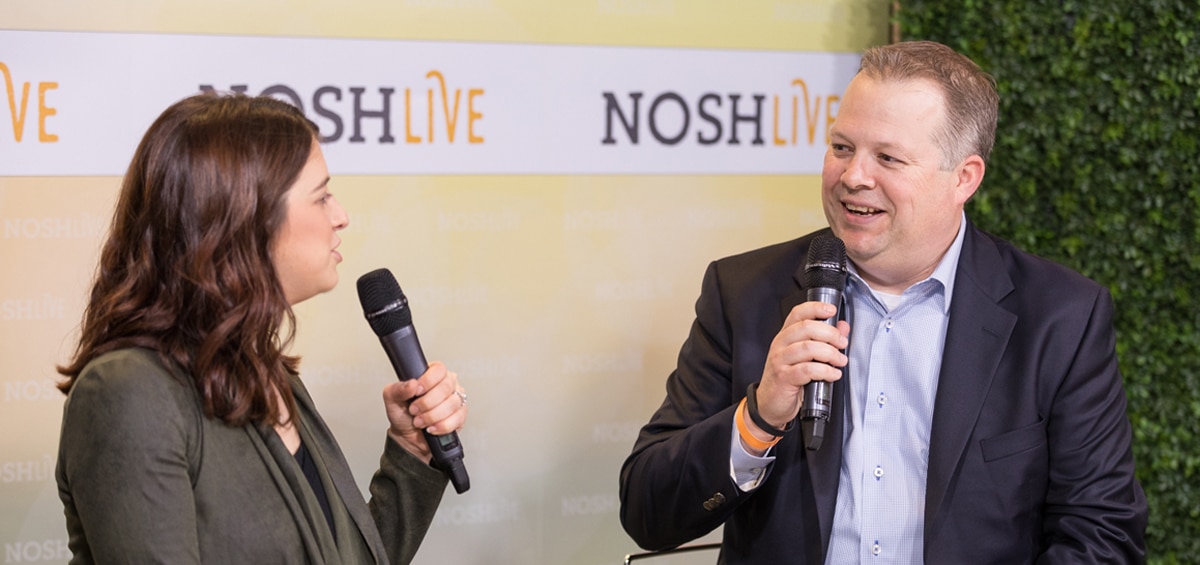 We have a cure for your FOMO. For those of you who can't make it to NOSH Live Summer 2019 this week in New York City, we will be livestreaming the main stage presentations and Livestream Studio interviews this Monday, June 10th and Tuesday, June 11th.
Bookmark the livestream page and keep up with NOSH Live from your phone, computer or tablet. The livestream runs Monday, June 10th from 9 a.m. to 5 p.m. ET and Tuesday, June 11th from 9 a.m. to 3 p.m. ET. Follow along with the two-day NOSH Live agenda, which includes presentations focused on growth opportunities for food brands. Speakers from Whole Foods Market, Tofurky, Jeni's Splendid Ice Cream, CAULIPOWER, Walmart and more will provide insights into retail strategies, M&A, branding and the future of the booming natural food industry.
On day two, don't miss the NOSH Live Pitch Slam 6, presented by 301 Inc. which kicks off at 1:45 p.m PT, putting a spotlight on five up-and-coming food brands: Beckon Ice Cream, Crafty Counter Wundernuggets, Prayani, Cheddies and SMPL.
If you tune in during your work day, you'll be rewarded with additional commentary and interviews with NOSH Live attendees during programs breaks via the Livestream Studio. Scheduled interviews feature Boulder Food Group (BFG) Partners, Alpha Foods, Cappello's, Beechwood Capital, Pan's Mushroom Jerky, and Creation Nation. The full two-day Livestream Studio schedule can be found below:
Day 1 – Monday, June 10th
10:50 AM – Evan Holod, Chief Troublemaker, Michel et Augustin
11:00 AM – Tim Pollak, Partner & Head of Strategy, Factory
11:10 AM – Steven Singer, CEO and Founder, FODY Food Co.
11:20 AM – Erin Cabrey, Editorial Assistant, NOSH
12:35 PM – Kelly Criswell, Chief Creative Officer, The GRO Agency
12:45 PM – Karen Nation, Founder and CEO, Creation Nation
12:55 PM – Rakesh Amin, Partner, Amin Talati Wasserman
1:05 PM – Brandon Partridge, SVP Member Engagement, Grocery Manufacturers Association
1:15 PM – Steve Young, EVP/Managing Director, Sunrise Strategic Company
3:05 PM – Romitha Mally, Vice Chairman, UBS
3:15 PM – Benjamin Frohlichstein, Co-CEO, Cappello's
3:25 PM – Larry Kahn, Partner & Managing Director, Beechwood Capital
3:35 PM – Alysa Seeland, Founder and CEO, FOND Bone Broth
3:45 PM – David Wilson, Founder & CEO, Green Seed Group
3:55 PM – Melissa Traverse, Brand Specialist, NOSH
Day 2 – Tuesday, June 11th
10:35 AM – Dayton Miller, Managing Partner, Boulder Food Group (BFG) Partners
10:45 AM – Cole Orobetz, COO/CFO, Alpha Foods
12:35 PM – Matt Parry, CEO and Co-Founder, The Good Crisp Company
12:45 PM – Jeremy Halpern, Partner; Co-Chair Food and Beverage Group, Nutter McClennen & Fish LLP
12:55 PM – Amy Lacey, Founder, Cali'Flour
1:05 PM – Michael Pan, Founder, Pan's Mushroom Jerky
1:15 PM – John Haugen, General Manager, 301 Inc.
1:25 PM – Kevin Joseph, VP of Marketing, THINSTERS
1:35 PM – John Nunziato, Founder & Creative Director, Little Big Brands
3:05 PM – Pitch Slam Volume 6 Winner Interview
To access the main stage presentations and Livestream Studio interviews, simply visit the livestream page starting at 9 a.m. PT tomorrow, November 29.
It's not too late to head to New York City, but time is definitely running out. Be in the room and have conversations with the leaders and innovators within the natural food industry. Buy your ticket today and join the 300+ food professionals already registered.
If it's a little too late for your team to make the trip, plan to join us this December at NOSH Live Winter 2019 in Santa Monica, CA. Early registration is now available.
Questions about the conference can be directed to Jon Landis. Sponsorship opportunities are available for companies looking for additional industry exposure.
About NOSH Live
NOSH hosts conferences twice a year to help develop and fuel the growth of entrepreneurial Natural, Organic, Sustainable and Healthy (NOSH) packaged food companies and service providers.NOSH events are two-day, cutting-edge industry conferences that drive valuable industry connections and promote the exchange of strategies and ideas. Specific to growing CPG food companies, the conference program explores growth strategy, sales, marketing, investment, and more through case-based presentations and panels by an all-star roster of speakers.