NOSH Live: Boot Camp Startup Education for Food Brands on June 9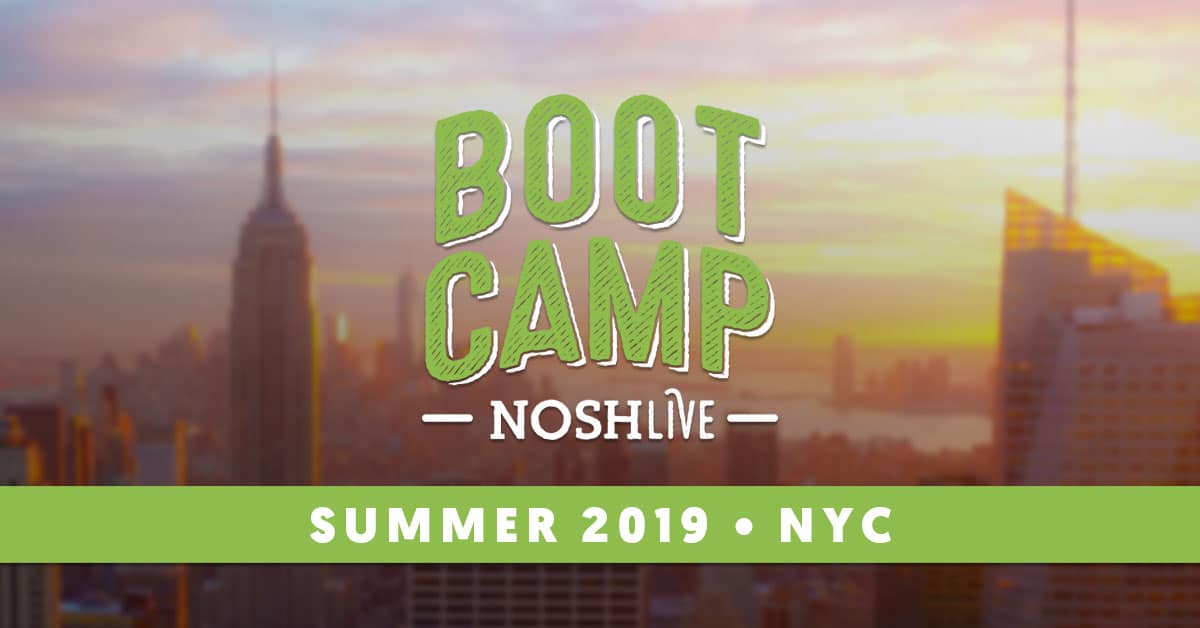 Boot Camp returns to NOSH Live Summer 2019, offering a half-day educational session for food industry newcomers the day prior to the main event. Early-stage food entrepreneurs and professionals new to the food business will have the opportunity to benefit from the introductory session on the afternoon of Sunday, June 9th.
The additional programming is designed to create a head start for emerging food brands attending the main NOSH Live event. Focused on learning common best practices and hidden pitfalls, the agenda dives into the basics of operating a business in the natural food space, while leaving time for questions during round table networking. This summer's agenda covers brand design, e-commerce tactics, financing, sales channel best practices, and building a company to scale.
Boot Camp begins at 12:00 PM on Sunday, June 9th in the Green Room 42 within the Yotel Hotel at 570 10th Ave, New York, NY 10036. It's open to all brands attending NOSH Live Summer 2019, which will be held the following two days, June 10th and 11th, at the Metropolitan West.
Here is the NOSH Live Summer 2019 Boot Camp agenda:
11:30 AM – 12:00 PM: Boot Camp Registration & Networking
12:00 PM – 12:05 PM: Welcome Remarks
12:05 PM – 12:30 PM: Brand Design – Kelly Criswell, Chief Creative Officer, The GRO Agency
12:30 PM – 1:00 PM: Your E-Comm Toolkit – Betsy McGinn, Founder, McGinn eCommConsulting
1:00 PM – 1:30 PM: Understanding Cap Tables & Finance – Jeremy Halpern, Partner & Director of Business Development, Nutter
1:30 PM – 2:00 PM: The Entrepreneurial Life – Robert Jakobi, Founder & CEO, BOU
2:00 PM – 2:30 PM: Networking Break
2:30 PM – 3:00 PM: Sales Channel Priorities – Ian Kelleher, Sales & Strategy Consultant
3:00 PM – 3:30 PM: Company Structure – Bob Burke, Founder, Natural Products Consulting Group
3:30 PM – 4:30 PM : Networking & Expert Tables
All speakers listed above will have small group table discussions.
Boot Camp is included with a ticket to NOSH Live Summer 2019, but separate registration is required. Attendees of NOSH Live can register for Beverage School through their NOSH Live attendee portal.
If you want to attend the Boot Camp, you must register for NOSH Live on June 10th and 11th in New York, NY. Only 13 days remain until the event and hundreds of food professionals are registered for the two-day industry event. Register today to secure your seat.
---
About NOSH Live
NOSH hosts events twice a year to help develop and fuel the growth of entrepreneurial Natural, Organic, Sustainable and Healthy (NOSH) packaged food companies and service providers. NOSH events are two-day, cutting-edge industry conferences that drive valuable connections and promote the exchange of strategies and ideas. Specific to CPG food companies, the conference program explores growth strategy, sales, marketing, investment and more through case-based presentations and panels by an all-star roster of speakers.