Explore the Founder, CEO Relationship with Jeni's at NOSH Live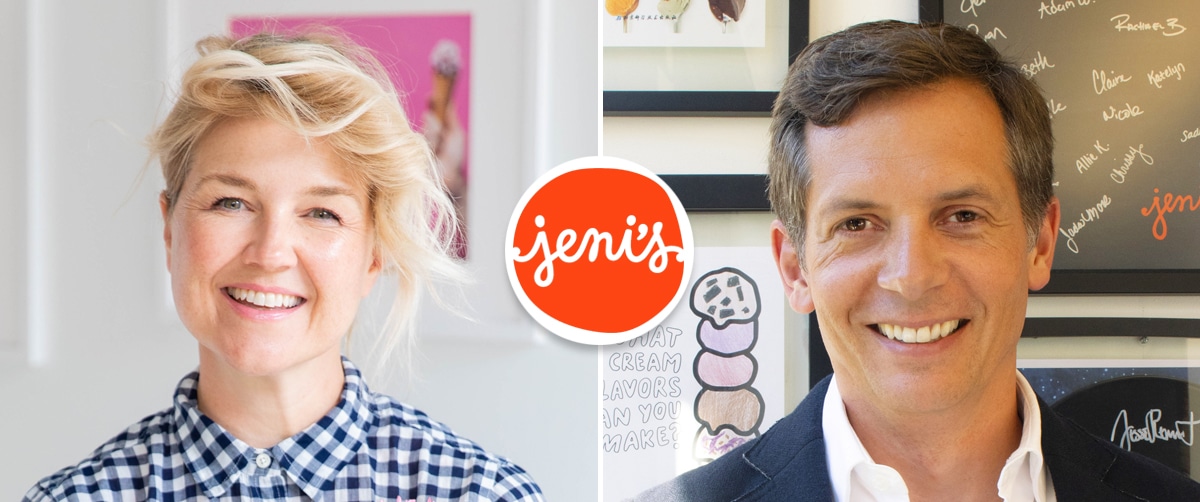 Food entrepreneurs: your brands are your babies. As they evolve, it's hard to loosen the reins and let them fly. How do you know when you need help, specifically a CEO? And how do you learn to accept it? Jeni Britton Bauer and John Lowe join NOSH Live Summer 2019 to talk about their relationship over the years as founder and CEO and how it has developed.
Jeni Britton Bauer, the company's founder and chief creative officer, began her journey with a vending stall in 2002, selling artisanal ice cream made from real ingredients and funky flavors. The concept was new at the time and took off, leading to scoop shops, retail placement, and personal recognition — including a James Beard Award for desserts. As the company grew, she quickly realized that she needed a CEO to steer the ship, and in 2009 she reached out to John Lowe, a close friend and former GE executive, to help her bring Jeni's to the next level.
During his tenure, Lowe has helped the company grow to 20 scoop shops and 1,800 retailers nationwide, and made it synonymous with the movement toward ultra-premium ice cream. While Jeni has remained the beating heart and face of the brand, Lowe remains focused on growth and operations behind the scenes. The duo will discuss their symbiotic partnership, providing takeaways for brand founders looking to optimize operations and scale, as well as advice on how the professionalization of management can be optimized — or at least less traumatic.
Visionaries from Tofurky, Walmart, Whole Foods Market, Caulipower, Pinterest, and Harbinger Ventures will join the Jeni's team on the NOSH Live speaker roster, along with more to come. The complete program will feature presentations on investment strategy, retail insights, market analysis, brand case studies and expert predictions of future trends and growth opportunities.
The two-day conference takes place on June 10th and 11th in New York City. With a focus on sampling, networking and education, it also features the Pitch Slam competition for rising industry stars, Sampling Experience and Expo, Boot Camp educational session for food startups, and additional opportunities.
NOSH Live Summer 2019 is only 6 weeks away. Register now to secure your seat.
Questions about the conference can be directed to our NOSH team. Sponsorship opportunities are available for companies looking for additional industry exposure.
---
About NOSH Live
NOSH hosts conferences twice a year to help develop and fuel the growth of entrepreneurial Natural, Organic, Sustainable and Healthy (NOSH) packaged food companies and service providers. NOSH events are two-day, cutting-edge industry conferences that drive valuable industry connections and promote the exchange of strategies and ideas. Specific to CPG food companies, the conference program explores growth strategy, sales, marketing, investment and more through case-based presentations and panels by an all-star roster of speakers.
Like what you're reading?
Subscribe to BevNET+NOSH Today
Subscribe today and get access to the leading industry resources in the food &amp beverage industries. News, trends, industry data, expert analysis and much more.
Access all of these benefits:
Unlimited access to all content on BevNET.com and NOSH.com
Exclusive access to hundreds of educational videos
Watch subscriber-only live programs such as Office Hours