SUMMER 2020 | JUNE 8+9 | NEW YORK, NY
Sampling Throughout NOSH Live
NOSH Live is dedicated to creating opportunities to move companies forward. Brands feel that it's critical to have their products close by to make this happen so we have made some changes to NOSH Live. Now there are multiple layers of sampling during the event with many ways to sample that will make you feel comfortable that your product is being prepared, handled and pitched the way you would like it to be. Attendees are invited to participate in the sampling opportunities that are best suited for their product and goals.


Persistent: Single Serve
Single-serve products, whether they're shelf-stable, refrigerated, or frozen, are invited to participate in hands-off sampling throughout the two-day NOSH Live event. Attendees can access your samples at cardboard end caps and merchandised shelves that are stationed throughout the venue. Your product is served and replenished by our staff so that you can taste, learn and network freely. This is included with an event ticket.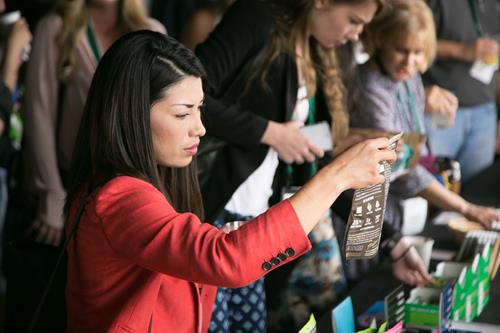 Persistent: Brand Activation
You can take control and amplify the presence of your product sampling. For an additional fee you can have your own space to work, either throughout the two-day event or solely during the Sampling Experience + Expo. Create a hand-off area where attendees can take a look and sample or develop a hands-on experience that engages attendees. A branded pantry, refrigerator or shelving catches the eye of the industry and prompts them to pick up your product.
Sampling Experience + Expo
Brands whose products require extra handling or are unable to sample throughout the event step into the spotlight during the SAMSPO (Sampling Experience + Expo). The two-hour business acceleration event on the afternoon of day one features hands-on and hands-off sampling, as well as brand activations, a product showcase and ingredient supplier exhibits.


Prepared Foods: NOSH Demo
Heated, mixed, and multi-serve food that requires handling is served during our two-hour sampling and networking experience on day one of the event. You provide the samples and the pitch, we provide the staff to prepare and serve your product. Foods are prepared by our staff following your directions. Spend your time sampling products, meeting entrepreneurs, learning and networking. There is a charge of $500 for preparation of food that needs to be opened, portioned, plated, handled, cooked, heated or otherwise prepared by our in-house chef and staff.






Your Demo Your Way: Brand Demo
If you want full control of your demo, brands have the option to purchase their own dedicated table space. We dissuade founders from standing behind the booth, but allow one team member to take their place.


Pre-Launch or No Samples: Display Only
Some brands are simply too new to sample. You can showcase your product's packaging as a glimpse into what's to come, building anticipation within the industry for when you're ready for launch.