Pitch Slam 8: A Fresh Round of Natural Food Product Pitches

NOSH Live Summer 2020 will bring together another group of emerging food brands to compete in the Pitch Slam Volume 8 presented by 301 Inc. During the competition, founders will pitch their products and highlight their plans to stand out in the competitive food industry. The Pitch Slam will take place during NOSH Live on June 8 and 9 in New York City.
The NOSH Live Pitch Slam is designed to accelerate growth and provide feedback for brands at a critical point in their development. Finalists are in the spotlight and are recognized as a top emerging brand, generating the industry awareness needed to develop partnerships and open doors, while also receiving feedback that can change the trajectory of their businesses.
Each Pitch Slam presentation includes two key factors: the product and the pitch. As the finalists present on the NOSH Live stage to industry investors, retailers, distributors, suppliers, service providers and fellow brands, the expert judges will conduct a live sampling of the product, assess the brand's packaging and analyze their executive's pitch. After three minutes in the spotlight, the entrepreneurs field questions from the judges and receive immediate feedback.
The winner of this round will be in good company. Past champions include Know Brainer keto marshmallows, Beckon lactose-free ice cream, Creation Nation protein bar mixes, Watermelon Road dried fruit jerky, Tribali grass fed frozen meat patties and Bronx Hot Sauce.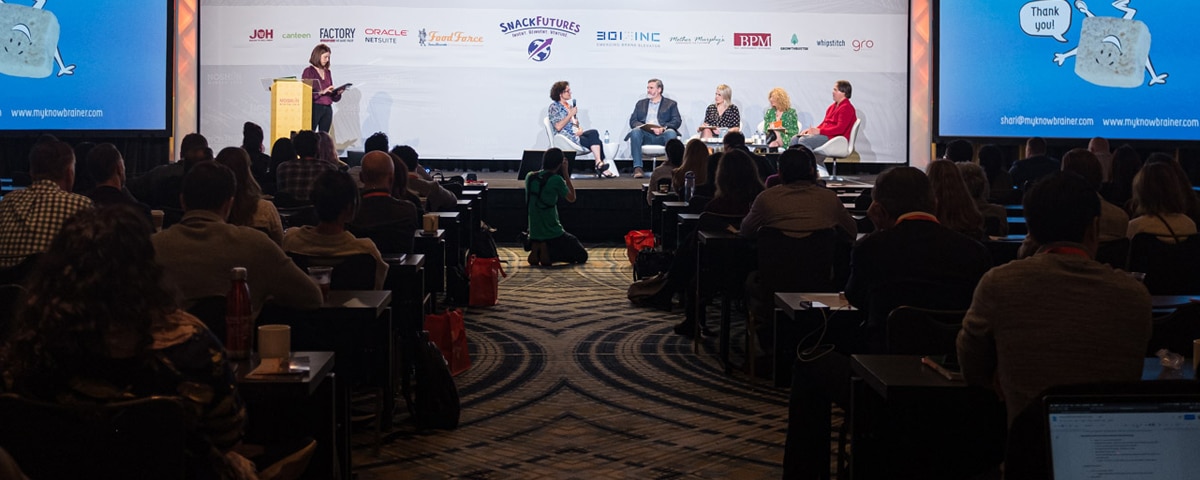 Shari Leidich, the founder and CEO of Know Brainer and Pitch Slam 7 winner, shared that the "highlight of winning the Pitch Slam were having Whole Foods as a judge, meeting other compelling brands and meeting leaders in the industry." In addition to Whole Foods, past judges include executives from KeHE Distributors, Presence Marketing, CAULIPOWER, VMG Partners, The Goods Mart, Sonoma Brands and Starbucks.
In addition to the recognition achieved at the event, the brand that prevails will benefit from a NOSH advertising package valued at $10,000 and the opportunity to take part in an exclusive livestream interview.
Hear from our past participants and rewatch all past Pitch Slam presentations on the NOSH YouTube channel.
Want your turn on stage? Pitch your emerging package food brand to the natural food industry at NOSH Live Summer 2020. Applications are being accepted from better-for-you food entrepreneurs through May 15. There is no cost to participate in the competition aside from conference registration.
Detailed information on the format and selection process can be found on the NOSH Live Summer 2020 website and early registration can be found on the event homepage.
NOSH Live Summer 2020 takes place on June 8 and 9 at the Metropolitan West in New York, NY. Early registration pricing is in effect, saving you $200 per ticket. For early-stage companies, a complimentary Boot Camp will be offered on June 7.
Questions about the Pitch Slam or the conference can be directed to our Brand Specialist team. Sponsorship opportunities are available for companies looking for additional industry exposure.
---
About NOSH Live
NOSH Live is a two-day business event for the natural food industry. The cutting-edge conference drives valuable industry connections and promotes the exchange of strategies and ideas. Specific to CPG food companies, the program explores growth strategy, sales, marketing, investment, and more through case-based presentations and panels by an all-star roster of speakers.