FBU Chicago: Argo Tea's Retail Quest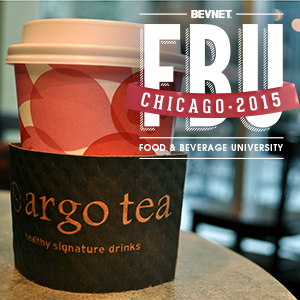 We are delighted to announce that Dana Dimitri, the director of marketing for Argo Tea, will join FBU Chicago on Thursday, April 30 to talk about the way that company has grown from a small chain of local tea cafes into a ready-to-drink bottled tea brand with distribution in more than 20,000 accounts. For Argo Tea, it was a progression that had to be carefully considered and executed so as to not harm the company's brick-and-mortar locations, but also to allow the their line of ready-to-drink bottled teas to thrive outside the stores.
Ms. Dimitri will be discussing the way the Chicago-based company developed its RTD extension, including the ways that specific branding elements and innovations move from cafes into and onto bottles. In breaking down the elements of that progression, her talk will provide the FBU audience ways of thinking about their own brand evolution — from farmer's market to commercial kitchen, from commercial kitchen to co-packer, and beyond into wider distribution and retailing. In learning from the Argo case study, entrepreneurs will learn how to identify their own brands' strengths and ways they can think about using those strengths down the road.
FBU Chicago will take place at Moonlight Studios, 733 West Madison Chicago, IL 60661, on April 30. The full-day event will cover the basics of the food and beverage industry, as well as providing strategic ideas to help aid in the launch and growth of the next generation of entrepreneurial food and beverage companies.
About Dana Dimitri
As a result driven Marketing Leader, Dana has extensive experience in brand positioning, new product development/innovation, promotional programs, pricing strategy and digital marketing.  Currently, she is the Director of Marketing at Argo Tea, a leading multi-channel, branded tea company.  At Argo Tea, Dana leads the marketing for three business lines: café, consumer packaged goods and ecommerce.  Prior to joining Argo Tea, Dana worked at PepsiCo in both the Quaker Oats and Frito Lay Divisions working on brands such as Quaker, Chewy and Sabra.  Prior to PepsiCo, Dana worked as a consultant at Booz Allen Hamilton.  She completed her graduate business degree at Kellogg School of Management.
About FBU
FBU one-day events are designed to provide a full-day kick-start for early-stage food and beverage entrepreneurs; The Chicago event will take place at Moonlight Studios, 1446 W. Kinzie St. in Chicago's West Loop neighborhood. It will take entrepreneurs and their teams through the key decisions and challenges that accompany early growth, including: commercialization, co-packing, product design structuring a company and a sales force, reaching key distribution and retail decision-makers, marketing products, and attracting growth capital. Always friendly, timely, and well-managed, FBU events feature opportunities to maximize both learning opportunities through interaction with speakers and entrepreneurs, as well as the chance for entrepreneurs to sample their products for the audience.