Now Under One Brand, Alden's Expands the Platform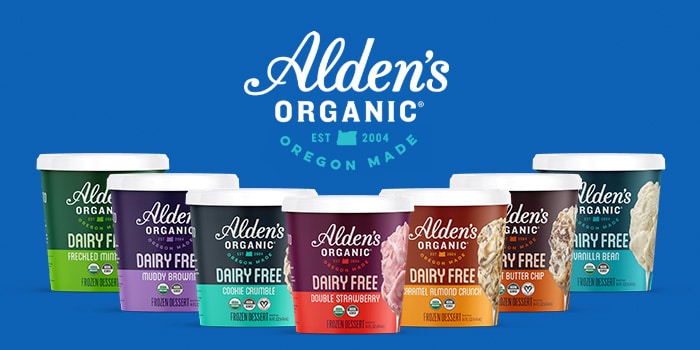 Capitalizing on the success of a top-selling novelty, organic ice cream brand Alden's is leaping into dairy-free with the debut of seven dairy-free flavors and two dairy-free treats ("Sammies") at the Winter Fancy Food Show this week. The launch comes a year after parent company Oregon Ice Cream merged Alden's with its sister brand, Julie's Organic and adopted a bright new look for it.
The rebrand and migration of Julie's was a "huge success," Eric Eddings, president and CEO of Oregon Ice Cream, told NOSH, and fueled Alden's to further expand its portfolio. Notably, the company's rectangular ice cream sandwiches (formerly a Julie's product) are the top-selling frozen novelty in the natural channel, according to data firm SPINS. Additionally, according to SPINS, Alden's was the top-selling organic ice cream brand for the year ending November 3. But regardless of success in the frozen set, the brand sees plenty of opportunity to keep growing.
Oregon Ice Cream, founded in 1938, sees a lot of room for compelling dairy-free offerings, despite competition, notes Joelle Simmons, SVP of sales and marketing for the company. Consumers have consistently said they want "true flavor" — dairy-free offerings that match their respective dairy counterparts, without the flavor influenced by a nondairy base. Other brands are using a base of coconut or almond milk, which often impart their own flavor, something Alden's aimed to avoid, Eddings added.
"So many people are doing comparisons to ice cream, so the real challenge and callout was to make sure we're addressing texture and flavor," Eddings said.
To do that, the company spent two years developing a recipe that would allow its organic ingredients (such as real strawberries) to shine through. The company's R&D team tinkered with 29 dairy-free variations before settling on a blend of brown rice, oat flour, coconut oil and pea protein — a recipe neutral enough to create high-quality ice cream flavors that are in line with its original dairy offerings, Eddings said.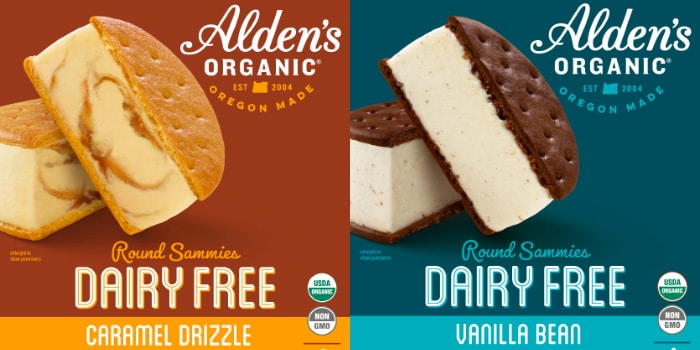 The 14 oz. dairy-free pints include Caramel Almond Crunch, Muddy Brownie, Vanilla Bean, Double Strawberry, Freckled Mint Chip, Peanut Butter Chip, Cookie Crumble, along with dairy-free Vanilla Bean and Caramel Drizzle Round Sammies, the latter of which is a "strong point of difference" in the frozen aisle, Simmons noted. The pints and Sammies will hit natural retailers first in March, including Sprouts, Natural Grocers, and National Co+Op Grocers, with an MSRP of $5.49 to $5.99 and $4.99 to $5.49, respectively. Retailers' response has been positive, but some conventional stores require more of an "uphill sell", Simmons said: the brand's other products are available in over 10,000 stores across natural and conventional channels. Regardless, starting in the natural channel makes sense for the brand, Eddings noted.
"We knew particularly we wanted to start with the natural category to make sure we're where the brand started and built such relevance," Eddings said.
To stand out, the dairy-free line will adhere to the company's disruptive brightly-colored branding — emblazoned with "dairy-free" in large letters across the middle of the pint as well as a newer, "gluten-free" tag shared across much of the portfolio — and will still use actual product photography on the packaging, Simmons explained.
"We want to make sure there is a real connection between what's in it and what's being represented on packaging," Eddings noted.
To further differentiate from other plant-based contenders, the brand is considering expanding the dairy-free line to family-size 1.5 qt cartons (Sqrounds), since very few high-quality dairy-free ice creams are sold in larger containers, Simmons noted. The company last year debuted the smaller 14 oz. pints, which, along with its popular ice cream sandwiches, help feed the increased consumer uptake in snacking, Simmons explained. As that trend continues to proliferate, Alden's will seek more ways to appeal to different day parts.
"Frozen desserts have a prominent place on being able to be part of snacking occasions," she said. "To make sure Alden's plays very well there, we couldn't leave dairy-free behind."