How Urban Remedy Plans to Escape the Kiosk — and California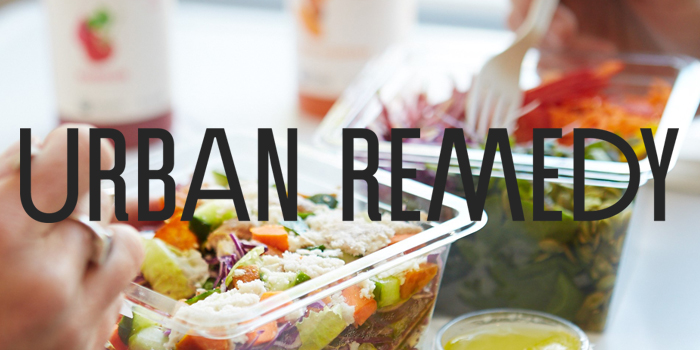 Crack the code of fresh, convenient food? Paul Coletta, CEO of fresh food and juice brand Urban Remedy, thinks he may have done it — and he's taking radical risks in his manufacturing, distribution and retail operations in order to prove it.
Founded in 2009, Urban Remedy has an omnichannel model that combines a direct-to-consumer online business, owned retail storefronts, and branded kiosks in natural retailers and food service providers to sell juices and food with limited shelf lives (30 days for juice, 3 for food). The company has seen two years of 100 percent growth and in the last six months has grown from distribution solely in Northern California to major urban markets statewide.
In the name of strategic growth, this month the brand launched two-packs of salad bowls into two Northern California Costco stores. While only a small retail addition, Coletta said it's the next iteration of his "power SKU" plan, which looks at sales data across retail channels to select the SKUs with the greatest chance of sale before hitting their three day sell-by window.
"Our fresh kiosks and retail stores allow us to rapidly prototype and incubate tried and true power SKUs and therefore increase our success in high velocity retailers like Costco," Coletta said. "Those power SKUs with a lot of really good sales information can be shared with a retailer like Costco and really increase our probability of success."
Urban Remedy's retail storefronts typically sell 75 to 100 products. The kiosks, in turn, carry the top 25 to 30 products. And finally, the top two to three SKUs make it to Costco. Every day, Coletta said, the company makes products for each channel based on an analysis of the previous day's sales as well as historical sales data.The result is an array of products tailored for each channel and store. Coletta said on average the kiosks produce revenues north of $10,000 per square foot, with his best performing kiosks yielding "significantly higher" revenues.
Despite the numbers, Coletta said retailers were initially wary of the kiosk model. These challenges encouraged Urban Remedy to take a nontraditional approach to inventory. "Ultimately, what we proposed to our first and largest partner [Whole Foods Market] was that we take all the risk. We build it, we merchandise it, we deliver it — we do everything."
Urban Remedy — in addition to production, ordering and merchandising — stocks the product on consignment. The brand owns all inventory until it's sold, at which point it "shares" the revenue with its partners. In exchange, retail partners have agreed to financial terms that help compensate for the "significant food waste risk," Coletta explained.
Urban Remedy has the majority of its kiosks — 35 of the 55 total kiosks — in Whole Foods and the company has found ways to make the kiosks part of a larger partnership. It also operates a "store within a store" in both a Whole Foods and a 365 by Whole Foods and copacks all of the retailer's HPP private label juice for roughly 200 stores on the west coast.
Despite all the data, the kiosks are not fully optimized, Coletta admitted. The "holy grail" is to have 5 percent waste. With new partners, that number is closer to 10 percent and anything under 5 percent, means "you've left sales on the table." But, he believes the company can continue to learn and grow and refine this process.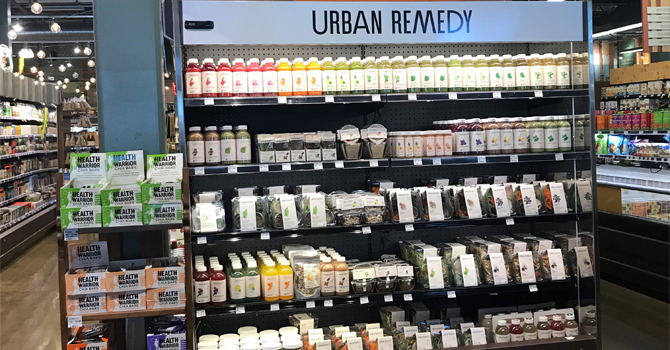 The even bigger question, though, is whether Urban Remedy can scale beyond its home state.
The brand still produces all of its products out of a 30,000 square foot facility in Northern California. While its juice's longer shelf life allows bottles to be shipped nationally, its food items can only travel a maximum of eight to 10 hours given their three-day shelf life. What this means is that to grow into new markets, the brand would have to build new production facilities.
"How do you crack the code on an ultra fresh, three-day shelf life business? That's the question. I'd say over the last four years, we have proved we can do it in California," Coletta said. "[Other markets are] a huge challenge and one that we haven't completely figured out… we're trying to figure out how do regionally scale this omnichannel, ultra-fresh model without compromising quality or food safety."
It's a challenge the brand is going to have to face soon. Coletta plans to expand the storefronts and kiosks to a market beyond California in 2019, a move that will necessitate building a new "micro-production" commissary.
So why take on the risk and complications? Coletta said it comes down to demand.
"There's no question our consumer will get an ultra fresh product, the question is who's going to give it to her? We hope it will be Urban Remedy," Coletta said. "Our model [is] to go where we know our customer is underserved and they will appreciate and be willing to pay a little more for ultra fresh, premium foods."
Besides the consumer need, finding the solution to scaling an ultra fresh product is also appealing to investors. Brad Barnhorn, CPG investor, advisor and himself the founder of a fresh juice company, said that there are clear business benefits. Not only does it make it harder for a competitor to copy Urban Remedy, in which he is an investor, but it also will make the company itself stronger.
"Complexity, which people sometimes see as a negative, to me, as a business builder, I love. Because that means people who can manage that complexity and solve the riddle are a highly valuable asset," Barnhorn said. "Companies who understand how to think through that [also] may be able to play in different segments then someone who doesn't think through that or have available firepower to work through."
Urban Remedy raised $17 million earlier this year and investors may also be drawn to the size of the market. Research firm Nielsen found that in the last year, fresh and perishable foods generated sales of more than $177 billion. Furthermore, the firm found "prepared foods of all sorts" yielded sales of over $62 billion last year — with only one percent in produce.
Alternatively, the brand may not need to be a national, billion-dollar brand to be a success.
"It's a different way to think about building a business. You could say 'hey, here's a national business.' I prefer to think of the term 'multi-local,'" John Haugen, General Manager at 301 Inc (an investor in the brand), told NOSH. "It really needs to be more of a local business but that can be more nationally available. Can that model ever reach every nook and cranny of the U.S? I could probably debate that, and I wouldn't put anything past Paul and his team, but I think you're looking at a business that is accessible in other markets."