Siggi's Founder: Our Core Values Will Remain Unchanged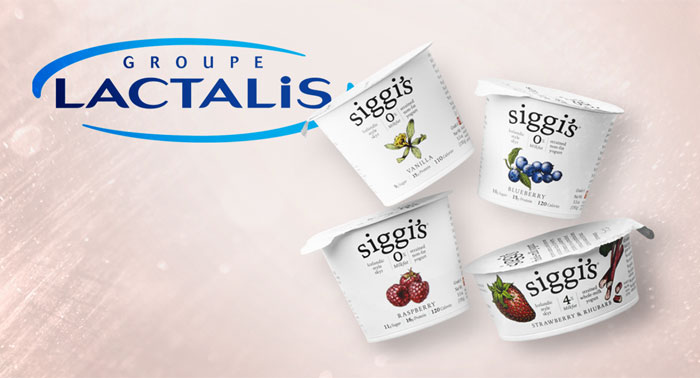 Today Icelandic-style yogurt producer Siggi's announced its sale to global dairy company Lactalis. Financial terms of the deal were not disclosed. The company will continue to operate out of its New York City office with founder Siggi Hilmarsson as CEO and Bart Adlam as President.
Siggi's says its products, known as "skyr," comprise the fastest growing yogurt in conventional grocery. J.P. Morgan Securities acted as the exclusive financial advisor while The Giannuzzi Group acted as legal counsel to siggi's.
The deal will allow the brand to continue to expand while maintaining its quality standards, Hilmarsson said.
"We will just be supported even further by Lactalis, which has vast expertise in dairy operations and that knowledge will just help further enable our growth," he told NOSH, adding that the opportunity to partner with Lactalis "[will} enable siggi's to continue to operate independently and keep our great team in place while tapping into the dairy expertise of the biggest dairy company in the world."
The deal was the second major dairy acquisition for Lactalis — which had previously had little business in the U.S. — in less than a year. In July, 2017, the company purchased organic yogurt pioneer Stonyfield Farm from Danone for $875 million, a deal forced by Danone's own purchase of White Wave. Between the two brands, Lactalis now owns two of the top players in the premium, natural yogurt set.
As part of the deal, Lactalis picked up dairy conglomerate Emmi's 22 percent ownership stake in siggi's. the skyr business.
Reports have pegged siggi's 2018 sales at roughly $200 million. Hilmarsson told NOSH that siggi's topline grew 50 percent in 2017 and he expects the company will match this growth in 2018 as the brand launches additional innovations.The company's low-fat, high-fat, drinkable, and children's yogurts are sold nationwide in retailers including Whole Foods, Publix, Target, Wegmans and Starbucks.
Despite siggi's success, there's still room to grow said William Dowling, research manager at investment platform CircleUp. He noted that siggi's only has one fourth the consumer reach of larger yogurt brands Yoplait and Chobani. He added that there are 216 yogurt brands in operation in the U.S., of which leading players hold seventy-five percent of the market share.
"Once a brand develops a competitive advantage in making a particular type of yogurt, it's often hard for competitors to catch up," Dowling told NOSH in a statement. "Siggi's is currently the clear leader in skyr and no competitors even come close."
It's been a relatively quick ascent to leader status for siggi's. Founded in 2005, siggi's was one of the first brands to introduce American consumers to higher-protein, lower sugar alternatives to the thin, often sugary traditional yogurt brands that were standard on store shelves. Its growth created demand that was hard to fill at times: at a NOSH Live conference in June, 2016, Hilmarsson noted that the company had not yet been able to move into club channels and had a 55 percent ACV in conventional supermarkets because he was concerned about maintaining quality for such wide distribution.
Lactalis has similar interests in maintaining quality, Hilmarsson said.
"We found [Lactalis'] focus on and expertise in dairy very appealing. They are all about quality, as we are, and that will help maintain our high quality standards as the company grows," Hilmarsson told NOSH. "They are still family owned and operated so we think they will be a good home for the siggi's brand long term."
It's a fitting union, noted James Richardson, founder of consulting group Premium Growth Solutions. He said that Lactalis, a private company, has the "luxury" of being able to choose from a wider array of growth options than comparable publicly traded companies, which have to answer to analysts, shareholders and the market.
"My gut tells me that siggi's wanted to sell to a private company so that the product integrity could be maintained," Richardson said. "I think for like-minded startups that have exponential growth — like he's been having the last couple years — and for whom product quality dilution is a personal and business concern, this may be a growing trend."
The pickup also was yet another acquisition of a North American company by a global brand. Just last month, snack brand KIND announced it had accepted a minority investment from MARS, in part so that it could see wider distribution around the globe. Although Hilmarsson noted that for now the focus is on the brand's current distribution strategy, he added that "we are still exploring the many opportunities that we know will come from this acquisition."
Richardson believes that for brands that have already seen rapid growth in America, opening the door to new geographies can be extremely appealing.
"It seems like there could be a growing interest especially in categories I would call 'volumetrically mature' and yogurt appears to be that way in the U.S," Richardson said. "The dollar revenue is still growing due to premiumization but the unit volumes are still declining. So the desire to go abroad and seek out international growth is going to be really strong in those spaces."
In a post on social media sites today, the company promised to adhere to its high standards and to continue to produce high-quality yogurt with simple ingredients. Hilmarsson told NOSH that the product will remain "100 percent" the same. From the company's inception, a key driver for Hilmarsson was maintaining quality and the company's commitment to simply made, low sugar products.
He expressed that balance between growth and quality, and the patience it requires, during his talk at NOSH Live in 2016.
"We probably could have sped up our growth a little by cutting corners on the product here and there but we didn't and it took us a while to get where we are instead — but here we are," he said."I think authenticity from a consumer standpoint comes from sticking to your guns a bit. I had patient investors and I guess I'm a patient guy myself. So we endured for a while."
SaveSave