Serventi Steps Up to Global CEO Role at Hippeas
Snack brand Hippeas today announced a changing of the guard. Founder Livio Bisterzo will move to the role of chairman while Joe Serventi, current U.S. general manager, will assume the role of global CEO. Bisterzo is also the founder and CEO of Green Park Brands, which has a joint venture partnership with beverage brand Ugly Drinks.
Serventi met Bisterzo while he was at BarkTHINS — which had recently been acquired by The Hershey's Company — and came onboard with the puffed snack producer within its first year on the market. Since that time, he's focused on setting up the U.S. division for success, including tweaking packaging and flavors from the U.K offering for the American market.
Bisterzo told NOSH that the leadership change was the right move operationally for Hippeas given Serventi's background at Glacéau Vitaminwater, Pirate's Booty and BarkTHINS.
"This approach of divide and conquer is just best for the brand…. I wanted to make sure the company had Joe at the helm leading the day-to-day while I kept working closely with Joe, but also kept doing what I think the company needs me to do best — which is focusing on the strategy, the innovation, the brand marketing," Bisterzo told NOSH. "Joe's capability [to run] businesses all the way to 100 plus million dollars and beyond [is] why we did this."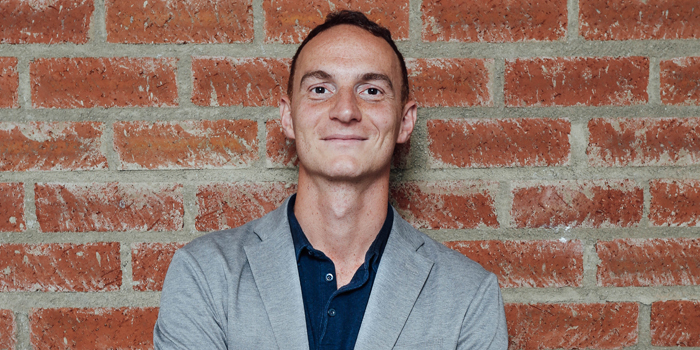 Both Bisterzo and Serventi told NOSH they want to grow Hippeas to a $100 million brand in the next three to five years. The brand is currently in over 50,000 doors including in natural, conventional, club, drug and mass retailers.
Growing a puff-based brand is something that Serventi knows quite a bit about. He previously was the VP of corporate development for Pirate Brands, producers of Pirate's Booty puffs. Although Hippeas marks a return to the salty snack set for Serventi, he told NOSH there are many differences between the two brands.
"It's very similar but there's a lot of difference. I think this is way more of a modern, lifestyle brand then Pirates' was," Serventi said. "I think Pirates' was more kid focused — it still is even though it's still relevant. This can play to a much wider consumer demographic. I think [Hippeas] is today's Pirate's."
Bisterzo said the company will be focused on its current offerings for at least the next 18 months, before eventually expanding into other use occasions and products. That innovation pipeline will include launching two new flavors in the first half of 2019, as well as going deeper on pack sizes and retail distribution.
"We know Hippeas has the strength to be a snacking platform. There's going to be a lot of fun brand innovation work that we're going to do over the next 18 to 36 months," Bisterzo said. "We built a legume-based snacking platform that, right now, sells puffed snacks and I have no doubt will sell other products, other snacks, other food products that will touch consumers through many different occasions."