PopCorners Reverses Rebellious Rebrand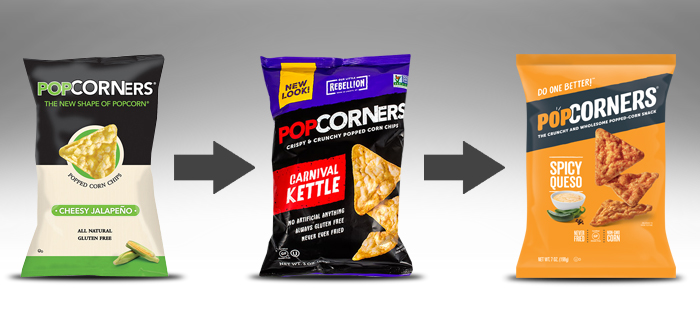 The Rebellion is over.
Popped snack brand PopCorners has reverted to an earlier brand strategy, tossing aside last year's pivot to a brand hierarchy governed by the name "Our Little Rebellion." At this year's Winter Fancy Food Show in San Francisco, the brand unveiled its new, old look, one that returns it to PopCorners.
The shift back from "Our Little Rebellion" comes a year and a half after the redesign. That change, ushered in by CEO Paul Nardone, had been an attempt to modernize the product's packaging and unify the brand across two additional lines, Bean Crisps and Crinkles. Those two products will also lie under the better-known PopCorners line.
"We started as PopCorners and that's been the brand name that people have known and loved for years," Nardone said. "This updated look really simplifies and unifies our messaging."
The redesign also includes a new mantra of "do one better," a slogan the brand feels fully represents how its product fit into the lives of consumers. Research found, Nardone said, that consumers feel PopCorners is their ally in leading a better life — whether that's eating a healthier option or choosing a more natural snack. The message is the same as the brand's previous "rebellious" nature, Nardone added, noting that both concepts are about eating differently.
So why make a move and then unmake it? According to Nardone, the initial pivot was because the company had worried that consumers might be confused by the "Pop" prefix and not fully understand what the snacks were. Since then, the team learned that the strength of the brand name outweighs any issues with the prefix.
"When the new management team came on board we saw some opportunities to broaden our offerings. I think some of the initial research that we got was that we may need an umbrella brand name to help us move into some of these adjacent categories," Nardone said."Over the last year, our deeper interaction with consumers really gave us the confidence to say that they know and love PopCorners and they will follow us into these adjacent categories. Therefore, why would we continue to build anything or create something new?"

Feedback from buyers about the redesign has already been strong. Whole Foods Market has agreed to take the brand nationwide following the next category reset mid-year. Additionally, both WalMart and Target are testing the brand in select stores and PopCorners has expanded its presence in Kroger. There will also be more expansion into other adjacent categories over 2018, Nardone said.
Just as PopCorners has continued to release new "popped" products, so too has the competition. Although PopCorners has a patented process, the better-for-you salty snack set has seen more and more players enter over the past year. This competition was also part of the impetus for the rebrand.
"I think we're at a stage in our category evolution where it's become very competitive," Nardone said. "You really have to work harder and smarter to stand out…. I think our packaging is now very recognizable for [existing] PopCorners consumers to say 'that's it' and it also stands out for new consumers as they are exploring the range of choices that they have."