Nom Noms World Food Launches in North America
Globally inspired meal maker Nom Noms World Food's refrigerated meals are now available in North America. The United Kingdom-based brand has been added to the shelves of more than 1,500 retailers, including Meijer, Walmart and Canadian grocer M&M Food Market. The meals, targeted to adults and children, are also being sold by e-commerce company Jet.com.
This move into new markets illustrates massive growth for the brand, which prior to its U.S. launch was sold aboard airlines and in 250 stores in the U.K.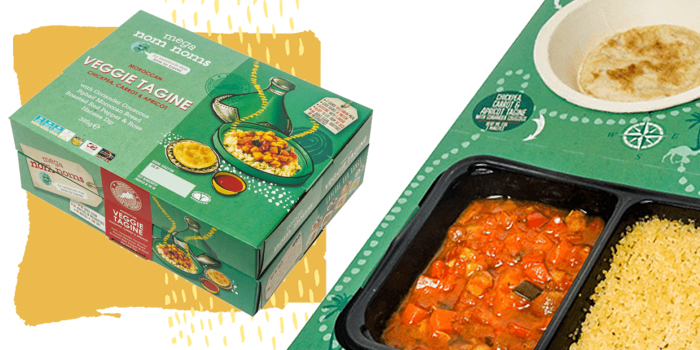 The Nom Noms portfolio is comprised of both frozen and fresh Mega Nom Noms for adults and Mini Nom Noms for children. Each meal draws on a different culture from around the world and is flavored with spice blends authentic to the origin of each cuisine. The goal, Nom Noms CEO Lisa Sohanpal said, is to encourage consumers to embrace a diverse pallet.
Keeping with this idea of exploration, the meals are packaged in brightly colored boxes that open like a suitcase with multiple compartments for a main course, vegetable side, bread and dip. For every meal sold, another meal is donated to a child at lunchtime at a primary school in Bijapur, India, via a partnership with the Akshaya Patra Foundation UK.
"We believe we are entering the market at the right time, right place with the right multi-award-winning concept with the right supply chain partners," Sohanpal told NOSH. "We are setting the foundations now to build global healthy food brand."
To execute this new market launch, Sohanpal said she is working to build a "highly credible, passionate, purpose driven" team based in Boston. The company is also seeking investment opportunities in order to continue to fund its scaling efforts. But most important, Sohanpal said, will be building the same emotional connection with American consumers that the brand has with shoppers across the pond.
"We are focused on consumer engagement and establishing an emotional connection with them to ensure we generate repeat sales and drive category growth for the grocer," she said. "We will do this by inspiring our customers on culture, cuisine and charity."
To learn more about Nom Noms North American launch and the differences Sohanpal sees between U.S. and U.K. consumers, watch the above interview from this month's NOSH Live.