Fresca Foods Invests $3.4 million in Client 34 Degrees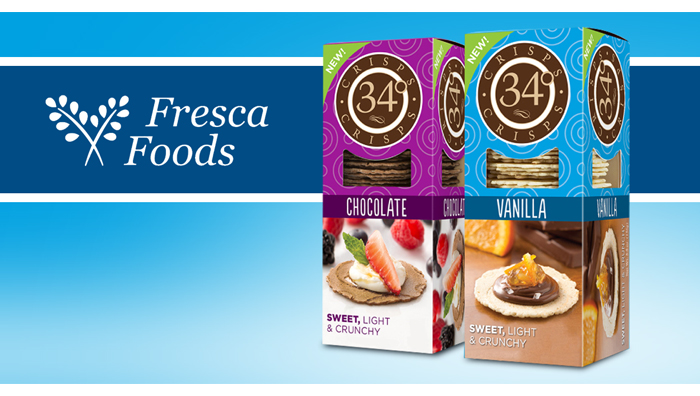 It's a relationship that both parties say has been unconventional from the start, but it's still moving to the next level.
This week Denver, Colorado-based cracker producer 34 Degrees and its erstwhile contract manufacturer, Fresca Foods, announced that Fresca was investing in the brand.
The $3.4 million investment is for a 10 percent share in 34 Degrees and marks the first outside capital the crisp brand has taken. The line of crackers is currently sold in 10,000 doors including Whole Foods Market, Target, Walmart, Publix and Costco.
Founder Craig Lieberman started 34 Degrees in 2003 to import Australian food products, but he pivoted and decided to focus on producing and selling Australian-inspired crackers in 2007. He bought a commercial oven and briefly considering making the crackers himself, but after Lieberman meeting with Fresca he decided to form an alliance with the co-packer.
"We spent a few weeks looking at manufacturers, and ultimately, all roads led back to Fresca," Lieberman told NOSH. "Fresca stood out as such a right fit for us, and ten years later, nothing else has changed. It's just been a perfect partnership and really allowed us to focus on building our brand and developing the story and distribution and kind of all the different components that have gone into getting us to where we are today, because we have such an incredible partner to help us on what we call the back of the house."
Both Lieberman and Fresca CEO Todd Dutkin maintain that the two brands' relationship has been non-traditional from the start, although it's partnership where both companies are aligned in goals. For example, the manufacturer has kept an "open book" model in terms of labor and ingredients so that if costs go down, both companies can share in the benefits.
"We share in savings and in increases, so ultimately everyone is incentivized to build a more efficient product because if a cost goes down, we're incentivized mutually," Lieberman said. "Whereas a lot of times, cost goes down but margins go up. So someone wins at the other partner's expense. "
It's because of this close knit relationship that Lieberman, who decided to raise cash two years ago, felt confident taking capital from Fresca, which is a manufacturer, investor and incubator. After speaking with numerous possible investors, he realized Fresca would not only be able to provide capital but also the strategic advice the company needed. More so, he knew the co-packer would allow 34 Degrees to remain entrepreneurial and keep their culture, core values and independence.
"Then this lightbulb just went off one day, we've got this amazing partner already and they're right in front of us, Lieberman said, "So it was like 'duh, of course we need to talk to Fresca about this' because what better partner than the one we've had for ten years and the one that seemingly there values and interests have not only been aligned for ten years but are actually becoming even more aligned as our businesses evolve and mature."
Dutkin echoed Lieberman's sentiments about the relationship and investment.
"Why now? Because he asked us," Dutkin said. "When you look at the two companies, you have two cashflow positive, positive net income, high growth companies. You have two companies that are self owned with no outside investors. You have two companies with shared visions that are closely aligned and then you have one Craig Lieberman."
Although 34 Degrees has been cash flow positive from its inception as a cracker producer, Lieberman said the investment will allow the company to focus on two important areas: marketing and new product innovation.
Until now, over 90 percent of the company's marketing budget has been spent on trade promotions. Lieberman's goal is to shift some of that to speak directly to consumers. This holiday season the brand will launch its first national consumer marketing campaign. Although the line has prominent placement in many specialty and deli departments, it has low brand awareness with consumers and tends to have a slightly seasonal sales cycled, aligned with when consumers are gathering together for social functions.
Additionally, the brand hopes to expand its product assortment. Recently the company grew from its traditional savory line of crackers to sweet options including chocolate and lemon. The company plans to focus not only on new flavors and products but also packaging formats beyond its current multiserve box.
"We say this was a deal not based on value but based on values," Lieberman said. "Growth is fantastic on its own, but ultimately growth allows us to do more things that are based around the value that we hold dear. And for us, that's lightning in a bottle. For us, this investment and enhanced partnership was about taking what was already great and making it even better."