Foodstirs Mixes It Up with 7,500 New Retailers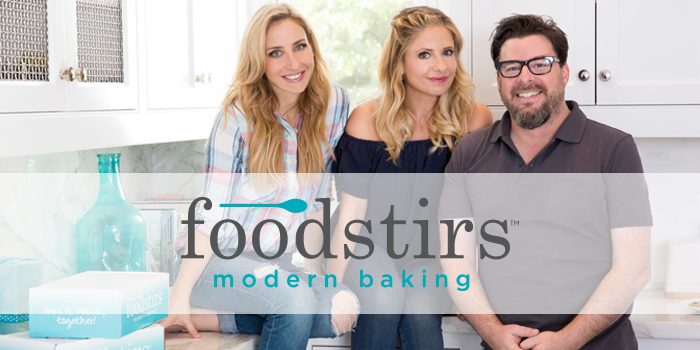 Just over a year after launching into brick and mortar retailers, baking and breakfast mix line Foodstirs has validated its recipe for success, as it is set to launch in roughly 7,500 stores by the end of the month. The expansion is a leap from its previous 400 doors.
Co-founders Galit Laibow, Sarah Michelle Gellar and Greg Fleishman said that although the growth was always in the company's roadmap, the expansion came faster than expected.
"Part of our growth strategy was to expand distribution across channels from Target to a Kroger to a Whole Foods," Fleishman said. "It had been our mission to get to 7,500 doors over a twenty-four month period, it just so happened this brand is so hot… retailers started contacting us."
Fleishman added that following the expansion the team plans to focus on "cultivating" a relationship with all their retail partners and telling the brand's story to consumers. The brand's recent series A round of funding is supporting this rapid growth and the company now is on its way to having twenty employees.
Retailers including Target, Jewel-Osco, Kroger, Safeway/Albertson's, Sprouts, Wegman's and Stop and Shop have all added the company's mixes to store shelves. Foodstirs will also launch four new SKUs — a limited edition organic gingerbread mix, organic snickerdoodle blondie mix, organic pumpkin spice pancake mix, and organic chocolate "chippy" pumpkin bread. The latter two will be Target exclusives.
Each product retails for $3.99-$5.99, which Fleishman said is only generally a 15 percent increase over legacy brands in the category. The mixes use fair trade chocolate, biodynamic sugar, and heirloom "identity preserved" flour.

Laibow noted that while great taste, price point and sustainability are all important, consumers are drawn to the full picture.
"We're speaking to a millennial consumer and what we're finding is that they want [something] super convenient and an experience and that's what we're delivering. We think we have the winning combination," Laibow said "This isn't just a product. This isn't just a baking mix. This is an opportunity to spend time with your family to spend those thirty minutes together."
The brand builds this community through online initiatives, maintaining a strong relationship with consumers via Gellar's robust social following. Foodstirs also publishes recipe variations for each mix and still has their own direct-to-consumer store and subscription line, which Fleishman says account for roughly 30 percent of sales. Every week the brand publishes three to five recipes that use their line of mixes as the base for Pinterest-like creations.
Offering recipes also allows the brand to grow with consumers as they gain confidence in their baking skills or want to use the company's mixes for different occasions, which in turn drive the frequency of purchases.
"You hear, 'well I can cook but I can't bake.' It seems really daunting. But then they get their feet wet and it's like, well that was easy so I'm going to take the next step," Gellar said. "It's repeat customers… it gives you reasons to go back."
Fleishman also believes retailers are looking to offer consumers cleaner options of classic favorites after being "over SKU-ed" on paleo and gluten-free options. Instead, consumers need options to solve the pain-points in their busy lives, he said. Foodstirs is able to do this and bring consumers back to the category and center store, he added.
"We're not attaching ourselves to any sort of fad," Fleishman said. "When we go and talk to consumers or retailers or even distributors, it was just so obvious [to us] to take the indulgent treats and pancakes that we love so much and make them with really clean ingredients. The desire for clean and green baking options is universal and we are the first ones to do it well with a diverse range."