R.e.d.d. Raises $1 Million for Its Multifunctional Bar
What do you get when you combine an energy shot, a multivitamin and a protein bar? No, not the diet of a college student during finals, but rather the newly relaunched R.e.d.d bar.
The Portland, Maine-based brand announced today it had added two flavors to its superfood energy bar line and raised $1 million dollars from investors including Dan Nordstrom, CEO of Outdoor Research Inc, and Greg Hanson, Founder and Managing Partner at Skyline Capital. Nordstrom and Hanson will both hold seats on R.e.d.d.'s Board of Directors and the capital will go towards marketing, production and distribution.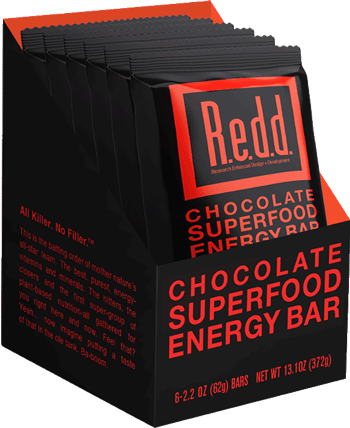 It's a big step for the brand, which has seen several setbacks over the years. The concept was founded in 2010 by Alden Blease, a former male model looking for an inexpensive, healthy way to eat. At the time, Blease was in college and short on cash, so he purchased bulk ingredients and blended them into his own bar line. When friends started asking to buy the bars, Blease quit school and used the funds from a car accident settlement to started a bar line called "Rawgasm."
In 2013, Blease changed the brand to its current name and stepped up production. Unfortunately, after completing his entire production run, he found that his packaging leaked toxic chemicals into the bar — the full run had to be scrapped. A year later R.e.d.d. was back on shelves, but soon after, in 2015, the manufacturer dropped the line. Blease wasn't deterred and moved production across the country to the West Coast. The move, which took a year, gave Blease enough time to completely redesign packaging, hire a CEO and develop two new flavors.
Now, with modern, bold packaging, investment and a more robust team, R.e.d.d. Is ready to rock grocery shelves. It's currently sold in coffee shops, independent retailers and direct to consumer but Blease said the company is in talks with retailers such as Whole Foods Market for wider distribution.
The investment will support these growth goals on both coasts. Blease said he's thrilled to have found Nordstrom — of the Nordstrom's department store family — and Hansen as investors. "[Dan Nordstrom] does have vast retail experience but he's also an outdoor enthusiast, tremendous athlete and overall great guy," Blease told NOSH. "I'd say he's a visionary, he sees things before they happen in the market. I think the combination of those attributes is what helped him see the potential in R.e.d.d."
This support is key for a brand launching into the crowded bar space. One difference, Blease says, is that his line isn't a meal replacement.
"It's a 'meal bridge'" Blease noted to NOSH. "I don't think that there's any bar out there, or anything that comes in a package, that truly replaces a fresh, delicious, home cooked meal."
And why does his product stand out above the competition? Easy, says Blease. "It's taste, it's function and its design. We don't compromise on any of those things…We want to give people the best product and that product costs $3.49 because we don't compromise, we just don't."
The full press release can be found below:
PORTLAND, Maine, May 17, 2016 –– R.e.d.d., the first-of-its-kind Superfood energy bar brand announced today that it is now available nationwide at www.reddbar.com and has successfully launched two new flavors, Peanut Butter and Oatmeal. These new flavors join the cult-favorite Chocolate flavor that has attracted energy seekers who have been clamoring for a 100% natural food to sustain their active lives.
R.e.d.d.'s Superfood energy bars integrate innovations from nutritional science, natural chemistry and human performance engineering to provide complete, all natural energy. Part protein bar, part energy shot and part multi-vitamin, R.e.d.d. bars are certified gluten free, 100 percent vegan, 70 percent organic, low-glycemic and free of dairy, soy, GMOs, refined sugars and anything artificial. Perhaps the most surprising part about R.e.d.d. bar is the simple fact that they're so delicious. As FounderAlden Blease likes to say, "If Mother Nature made anything better, she kept it for herself."
R.e.d.d. is free of fillers, additives and low-cost protein sources. Every ingredient serves a functional purpose. R.e.d.d. ingredients include: 11 superfoods (including chia, acai, goji berry, mangosteen, maca, yerba maté and quinoa); 23 vitamins and minerals; and 9 – 10 grams of protein (varies by bar), equivalent to two ounces of salmon, two eggs or +/-50 almonds. Yerba Maté provides 35 milligrams of clean caffeine for rapid improvement of available energy while the R.e.d.d. bar's complex carb structure delivers energy continuously throughout the day (or night).
Founder Blease first began experimenting with functional foods as a high school athlete. After a career in Manhattan's fashion industry, Blease returned to Maine and enrolled in a Biological Engineering program where he created an energy bar capable of supporting his demanding schedule. His first attempts featured Superfoods like maca, chia, flax, spirulina, goji and cacao—an early blueprint for what would later become R.e.d.d. Eventually, Blease perfected his recipe and started selling his creations to fellow students and health food stores under the brand name "Rawgasms." He soon connected with distribution and manufacturing partners and raised enough capital to transition "Rawgasms" to "R.e.d.d."—an acronym for Research Enhanced Design + Development. To this day, the brand's aesthetic remains strongly influenced by the clean design sensibilities of the fashion world Blease once inhabited in New York City.
"We are thrilled to announce the nationwide launch of R.e.d.d.," said Blease. "What began as a personal quest for healthier nutrition to fuel my busy, on-the-go lifestyle now has the potential to transform the functional foods market for millions of people. R.e.d.d. Superfood energy bars' distinctive ingredients and tasty flavor profiles will help thoughtful energy seekers make better eating decisions every day."
The company recently closed on $1M in funding that will be used to accelerate product innovation and expand distribution. The funding round was led by a group of investors organized by Dan Nordstrom and Greg Hanson, two Seattle-based investors who have a focus on active lifestyle brands. Nordstrom and Hanson join Founder Alden Blease, R.e.d.d. CEO Peter Van Alstine, and Pine State Trading President Keith Canning on the company's Board of Directors.
"As the CEO of an active lifestyle company and an avid outdoor enthusiast, I have long sought after an energy bar that provides energy-giving power, healthful ingredients and great taste. R.e.d.d. Superfood Energy Bars provide all this without the additives and sweeteners that seem ever present in this category," said Dan Nordstrom, CEO of Outdoor Research. "I am pleased to be a part of the R.e.d.d. team and brand and I'm looking forward to growing our offering of healthy superfoods for fast-paced adventurers. Job one is to maximize the brand's reach and develop incredible new products for people who refuse to let busy lifestyles rule out healthy ones."
About R.e.d.d.: Born in Portland, Maine, R.e.d.d. is a first-of-its-kind Superfood energy bar that's part protein bar, part energy shot and part multi-vitamin. Designed for people who don't want to let busy lifestyles rule out healthy ones, R.e.d.d. bars are certified gluten free, 100 percent vegan, 70 percent organic, low-glycemic and free of dairy, soy, gluten, GMOs, refined sugars and artificial ingredients. If Mother Nature made anything better, she kept it for herself™. Learn more at: www.reddbar.com | @enjoyredd