Naturally More Ships First Complete Line of Nut Butters Boosted with Probiotics
MADERA, Calif. (April 18, 2016) – Naturally More® of Madera, Calif., is leveraging its growth in the nut butter segment by launching the industry's first complete line of nut butters boosted with the natural wholesomeness of probiotics and flax. The new line targets a growing customer base looking to combine the brand's distinctive natural nut butter taste and signature texture with the opportunity for digestive health and on-the-go convenience.
Six new Naturally More SKUs covering three flavor varieties will be available to ship nationally in 12- and 16-oz. jars and 5.6-oz pouches by April 30. SRPs are $6.99 to $8.99 for the jars and $2.99 to $4.99 for the pouches.
Naturally More Organic Valencia Peanut Butter with Probiotics and Flax – In 16-oz. Jars and 5.6-oz. Pouches
Naturally More Roasted Almond Butter with Probiotics and Flax – In 16-oz. Jars and 5.6-oz. Pouches
Naturally More Chocolate Hazelnut Spread with Probiotics and Flax – In 12-oz. Jars and 5.6-oz. Pouches
Naturally More has distribution at Walmart, Kroger, Publix, Smith's, ShopRite, Piggly-Wiggly, Fred Meyer, Ralph's, Hy-Vee and Giant Eagle, among others, and is working with these and other retailers to finalize agreements for the new line. The Naturally More line is also sold through Amazon and the Naturally More online store.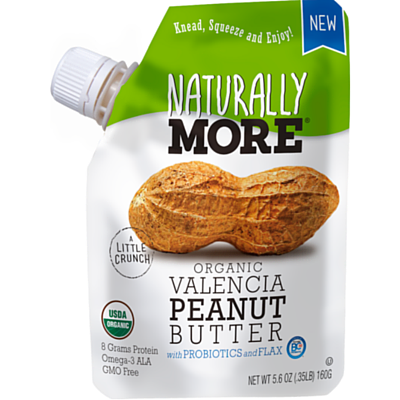 The new SKUs continue the Naturally More tradition of all-natural ingredients, including organic Valencia peanuts, hazelnuts and California-grown almonds, perfectly roasted to bring out the most intense nut flavors, plus sea salt and heart-healthy flax seeds rich in Omega-3 fatty acids. Each is GMO-free, provides between five and eight grams of protein per serving and uses coconut sugar instead of cane sugar or molasses to deliver a lower glycemic index.
"We started with everything our customers expect from Naturally More and then added probiotics to create something truly unique," said Ann Billek, co-owner of Naturally More. "The result is the most complete line of probiotic-boosted nut butters on the market, and the only one to offer both jars and pouches for maximum customer choice."
Billek says the new line capitalizes on the latest food and nutrition trends to give retailers even more reasons to stock Naturally More. "These include not only the growing consumer preference for probiotics and digestive health but also demand for plant- and nut-based proteins, natural sweeteners like coconut sugar and the idea of natural protein function. And the fact that we're offering all three flavor varieties in both jars and pouches means we can target the at-home and on-the-go consumer."
By leveraging these key trends within the nut butter category, Naturally More can help retailers expand their nut butter section and drive incremental sales and profits through higher average SRPs.
Naturally More collaborated with Ganeden, maker of the patented probiotic strain GanedenBC30®, to naturally boost the new line to support digestive and immune health, and enhanced protein absorption. "Thanks to this partnership, our nut butters and spreads now contain GanedenBC30 probiotic which is 10 times more effective than yogurt cultures[i]."
According to Billek, since GanedenBC30 improves the body's ability to absorb and use protein, consumers are able to maximize the inherent protein in Naturally More nut butters without sacrificing taste. The new line of nut butters is consistent with research by Ganeden showing that a majority of consumers are willing to pay more for foods with probiotics. Seven in ten consumers said they were aware of probiotics and prefer to get the beneficial bacteria through their food.
Beyond the digestive benefits, Billek says the real Naturally More difference is the taste and texture. "Many first-timers are surprised to discover just how much better Naturally More tastes than conventional brands – and how our signature flax seeds provide a nice, unexpected crunch. Whether your first Naturally More experience is a P&BJ sandwich or quick dip, smoothie or baked dessert, you're not going to want to go back to your old nut butters once you try ours. And the fact that you can now get probiotics with this spoon-worthy taste is really quite remarkable."
"We're proud of the fact that Naturally More has finally made it easy for nut butter lovers to get the probiotics they need in a product they know and love."
For information on the full Naturally More line, go to www.naturallymore.com.
About Naturally More: Naturally More® specializes in nut butters and spreads that are delicious, highly nutritious and minimally processed, delivering the distinctive taste and homemade texture health-conscious consumers prefer. Founded in 2004 to offer moms and fitness enthusiasts a tastier, healthier peanut butter, Naturally More became best known as the first national nut butter brand enriched with flax seeds providing heart-healthy Omega 3 fatty acids. That success led to expansion into the burgeoning almond butter segment and, most recently, the pioneering of products boosted with probiotics that contribute to digestive and immune health when part of a balanced diet and healthy lifestyle. Across all products, the company prides itself on offering nut butter lovers amazing taste, superior nutrition and a slightly crunchy texture provided by flax seeds.
All varieties of Naturally More nut butters and spreads use the highest-quality ingredients, are GMO-free, provide up to nine grams of protein per serving and are an excellent source of Omega-3 ALA. For more information, visit Naturally More at www.naturallymore.com or www.facebook.com/naturallymore Naturally More is owned and operated by Ready Roast Nut Company.
About Ganeden: Ganeden is at the forefront of probiotic research and product development with an extensive library of published studies and more than 100 patents for probiotic technologies in the food, beverage, animal health, sports nutrition and personal care ingredients markets. Ganeden is best known for GanedenBC30® (Bacillus coagulans GBI-30, 6086), its patented, FDA GRAS, non-GMO, highly stable probiotic ingredient. Ganeden's newest ingredient, Bonicel, is the first science-backed, probiotic-derived, personal care ingredient shown to dramatically reduce signs of aging. For more information about Ganeden and licensing opportunities visit GanedenProbiotics.com.
[i] In an independent lab study of a simulated gastric environment with a pH of 2.0 for two hours