Good Karma Launches Flax Milk Yogurt Line
After two years of rapid growth and product development, plant-based food and beverage brand, Good Karma, is launching its newest product, flax-based yogurts.
Founded roughly 20 years ago, Good Karma began as a private label formulator for plant-based products and only shifted its focus to become a branded CPG company in 2014.
Since then, Good Karma has brought on angel investment and private investment group 2X Partners, undergone a brand redesign and launched a successful line of flax-milks and flax-based drinkable yogurts. In 2014 the company also added CEO Doug Radi, who spent time at Rudi's, Horizon Organic and WhiteWave Foods, and in 2016 added COO Kevin O'Rell, who has worked for dairy leaders including Danone's YoCrunch Company, WhiteWave Foods and Horizon Organic.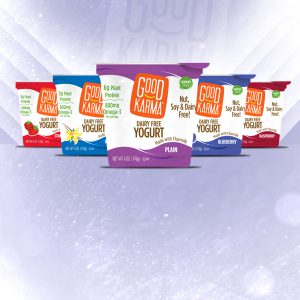 Now the brand is ready to move from the beverage space into the food world with a line of five high protein, allergen-friendly, non-dairy, omega-rich yogurts. The new flax-based yogurts are sold in individual 6oz cups that retail for $1.79 and are available in plain, strawberry, blueberry, raspberry and vanilla.
Good Karma is rolling out the line in select Kroger stores in December, to be followed by retailers including ShopRite, Hy-Vee, New Seasons Market and Fresh Seasons in the first quarter of 2017.
Good Karma CEO Doug Radi told Project NOSH that the launch aligns with the start of the calendar year for two reasons. "It's both the back-to-health theme, that's clearly a great opportunity to impact healthy behavior," Radi noted, "[but also] retailers want to take advantage in that change in consumer behavior." As a result, many retailers reset the yogurt category in December or January.
Radi recounted that plant-based beverages see an 11-12 percent drop in the last two months of the year, but then a 15-20 percent spike in sales in the first month of the year. He expects to see a similar seasonal bounce with the yogurt line.
Good Karma chose to pursue the yogurt space after realizing that there was, in the company's estimation, a $600 million volume opportunity gap. Radi told NOSH that plant-based milks account for 25 percent of the sales of fluid milks in the natural channel and 8 percent of sales in the conventional channel. At the same time, plant-based yogurts only account for 8 percent of yogurt sales in the natural channel and less than 1 percent of sales in the conventional channel.
So why the discrepancy in market share between plant-based fluid milk and plant-based yogurts?
"If more and more people are looking to incorporate plant based foods into their diet, [we asked] why is yogurt not seeing that same levels of development," said Radi. "The biggest opportunity that we identified was that even though there's a number competitors out there, no one, to this point, has replicated the quality, the taste, the texture and the nutritional profile of conventional dairy yogurt."
Good Karma's yogurt sets out to mimic the exact taste and texture of dairy yogurt, in familiar flavors and with a comparable nutritional profile. Radi believes the secret to winning over consumers is getting the product into their hands, so the company will be encouraging trial through sampling, coupons and promotions. These marketing tactics, he said, will help the brand achieve its goal of attracting mainstream consumers that simply want more plant protein in their diets and aren't vegan or have food allergies.
"For a company like ours…you have to elevate the conversation and be universally appealing. I think in the past natural products companies have been niches, of niches, of niches, and it's difficult to play in that space," Radi noted.. "I can't just be about taste, I can't just be about nutrition, I can't just be about allergen friendly, I have to be about the combination of all of them."