Fourpoints Slow-Burn Bar Widens Distribution into King Soopers Across Colorado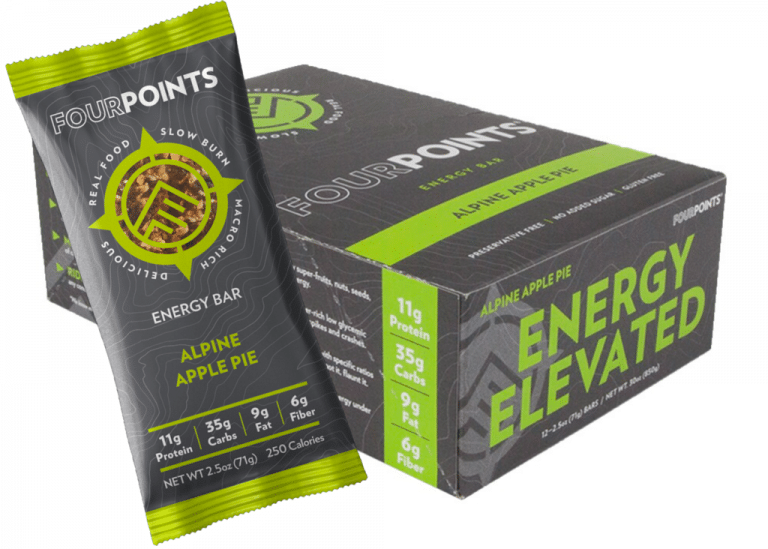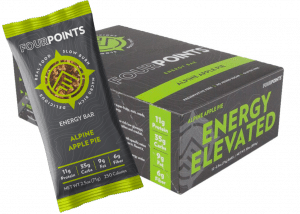 DENVER– Fourpoints announced this week that their slow-burn energy bars will be available in King Soopers/City Market across the Colorado. The product line is a first and only to market using California Prunes as the star ingredient in contrast to the multitude of date or syrup-based bars that continue to flood the market.
More than just a typical snack bar, Fourpoints was crafted to offer hours of slow-burning energy without the dreaded spike and crash typically associated with higher-glycemic bars that make up much of the category. The power of prunes brings the nutritional synergy of macros, micros, and phytos to play in every bite.  Macronutrients like carbs and soluble fiber found in prunes energizes muscles and delays hunger during exercise. Recent research indicates that California Prunes support healthy bones due to micronutrients such as copper, which aids in bone structure, as well as phytonutrients such as boron and polyphenols that help with regulation of bone building. The vitamin K in California Prunes also helps improve calcium balance and promote bone mineralization.
"Our bar truly is a one-of-a-kind and consumers care more than ever about choosing the right snacks with quality ingredients," says co-founder Kevin Webber.  "King Soopers has a great track record for really supporting local emerging brands and they take consumer eating habits seriously so we're really excited to be a part of their offerings."
King Sooper stores will debut newly branded floor displays that highlight Fourpoints Colorado roots with the Maroon Bells front and center atop the display, along with the Fourpoints message about conservation.
"A bar isn't just a bar to us," Webber says.  "As native Coloradans we are passionate about promoting outdoor recreation.  Our bars were crafted to elevate your performance wherever you play, but we have an inherent obligation to protect that public land that we play on.  In addition to trail adoption along the Continental Divide Trail we partnered with 1% for the planet and other major conservation non-profits to protect public lands, and a portion of our sales are donated to various conservation and environmental efforts."
Fourpoints is disrupting the category by changing the narrative around the role natural sugar, from low-glycemic fruit sources, plays in healthy blood sugar control and long-term energy.  With backgrounds in sports nutrition and pulling from lessons learned in their families fight with diabetes, "Sugar and carbohydrates play a crucial role in the body and fruits, especially low-glycemic super fruits that are high in fiber and have essential micro-nutrients like prunes are incredibly good for you.  If you choose the right sources and consume at the right times there are a ton of benefits to fruit without compromising healthy blood sugar and healthy weight," says Webber.  Fourpoints has been a proud supporter of American Diabetic Association and the Tour De Cure since their launch four years ago.
Fourpoints also uses hemp seeds and protein to elevate the protein profile.  Sourced from local Colorado farmers, hemp seed is emerging as a nutritional powerhouse in a growing demand for more plant-based proteins.  Fourpoints currently uses whey protein isolate in their bars but plans to move to 100% hemp seed protein by the end of the year making their bar vegan friendly.  "Plant-based proteins are not a trend anymore; they are here to stay," adds Webber.  "We were already utilizing hemp as one of our protein sources so it made sense to make the transition."
Featured in Backpacker Magazine's annual gear guide in 2017, Fourpoints was dubbed "the slow-burn energy bar." The spot in the coveted issue landed them on the shelves at REI forging their place in the outdoor industry. Today, Fourpoints is focused on growth in the natural and conventional foods industry and can also be found in stores across the West such as Natural Grocers, Lucky's, and Safeway.
About Fourpoints
Tired of sugar crashes derailing your performance? Featured in the 2017 Backpacker Gear Guide for "Slow Burn Energy," Colorado-based Fourpoints crafts it's real food energy bars around a unique base of PRUNES and figs with a low to moderate glycemic load for long sustained energy without the crash! At roughly 250 calories, each 2.5-ounce bar is rich in heart healthy fats, high in fiber, and offer 10 plus grams of protein. As an added bonus, they DON'T FREEZE in cold conditions, so pull one out of your pocket on a powder day knowing you have the energy to keep going! Six unique flavors – [$3 per bar] Visit www.fourpointsbar.com.