NuNaturals Launches Organic Stevia & Monk Fruit Blend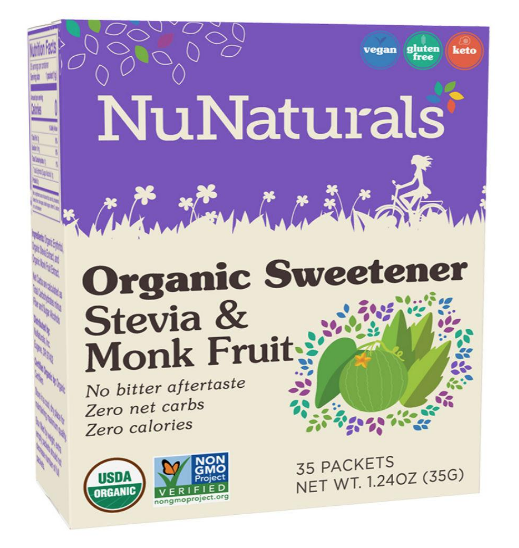 EUGENE, Ore. — NuNaturals, a pioneer in premium natural sweeteners, has introduced a new zero calorie Stevia and Monk Fruit Organic Sweetener, offering a synergistic taste experience that is the best of both worlds. The new plant-based herbal sweetener, available this month, blends two on-trend sugar alternatives to bring more options to a growing category of natural sweeteners serving keto, paleo and other low sugar diets.
NuNaturals has long been known for offering the best-tasting stevia with no bitterness and no aftertaste. By formulating a blend with monk fruit, NuNaturals has created a sweet flavor profile that offers a perfect blend of sweetness with all the known health benefits of reducing sugar consumption. The American Heart Association recommends a daily added sugar limit of less than 36 grams/150 calories for men and less than 25 grams/100 calories for women and children over two. Studies have found a low sugar diet improves cholesterol, helps with high blood pressure, doesn't produce a glycemic response and assists in weight loss.
Stevia, a mainstay for decades among people seeking to reduce sugar intake, has seen a surge in popularity with the rise of the keto and paleo diets. These diet trends have also led to monk fruit trending up quickly over the past year. Monk fruit can be spotted in many new foods and beverages on store shelves. In fact, according to recent data from SPINS, products featuring alternative sweeteners reported sales growth in 2017. Of note, sales of blends of stevia with other alternative sweeteners were up 19.9% in the Natural channel "low or no calorie sweeteners" category.
"As keto, paleo and low sugar diets continue to take off, we see more demand for a variety of natural sweeteners that taste great without any of the guilt or harmful health impacts of consuming too much sugar. As a family owned business for 30 years, we are incredibly excited to be offer new products that continue to meet the needs of this modern consumer. With our new organic sweetener blend, using monk fruit combined with stevia creates a flavor that many people prefer. The two ingredients work great together. This feels really good because our goal is to help people enjoy the foods and beverages they love without all the sugar, " said Jake Sablosky, President of NuNaturals, Inc.
In addition to being USDA Certified Organic, the new stevia and monk fruit blend is Non-GMO Project Verified so consumers can feel confident it meets the same high standards for ingredients and quality of all NuNaturals products. One packet is as sweet as 2 tablespoons of sugar with no bitter aftertaste, zero net carbs and zero calories. The stevia and monk fruit blend is vegan, gluten-free and keto, which are all clearly called out on the front of the packaging for added assurance. Use as you would any other sweetener by adding a packet to tea, coffee, oatmeal, smoothies, yogurt or in your favorite baking recipes. Recipes are available on NuNaturals.com.
Beginning this month, NuNaturals Stevia and Monk Fruit Organic Sweetener will be available in natural grocery stores nationwide and online at NuNaturals.com. Two available size options include 35 packets for $5.99 and 70 packets for $9.99.
For additional information and recipe suggestions follow us on Facebook.com/NuNaturals and @NuNaturals, and join our community conversations by following along #isntlifesweet.
About NuNaturals
NuNaturals is a family owned and operated company that has been providing delicious, healthy products for over 27 years. Our mission is to offer joyful products that help keep you well and to grow "sweet" relationships with our customers, employees, stakeholders, and community. We believe that the path to wellness starts with the food and supplements that we consume. Today NuNaturals offers a wide selection of all natural, plant-based stevia sweeteners, baking ingredients, and dietary supplements. NuNaturals was founded November 1st, 1989 in beautiful Eugene, Oregon.