Love Grown Launches Bean-Based Cinnamon Cereal at Expo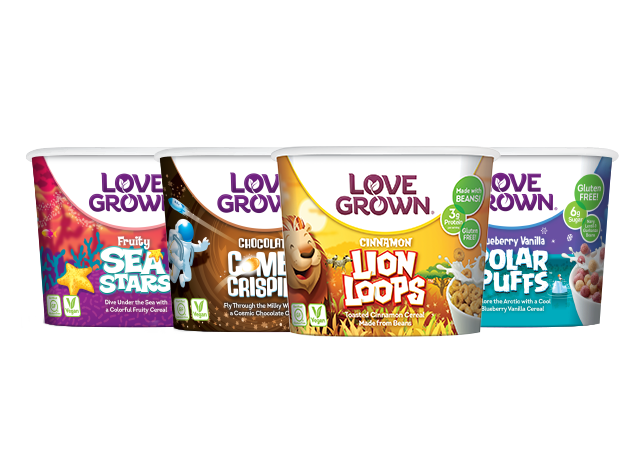 ANAHEIM, CA– Love Grown, creator of nutritionally-dense breakfast foods, will feature their newest gluten-free, vegan, non-GMO cinnamon cereal made with their power blend of navy beans, lentils and garbanzo beans at this year's Natural Products Expo West. The brand is revolutionizing the typically sugar-packed, nutritionally-empty cereal category with their cereals that are higher in protein, lower in sugar, and are the fastest growing bean-based cereal in the natural channel. They will also be highlighting their grab-and-go kids cereal cups, making it even easier for consumers to pack nutrition into their day.
Love Grown will also introduce a new Premium Granola, made with a unique blend of avocado oil and coconut oil, pink Himalayan salt, and only 3 grams of sugar. This premium granola will be available in three different flavors: Almond Sesame, Coconut Lime, and Pumpkin Cashew. , and They deliver 3 grams of protein per serving and are lightly sweetened with molasses. They are Non-GMO Project Verified and Certified Gluten-Free.
Maddy Hasulak, Founder and Chief Love Officer of Love Grown says, "We've really been focusing on responding to consumers' requests for lower-sugar options that are nutritionally-dense and still delicious. We are excited to be launching our newest cinnamon kids cereal and premium low-sugar granola made with avocado oil at Expo West."
Natural Products Expo West will take place from March 8th through March 11th, 2018 at the Anaheim Convention Center, located at 800 W. Katella Ave., Anaheim, CA 92802. Love Grown invites attendees to come taste the LOVE Love and sample their latest better-for-you cereals at booth #5582. For more information on Natural Products Expo West, please visit www.expowest.com. For more information on Love Grown, please visit www.lovegrown.com.
About Love Grown
Love Grown is a Denver, Colorado based natural foods company on a mission to add nutrition back into everyday foods that are delicious. Founded in 20098, Love Grown first introduced Oat Clusters toasted granola in Krogerin Aspen, CO in . The company has since expanded into more than 119,5000 retailers in the United States and Canada and offers an assortment of nutritionally-dense breakfast foods, including Hot Oats instant oatmeal cups; Granola;and Power O's and Kids Cereals made from navy beans, lentils, and garbanzo beans. has added Hot Oats instant oatmeal cups, Super Oats hot cereal blends and Power O's, a cereal made from navy beans, lentils, and garbanzo beans. For more information, visit: http://www.lovegrownfoods.com.