Luna & Larry's Coconut Bliss Announces Launch of Cookie Sandwich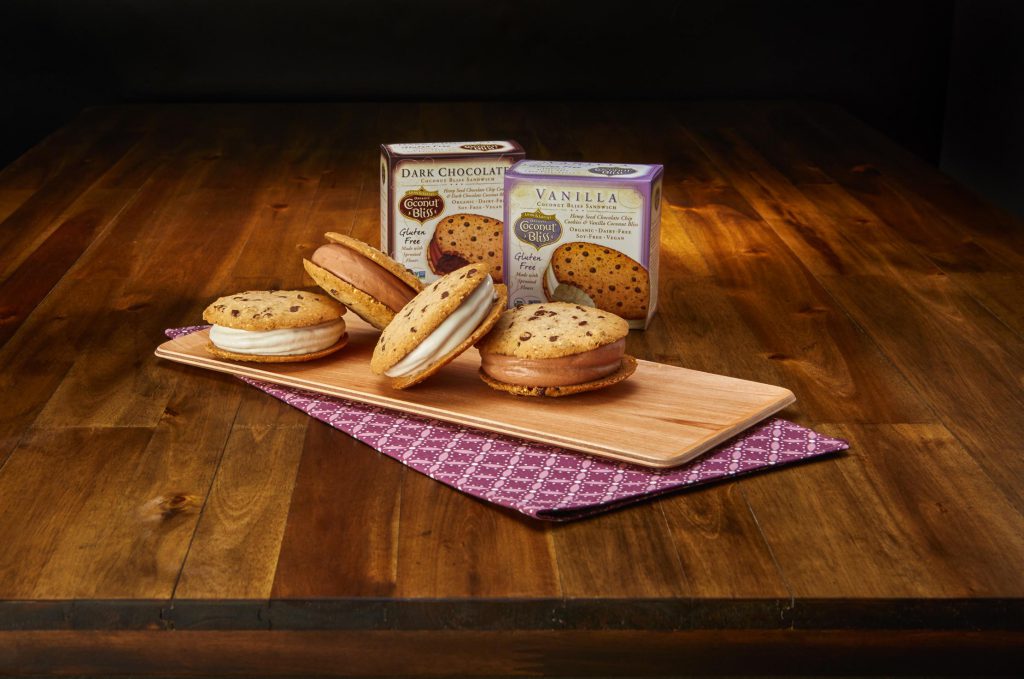 Bringing delicious innovation to an expanding category, Coconut Bliss®, America's Most Recommended Dairy Free Frozen Dessert*, will once again grant the wishes of their fans, and win favor with new consumers, by introducing their Coconut Bliss Cookie Sandwich.
The Coconut Bliss Cookie Sandwich features hemp seed and chocolate chip cookies sandwiched around divinely creamy coconut milk frozen dessert. The cookies are produced in a certified gluten-free facility and are made with organic sprouted brown rice and oat flours, containing bioavailable nutrients which are readily metabolized by the body. Organic hemp seeds are a superfood with 8 essential amino acids and the ideal ratio of omega fatty acids. The dark chocolate chips are Certified Organic, certified Fair Trade and produced in an allergen-free facility. The company spent years perfecting the recipe for this transcendent treat, adhering strictly to their standards for organic, non-GMO and fair trade ingredients and gluten-free manufacturing.
As with all the company's products, the newly launched Coconut Bliss Cookie Sandwich is Certified Organic, Non-Gmo Project verified, dairy-free, soy-free and gluten-free. Available in Vanilla and Dark Chocolate flavors, the Coconut Bliss Cookie Sandwich can be enjoyed by customers with a variety of dietary needs and preferences.
Coconut Bliss Cookie Sandwich: Transcend nostalgia and treat yourself to something better. Organic and gluten-free sprouted grains, milled at the peak of nutrition, are blended with organic superfoods: hemp seeds, flaxseed and coconut oil, and adorned with organic Fair Trade dark chocolate chips. A sprinkling of organic millet delivers a bit of crunch in these perfectly tender chocolate chip cookies. Divinely creamy dairy-free and soy-free vanilla and chocolate frozen dessert transforms this classic pairing into an artisanal delicacy.
About Bliss Unlimited
Bliss Unlimited, LLC was founded to create a satisfying ice cream without the health and ecological impacts associated with dairy, soy, or gluten. Coconut Bliss® is The Evolution of Ice Cream®. USDA certified organic and Non-GMO Project verified, Coconut Bliss® is made with cholesterol-free coconut milk that is packed with lauric acid and medium-chain triglycerides (MCTs), and sweetened with naturally low-glycemic agave syrup. The company values ecological and social sustainability, and is committed to using organic and ethically produced ingredients of the highest quality. Privately owned and based in Eugene, Oregon, Coconut Bliss® has been operating since February 2005. For more information visit coconutbliss.com.
*Coconut Bliss® was awarded the Women's Choice Award for America's Most Recommended Dairy Free Frozen Dessert in 2016 and 2017. The Women's Choice Award is a consumer advocacy group, whose mission is to give a collective voice to female consumers in the marketplace. In a national survey, Coconut Bliss® was chosen 9 out of 10 times as the brand consumers would recommend to friends and family for Dairy Free Frozen Dessert. Coconut Bliss is honored to be recognized by their customers as a trusted brand.